New spirits for a new season. Fall-elujah!
We've broken out our jumpers. We've traded our iced coffees for piping hot oat flat whites. We may have even googled "where to buy pumpkin spice in London". Yup, autumn has arrived - and so have some wicked new gins, whiskies, vodkas and more. Read on for the bottles we're loving now... 
Stuzzi Per Negroni Gin
While we were taking hot girl walks, baking sourdough and staving off the occasional existential crisis during lockdown, the founders of Leeds restaurant Stuzzi were busy creating the recipe for the perfect Negroni gin. After a very strenuous taste-testing process, they came up with this lush bottling. Stuzzi Per Negroni isn't your average London dry. It's big on citrus, with botanicals like candied Sicilian orange and bergamot echoing the Negroni's classic orange peel garnish. Meanwhile, Italian liquorice root, orris root, lavender and cinnamon add spicy, bitter and floral notes that elevate the classic mix of Campari, sweet vermouth and gin. Is it aperitivo hour yet?
How to drink it: The hint's in the name - mix it in a Negroni: one part Stuzzi, one part Campari, one part sweet vermouth and an orange twist. 
£39.50, stuzzigin.com
The Glenturret 2022 Core Range
Looking to step up your whisky game this autumn? Invest in a bottle or three from The Glenturret's new core range and get sipping. This Highland producer is Scotland's oldest working distillery, so the team there know a thing or two about crafting mighty fine dram. Its latest releases include Triple Wood, aged in sherry-seasoned American and European oak casks and bourbon barrels; 7 Years Old Peat Smoked, matured in sherry-seasoned American oak and refill casks for a smoky yet mellow spirit; 10 Years Old Peat Smoked, a cosy campfire of a whisky that packs a punch at 50% ABV; and 12 Years Old, aged in American and European oak for a dessert-like sweetness that gives us apple crumble vibes. Yup, you're in for a treat... 
How to drink it: Each one brings gorgeous and unique layers to your fave whisky cocktail (we're looking at you, Rob Roy), but this season we'll be savouring them straight - preferably sipped from a flask round a bonfire. Yeah, we're the outdoorsy type...
£50-£125, www.theglenturret.com
New Whitebox Canned Cocktails
Canned cocktail maker Whitebox is already one of our faves thanks to its diminutive, delightful Pocket Negroni and Freezer Martini, and now it's back with two more adorable releases: Squeezy's Margarita and Prêt À Boire Boulevardier. The former is a classic mix of tequila, lime, triple sec and salt. It's not easy to make a canned Marg that's just as good as a freshly shaken one, but Whitebox has cracked the code. And the Boulevardier? This stirred-down combo of bourbon, Italian bitter apertif, sweet vermouth and orange zest is one of the most elegant RTDs we've encountered.
How to drink it: Both are delish straight out of the can, but in our humble opinion, no Marg is complete without a salted rim, so pour your Squeezy's into a rimmed glass before diving in.
£30-£33 for six cans, whiteboxcocktails.com
Amázzoni Gin
A gin named after a goddess? We're already sold. Amazzoni is the first craft gin to come out of Brazil and is named after the life-giving giver goddess, the Amazon. It's got that Latin American spirit running through it: palate-pleasing citrus and the spicy, fragrant aromatics of lemongrass make this a unique and complex addition to your usual G&T. Amazzoni is also mixing things up by adding maxixe, which is both a Brazilian gherkin and a form of Brazilian tango. So yeah, this is a gin with serious soul.
How to drink it: This sensational spirit is made with five natural botanicals to represent the five Brazilian biomes - never used before in any gin. Enjoy it in a G&T with a slice of grapefruit or a stick of lemongrass to really make those flavour profiles sing. 
£35, amazon.co.uk
BrewDog Candy Kittens Vodka
Basically Elle Woods in boozy form. Craft beer and spirits giant BrewDog and sweets maker Candy Kittens have teamed up to create a vodka that's infused with British raspberries and tropical guava. We love its fun pink colour (obvs) and its balanced flavour profile: no bubblegum sweetness here, just super bright, fresh and fruity notes.
How to drink it: This one's got Cosmo written all over it. Combine 40ml Candy Kittens Vodka, 20ml Cointreau, 10ml fresh lime juice, 20ml cranberry juice and 20ml guava juice in a shaker with ice. Shake, then strain into a Martini glass. Carrie Bradshaw could never.
£20, brewdog.com
Elephant Gin Oak-Aged Negroni
Elephant Gin is all about cocktails with a conscience, and its latest release takes this ethos to the next level. The company's new Oak-Aged Negroni is a blend of Elephant Gin, red bitter and sweet vermouth, and all three ingredients are house-made so that they're completely free of artificial ingredients and animal products. This mix is then aged in oak barrels for six months, giving the classic aperitivo a whole new layer of depth. Our fave part? For every bottle sold, the brand donates 15% of the proceeds to African elephant conservation. Legend.
How to drink it: Just glug into a rocks glass over ice and channel your inner bartender by twisting an orange peel over the top. Sorted.
£35.90, elephant-gin.com
Holyrood Rum Union
We've been seriously digging the creative bottlings from Edinburgh-based Holyrood Distillery recently (Strong Water, anyone?), and the producer's new rum is no exception. Rum Union is a blend of three components: a rum made from Vietnamese sugar cane juice, a pot still expression from Ghana and a molasses-based rum from the Philippines. Together, they create a spirit that's big on sweet banana flavours, with a spiced granola note and juicy citrus in the background. 
How to drink it: This bad boy is lush on its own, but it absolutely sings in a Maple Rum Old Fashioned *chef's kiss*.
£39.99, holyrooddistillery.co.uk
Ferg & Harris Whisky
Say hello to Ferg & Harris, the newest Scotch whisky brand on the scene. The company is all about sourcing limited-run whiskies with unique finishes, meaning you're in for some pretty spesh drams (if you can get your hands on 'em). It's all kicking off with the Speyside 12 Year Old and Linkwood 12 Year Old, with future releases like a 17-year-old Sauternes-finished Highland Park and a 26-year-old PX-finished Clynelish in the pipeline. Dreamy.
How to drink it: These bottles are all about slooooow sipping. Tumblers at the ready...
£69.99-£99.95, fergandharris.co.uk 
Kranebet Juniper Liqueur
We love a spirit with a bit of history, and Kranebet delivers. This Italian gin liqueur was created in Italy way back in 1924 as a pharmaceutical elixir, and it's now making its UK debut. Naturally, it's heavy on juniper notes, with botanicals like gentian root, coriander seeds, roman absinthe and quassia bark playing supporting roles. It's nice and sweet - this is a liqueur, after all - but its punchy 40% ABV keeps everything balanced.
How to drink it: Kranebet makes for a mega-aromatic G&T with a lush texture and an extra hit of sweetness. Want something a little less sugary? Try it with soda water for a refreshing alternative.
£24.59, amazon.co.uk
Beesou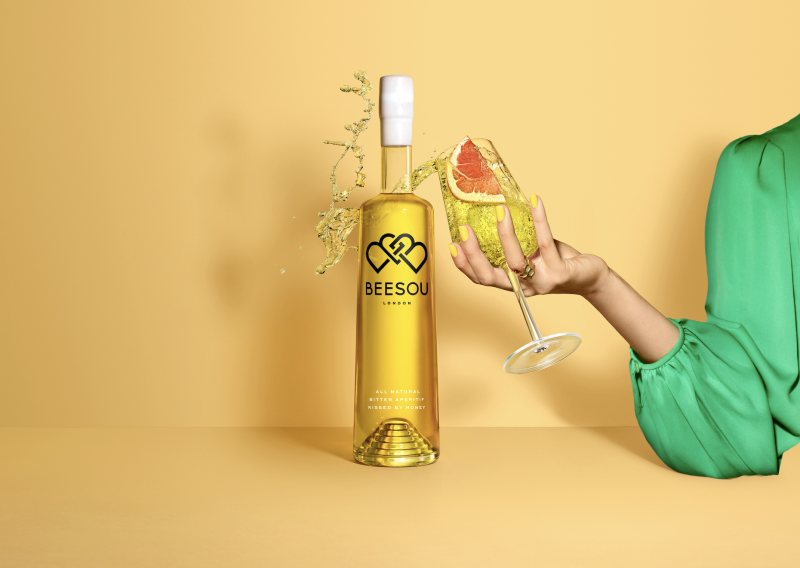 A honey aperitif that makes us think of French kissing and supports the bees? We didn't think we could be more on board with Beesou... and then we tried it. This all-natural bitter aperitif is liquid sunshine in a glass. Think the bitterness of chinotto, a tickle of pink grapefruit and a mellow kiss of raw honey. It's also free from artificial colours and made from ethically sourced honey, and 10% of profits are donated to the Bees for Development charity. Now that's one dreamy drink to make a beeline for. 
How to drink it: Sip it on its own, mix it in a Beegroni, or sass up your Spritz: it's diverse and tastes like nothing you've tried before.
£29.99, Beesou
29/09/2022