Pizza. It's practically a British classic we love it so much over here.
Childhoods fuelled with salad bar sessions at Pizza Hut, garlic butter gangbangs at Pizza Express, and if you were really lucky a lot of Chicago Town times. Whatever your pizza heritage, one thing's for sure, London is saturated with the things - there are killer pizzas everywhere. Whether it's fancy, greasy, deep pan or thin, these are the city's best
Four Hundred Rabbits  Didn't think there was much going on in Crystal Palace? Skip the sports centre (seriously, do) and get your sourdough on at this sick hangout brought to you by the guys behind Brixton's Lido Cafe.  The aubergine and yoghurt topped pizza might just be BarChick's favourite ever, washed down with a barrel aged £3.50 Negroni - the cheapest in London yo!
30-32 Westow Street, London SE19 3AH
Mamma Dough are all about them thick, chewey sourdough bases and fresh seasonal toppings. They're the new pizza kings of South London, with restaurants stretching from Brixton down to Ladywell,  and a banging selection of changing daily specials in each.  If you prefer commitment with your order, they also have a menu of consistent crowd-pleasers. We like to get down with the salty Anchoa, and we can never resist their creamy side of Burratina. 
Various Locations in South London
ICCo. is the best value pizza in Central London. Fact. It's our go-to pitstop when time is limited, funds are low. and we're HUNGRY. The made-to-order pizzas start at less than £4 and you'll always have change from a tenner. What more can you want? It brings chilled NYC pizzeria vibes to Goodge Street; we're talking high chrome top share tables, bright lighting, and some serious Italian-American attitude.
Corner of Goodge St & Charlotte Street, Fitzrovia W1T 4LU

Pizza Buzz One of those pizza joints that makes you do double-takes all of the day & all of the night . That's right people: PIZZA FOR BREAKFAST. Bacon Jam with Balsamic, Wild Rock Shrimp marinated in garlic & everything else along the pizza topping spectrum. They even have burrata...Ridic. Go stuff your face.
2 Worship Street, London EC2A 2AH
Pi Pizza When the moon hits your eye like a big pizza Pi… that's amore, baby. This wicked spot on Battersea Rise is solid option to head with your crew when you're on a carb mission. Be like BarChick and take some serious advantage of their sharing pizzas: you can choose up to three different topping combos on their sharing pizzas. They'll take up most of your table, or you can order 'em to go and dig in on the common over the road for one bad-ass picnic.
4-6a Battersea Rise, London, SW11 1ED
Pizza Metro was the first joint in London to bring us metre long wood fire oven pizzas. We are here for that kind of pioneering. 
Pizza Pilgrims These two guys quit their day job and travelled around Italy in a little pizza van to learn what classified as a PROPER pizza. After 5 weeks they were pros, and opened up their shop in Soho and their stand at Berwick Street market. We LOVE the Portobello Mushroom & Truffle one made with Bianca base, Portobello mushroom, fior di latte, parmesan, basil and truffle oil.
11 Dean Street, London W1D 3RP
Lardo offers non-traditional interpretation to the classic pizzeria and the one that we just can't get enough off is their signature pizza - lardo, spinach and egg. It's their take on the classic Fiorentina pizza, but it's covered in lardo after cooking and left for a few minutes so that it melts into the pizza... ding DONG.
205 Richmond Road, London E8 3NJ 
Home Slice We all know a pizza base on a wood fire oven is the way to do it, which is exactly what the Home Slice guys do. Team that up with the best seasonal produce as toppings and you've got yourself a mighty fine pizza. Their aim is to serve us pizzas that they like eating, and they've nailed it. OH, and they have frizzante on tap, to wash that pizza down with.
3 Neals Yard, Seven Dials, London WC2H 9DP
Franco Manca These guys mean business. Made with slow rising flour dough, we're talking 20 hours kind of slow, baked in a wood burning "tufae" brick oven (whatever that is) in a heat of about 500°C. OUCH. This locks in the flours natural aromas making this pizza MEGA. They've got 6 different ones available, and the bit we love best? All their OILS... dose 'em up, baby!
Various Locations 
Pizza East This place is ran by the Soho House group and even though it's a humungous, insane sized warehouse, it is always filled with hungry punters ready for a pizza fix. We say get all decadent and go for the one with veal meatballs, prosciutto and cream! Phwoar.
Various Locations
Santa Maria Ealing may seem a bit far for most of us to go for a quick slice of pizza, but it's worth the extra mile with beauts like these. Simplicity is key here, you don't want to overload it with toppings, the dough and the tomato sauce are the showstoppers, and some even say it's the best pizza outside of Napoli!
15 St Mary's Road, London W5 5RA
Well Kneaded Not only do these girls serve awesome pizzas, they're also doing their bit for the community - gold star for them! They use their pizza van as a means to employ local Wandsworth kids from the local council estates who wouldn't usually be given the opportunity. Nice one. Plus their food is mega. Their Firebread Pie folded like a calzone has smoked ham, Lanark Blue and field mushrooms.
Granary Square, King's Cross, London N1C 4AA
Sodo Pizza Café Sourdough pizza with locally sourced ingredients. The pizza is so hot they only need TWO MINUTES in the oven... bish, bash, BOSH, these guys don't waste any time! Their menu is short and sweet but they always have a few specials up their sleeve. We liked the Cured Meat one with tomato, mozzarella, salami Napoli, salami Calabrese, Parma ham and red chilli!
Various Locations
Bunga Bunga This good time party bar doesn't cut corners when it comes to their pizzas, oh no! They use the finest ingredients sourced from Italy, pizza flour and ALL. Got a hungry crew? Rock up and get stuck into a bottomless pizza sesh.  You can also top off your banquet of cheese-topped goodness in style with an Aperol Spritz or Negroni cocktail. Pizzas and cocktails? That's BarChick's language.
37 Battersea Bridge Road, London SW11 3BA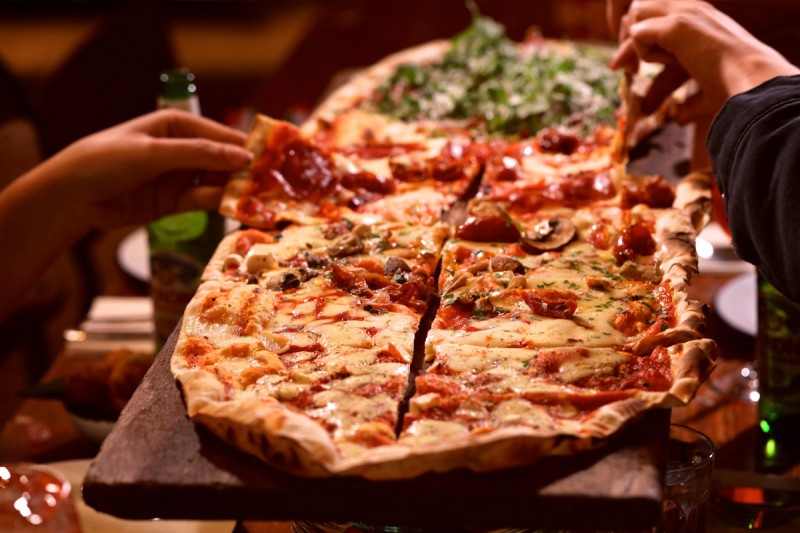 Bounce Placed loud and proud above the table tennis haven that is Bounce, this pizza joint is the perfect pit stop after a few gruelling games of table tennis. They have a serious selection available, 12 to choose from with toppings such as honey roasted butternut squash, spicy pork and fennel and speck ham. Work up an appetite and get involved.
121 Holborn, London EC1N 2TD 
Rossopomodoro Best chain goes to these guys, no question. Not only do they claim to be one of London's only places that imports all its ingredients from Naples, but it has a huge Italian client base (around 40%) so they must be doing something right. With restaurants all over town, a lot of very Italian staff, go check it, you will not be disappointed.
Various Locations
Voodoo Rays Slicker than your average pizza joint found in the heart of Dalston. The frozen Margaritas alone set Voodoo Rays above the rest. Open from 5pm (noon on Saturdays) but we say buy it by the slice after raving it up at Dance Tunnel downstairs, it closes at 3am, see you in there.
Dalston, Shoreditch & Peckham