SHOREDITCH
££££
A world away from the crazy hipster happenings outside, book into the restaurant and devour their five course menu. The food is from the Ten Bells Boys and Young Turks collaboration – it's modern British and tastes as good as the hype predicted, well at least it did after all those cocktails.
Shoreditch Town Hall, 380 Old Street, London EC1V 9LT
££
If you're not keen on the idea of eating steak whilst being watched over by a cow in formaldehyde then this one's not for you. Living up to its name, this place is huge like a big shed, so great for a group of rowdy mates. The menu, like the decor, is minimalist - there's a choice of steak or chicken, and the whole roast chicken, presented perching magnificently on a skewer, is delicious.
32 Rivington Street, London, EC2A 3LX
££
Based on old Irani cafes in Bombay, this place laid back but elegant, brimming with beautiful decor, with vast spaces and tiled patterned floors. BarChick especially loves the Shoreditch Dishoom for its epic conservatory - you feel like you're dining in an Indian jungle. There's a hefty menu, with a load of delicious curries and melt-in-the mouth hunks of meat. It's usually walk-in but if you're a group of 6 or more you can book - message BarChick and we'll sort it.
7 Boundary St, London E2 7JE
££
If you want a talking point for your Xmas meal this good if you're wanting to live stream your Christmas feast. There's trees coming out of some of their tables, and downstairs there's a themed private dining area which changes every year – last year was 70s baby, can't wait to hear what's happening this year. Dinner menu starts at £37 per head.
78 Great Eastern St, London EC2A 3JL
Meat lovers flock to this laid-back American smokehouse where it's all about the ribs - and their famous doughnut burger (yes it's a bit/very weird but it'll look cool on your Instagram). However this place fills up big time so make sure you turn up at least an hour in advance and put your name down. Make a night of it and head down to the secret forest bar downstairs (it's epic).
1 Cloth Hall St,  Leeds, LS1 2HD
££
For a more formal, trendy setting it's all about Hoxton Hotel, where there's a strong focus on the grill. Dine in the conservatory for a bright and airy vibe with solid 9+ hottie waiters (the conservatory is awesome and can be hired out for 45 sitting, or 100 standing). Or there's their private apartment where there's a whole load of private spaces to hire - or just go wild and book the whole damn thing.
81 Great Eastern Street, London, EC2A 3HU
£
BarChick loves this place for their epically large pizzas, £7 cocktails and laid back vibe. Great relaxed setting for a rowdy crowd.
374-378 Old Street, Shoreditch
£
If you want to team up your group meal with a strong party vibe, think no further than Blues Kitchen. They haven't messed around with this place; there are big ass booths, there's a tank of lobsters behind the bar. The food is casual American style feasts of BBQ, pimped mac n cheese or f*ck it and have fresh lobster. Drink-wise, get in bourbon and rye by the bucket load, we say have a Hurricane. And then join in the party later, with live music 7 days a week. Yeee haaa.
143 Curtain Road, London, EC2A 3AR
A huge pizza warehouse from the Soho House crew (it's just next door). There's plenty of space for a big crowd, and, with a bustling vibe, it's a great place for a pre-party time dinner. FYI - ask for their special keyring and get 50% off everything on Mondays - POW!
56A Shoreditch High St, London E1 6PQ
BETHNAL GREEN
££
Beautiful food, beautiful wine, hottie staff, an indoor palm tree, loads of space and a huge outdoor terrace (if you're hard enough to brave it in the winter - brrr). This is a solid place to book up for a celebratory meal. For Christmas there'll pulling out all the stops with 4 and 7 course menus, from £35 for Lunch and £45 for Dinner. Dishes include Jerusalem Artichokes for starter, Butternut Squash Gnocchi and Hay Aged Duck for mains. Yes please. Message BarChick and we'll book you in!
250 Paradise Row, London E2
It was big news when the legendary Morito on Exmouth Market finally expanded east way to afresh 'n colourful space in Bethnal Green. You can see why there's a fuss - the food is just epic. It's all about Spanish and North African vibes and they've created some pretty inventive dishes. With made-to-order Moroccan Breads for breakfast, tapas, mezze and charcoal grilled fish on the menu. They also serve wines straight outta the barrell 'cos who needs bottles? Now that's the kind of innovation BarChick likes to see.
195 Hackney Rd, London E2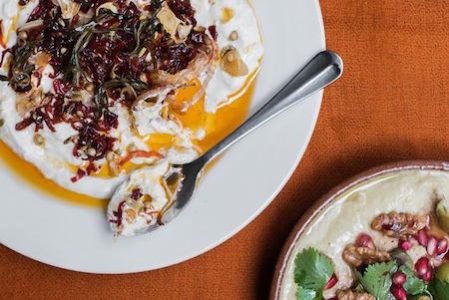 HOXTON
These guys impressed us with Bonnie Gull and then they set up shop under the railway arches next to Hoxton station. Bare brick walls and black steel details keep the design clean, but it's still got a warm and friendly kinda vibe. With great wines, amazing food and impressive cocktails this place is perfect for any occasion.
397-400 Geffrye Street, London E2 8HZ
Take your group to this banging new neighbourhood hangout in the beautiful 1830s building where the former and much loved Nelson's Head (RIP) used to be - think sexy bar meets weekend pub vibes. The plates are delicious and wholesome (your veggie mate will approve), tuck into sweet baked potato, steamed cod and corn fritters, or spicy lamb chops and rib-eye steak for meat heads. The prices are pretty sweet too.
32 Horatio St, London E2 7SB
DALSTON
It's fun, it's cheeky - it's a top place for a celebration dinner. Tuck into mounds of barbecued meats in this faux cave. The staff are what really make it though - they're super friendly and love a bit of a dance (just go and see for yourself). It's all a but wild, and we're a big fan. When you've finished you're bang in the middle of Dalston - party times await. Message BarChick for info on where to go next.
111 Kingsland High St, London E8 2PB