Winter is well and truly on its way, but this doesn't have to mean doom and gloom. We've got Oxford Street lights to look forward to, Winter Wonderland, holing up in secret speakeasies to escape the cold, Christmas itself and some serious weekend pub roast sessions. The best bit is that all over town fires are blazing and people are settling in for some serious fireside drinking, dining and marshmallow roasting. Here's where to join them.
CENTRAL
PUNCH ROOM AT THE EDITION HOTEL - 10 Berners St, London, W1T 3NP 
This is the cosiest bar on offer at The Edition Hotel. The small room feels like a members club, with wood panelled walls, a tiny bar tucked away in the corner and stunning staff. The bar is not any old bar… this bad boy specialises only in punches. These can be for one person up to 14… party! We say grab the four large armchairs by the huge fire, get a large punch bowl, supersize it even if there are only a few of you and get comfy. Spend a cold evening here, you'll feel like royalty and may never want to move (good job there's rooms).
QUO VADIS - 26-29 Dean Street, London, W1D 3LL
The bar upstairs at Quo Vadis might be member's only, but smile sweetly, scribble in the guest book and getting in shouldn't be a problem. The bar has an eclectic mix of furniture, art and people, so you can either make new friends or sit back and relax. It feels more like a luxurious living room than a bar, and during winter the fireplace is the obvious spot to relax, it's also conveniently next to the smoking exit. With a petting room upstairs complete with a putting machine, a TV, an honesty bar, a yellow pool table, a guy rocking out on the piano, and some of London's finer bar staff, you'll be signing up for membership in a flash!
SCARFES BAR AT ROSEWOOD LONDON - 252 High Holborn, London, WC1V 7EN
This decadent hotel bar is grand without feeling intimidating. Head through the big revolving doors without having to step foot in the hotel, and sit on one of the many armchairs or sofas by the roaring fire. The cocktails here are priced at about a tenner, and the pink wasabi pea bar snacks are awesome. Done up like some sort of plush library or gentleman's club, it has a very relaxed feel to it. If you've got too hot by the flames, take a seat on the large turquoise bar stools and make nice with the bartenders!
THE W LOUNGE - 10 Wardour Street, London, W1D 6QF
They have over 65 different cocktails! Sold. Yes, it's a bit shiny/swanky but this is Leicester Square, why are you here? They do also have some seriously modern looking, pod-like fireplaces so you can warm up whilst getting ready to pull some shapes at Wyld, the club in here. There are also three different floors, so if you're on the prowl you'll have plenty of territory to roam. Christmas is the time of year for crowds, so bring the whole crew and get stuck in.
RULES - 35 Maiden Lane, Covent Garden, London, WC2E 7LB
Winter is the time of year when everyone covers up, and oldskool gentlemen's cocktail bars become much more appealing drinking holes than usual (which might have something to do with the covering up). Not to worry, this place has camp charm and some seriously good drinks, which they serve with a slab of Stilton (contains no carbs so it's still good for you). If you're really hungry, the restaurant downstairs specialises in game and, of course, they've topped all that off with a fireplace in the bar, dreamy!
NORTH
THE SOUTHAMPTON ARMS -  139 Highgate Road, NW5 1LE 
It's not as cosy as your average pub, but it's probably a helluva lot cooler. Bare walls, floors and lantern less bulbs make up the bulk of this trendy hang out. Their ethos is pretty simple, they're dedicated to sourcing their booze from small independent UK breweries, and they have 18 on tap, good work guys. Get the pints in and some traditional bar snacks and get by that fire.
THE HOLLY BUSH - 22 Hollymount, Hampstead, NW3 6SG
If you find yourself in Hampstead, or you're strolling across the heath, this is the perfect country pub to warm up in. They've got two roaring log fires, a good old fashioned interior and enough booze to sink a ship. Bring all the family and tuck into homemade pies and bangers and mash.
THE HAWLEY ARMS - 2 Castlehaven Road, Camden, London, NW1 8QU 
This legendary pub in Camden has recently re-opened its door after being forced to close following a major fire in the market. The favourite pub of Amy Winehouse, it's not hard to see why. Sweetie jars line the bar, there's a walled garden out the back, a roof terrace and big roaring fires to welcome you. Settle in with mates, play board games, read the papers, eat delicious food and catch some live music. Perfect pit stop if you're braving the markets.
SOUTH
THE PALMERSTON - 91 Lordship Lane, East Dulwich, SE22 8EP
This is a good local to have, because it's a little bit more than your average crumbling pub. It's decked out with pretty mosaic floors, beautiful wood panelled walls and a lot of wooden furniture that they don't care whether or not it matches. They have also got a couple of fires that are always throwing out heat, so get a pint in and get snug. We suggest you stay to eat, the peppered Devon duck breast sounds too good to miss.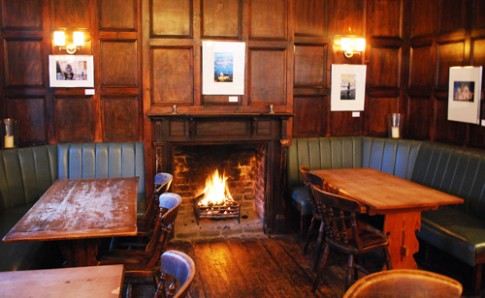 THE WHITE HART - The Terrace, Riverside, Barnes, London, SW13 ONR 
This pub is the definition of a perfect pub. It's got location, charm and seriously good food and drink. Located right on the river, it is perfect come rain or shine and is the ultimate escape from the hustle and bustle in the centre of London. It's recently had a major redecoration, and is so pretty you half expect Alice-in-Wonderland to be tucking into a roast in the corner. With a fire downstairs in the pub and another one upstairs in the restaurant, come and settle in for the afternoon, we promise you won't want to leave.
CAT'S BACK - 86-88 Point Pleasant, London, SW18 1NN
Quirky, cosy and a bit of a rare breed, this is probably the kind of eccentric English pub that people dream about when visiting London – then they end up in a Weatherspoons. This is a real community pub where the locals gather around the main bar like they're plotting something but don't worry, it's welcoming and cosy with a log fire to warm you up as you try to understand the mix of decorations on the walls, from portraits of Elvis to Victorian pornography and everything in between. You can also eat upstairs whilst listening to live music. A perfect winter's day!
POWDER KEG DIPLOMACY - P.K.D - 147 St Johns Hill, London, SW11 1TQ
BarChick always sends you somewhere decent, but this place is in another league. Hot head bartender Matt Roberts makes his own liqueurs, cordials, bitters, and shrubs, so if you're stuck for conversation just ask him about all of those! But seriously, the drinks are BANGING with everything from punches and cocktails to home-made ginger beer (with a serious kick), just make sure than you don't sit TOO near the fire or you might end up falling in by the end of the night.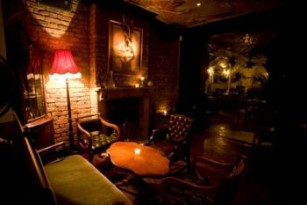 BASSOON AT THE CORINTHIA - Whitehall Place, London, SW1A 2BD
The clue is in the title here, there is a massive oversized piano that actually makes up the bar, and the good vibes don't stop there. There's live music playing and the whole room is jazzy with its mix of luxe 'n comfort. You can't sit at the bar – it's all table service in here, which is quite handy if you've bagged yourself one of the large sofas by the fire and don't want to give it up. Unsurprisingly the cocktails are AMAZING here... settle down and rinse your tab. You'll be needing the plastic for this one!
THE ROOKERY - 69 Clapham Common South Side, London, SW4 9DA
One thing better than relaxing in this cosy bar with a Lower East Side New York vibe, drink in hand, is that you can do it whilst watching joggers freeze in the cold on the common outside - and that's winning! The plain light bulbs swinging from the ceiling and the exposed brick walls add to the rough/snug feel. You won't need to go anywhere when you get hungry either – the menu is VERY seasonal (it changes daily). So nestle in by that real log fire, get stuck into the wine list or their selection of classic cocktails and settle in for a long winter session.
EAST
YE OLDE CHESHIRE CHEESE - 145 Fleet Street, London, EC4A 2BU
This isn't the time of year for bar crawls... it's getting colder every day, which means you need to find a decent spot to drink and not leave until you've got a healthy beer jacket on – and this is just the place for that. Rebuilt after the Great Fire of London, the 15 Kings and Queens that this pub has lived through are listed outside. Inside it's like a maze, with narrow corridors and staircases leading to so many cosy dark bars and dining rooms that apparently even the regulars get a bit confused. Even if you wanted to leave, you might not be able to. Awesome!
THE CLAPTON HART - 231 Lower Clapton Road, E5 8EG
We love this rustic boozer, it's decorated with a load of junk shop knick knacks and it's all the more homely for it. Sit on wooden tables amongst stag heads and other rickety furniture, and if you can try and secure one of the tables by a fire, there are three of them so it shouldn't be too hard (if you get there early). This pub celebrates real ales and the pub food is simple and warming, eat Welsh Rarebit, fish pie and sticky toffee pudding.
THE PRINCE GEORGE - 40 Parkholme Road, E8 3AG
So this isn't your average quiet local, it has kinda been taken over by local hipsters so if you're old/boring and looking for a quiet pub evening by a fire, it might be best to look elsewhere. That said, we love it in here, and if you're into your beer, they have a good range from Belgian to Czech to traditional ales. The Monday night quiz attracts a lot of people and the free juke box keeps the party going and the regulars happy.
WEST
THE COBURG BAR - The Connaught, Carlos Place, Mayfair, London, W1K 2AL
If you're looking to warm up in a classy and comfortable bar, this is it! The large fireplace adds to the cosy mix of old and new that makes this bar so damn stylish. They've recently had a makeover but they've held onto some of the original things, like their old wingback chairs, which have been upgraded and reupholstered. The drinks menu is made up of the best cocktails of the last two hundred years and, of course, they're made perfectly. As long as you can afford the damage, you won't be heading out into the cold air any time soon.
BEACH BLANKET BABYLON - 45 Ledbury Road, London W11 2AA
The eccentric decor of this bar will make you forget all about the gloomy weather outside. Set in an old Georgian Mansion, it's a completely over-the-top mix of baroque, French country-style and decadence. The long cocktail menu is filled with some exciting mixes and you can also order spirits by the bottle, so the decadence doesn't need to stop at the interior! Most importantly, fireplaces are the name of BarChick's game come winter, and this place has a goondun; the logs blaze in the mouth of a giant bearded head that looks like an angry Viking god…rrrraaaaah!