So, you're heading to Liverpool? Better pack your false lashes, a big appetite and your best banter - this is the city where everyone's your mate, and BarChick's up for making loads of them.
Bartenders are all over this city and the last year has seen a sh*t load of wicked independent bars opening up. You need to drink at all of them. Here's how to successfully tackle the birthplace of WAG glamour and The Beatles with guaranteed optimum drinking time and leave the next morning probably still p*ssed and smiling. Hold on to your aspirin and get ready for a big one.
Coffee Kick
Covering new city soil is tiring work and there's nothing like a caffeine pumped bloodstream to see you through. Luckily, Liverpool's got plenty of independent coffee shops to satisfy even the w*nkiest of Flat White drinkers. Get buzzed on freshly ground beans at hidden gem Lox and Caper, or perk up at Ruben's Coffee Shop where you can sit outside for smoking and people watching. Wilting post-booze fueled lunch? Knock one back at Duke Street Espresso Bar and get the energy you'll need to see you through 'til cocktail time.
Lox and Caper - 65-67 Hanover Street, Liverpool, Merseyside L1 3DY // Ruben's Coffee Shop - Albert Dock, Unit 13-14 The Colonnades // Duke Street Espresso Bar - 27 Duke Street, Liverpool, L1 5AP
Brunch
Once you've got your bearings it's time for a big ol' brunch. Eggs Benedict for under a fiver? You got it at super sweet restaurant The Moon and Pea. If you want to feel proper northern or are feeding a hangover it's gotta be a homemade bacon buttie with a generous dollop of brown sauce at Bold Street Coffee, washed down with a bucket of proper tea. If a giant stack of American style pancakes is more your thing then hit Moose Coffee on Dale Street - and make sure you order a dime bar shake. But when you want a real drink with breakfast (who doesn't?) Alma De Cuba do a gospel brunch on a Sunday where you can be serenaded be a goddamned gospel choir and have your coffee spiked with rum. Hallelujah.
The Moon and Pea - 95 Lark Lane, Sefton Park, Liverpool, L17 8UP // Bold Street Coffee - 89 Bold Street, Liverpool L1 4HF // Moose Coffee - 6 Dale St, Liverpool, L2 4TQ // Alma De Cuba - St Peter's Church, Seel St, Liverpool, L1 4BH
Explore
Want a culture kick? The Everyman and Playhouse Theatre is legendary for a reason or, if the weather's nice, find a sunny spot outside the Vinea wine bar on Albert Dock and watch the keanos on the Beatles tour whilst getting through one the of many, many bottles on their extensive wine list. If your idea of a successful city break means leaving with dents in your fingers from carrying too many shopping bags, then Liverpool One is where you'll spend the hours (minutes) between cocktails. It's the city's shopping mecca and big spenders won't be disappointed. Don't forget to check out The Tate while you're there - with free entry to lots of exhibitions and a killer gift shop (very cultural) it'd be silly not to pop in, even just for Instagram's sake. Never been to a gallery on a tequila buzz? Well, now's your chance.
Everyman and Playhouse Theatre - Williamson Square, Liverpool L1 1EL // Vinea wine bar - Albert Dock, Liverpool, Merseyside L3 4AD // Liverpool One - 47 South John Street, Liverpool L1 8BU // The Tate Liverpool - Albert Dock, Liverpool Waterfront, Liverpool L3 4BB
Liquid Lunch
Come lunchtime head to Peter Kavanagh's and listen to the landlord's hilarious stories over a couple pints and crisps - this place is mad, which is handy because that's exactly how we like Irish pubs. Fancy a more substantial feast? Salt Dog Slims does the best hot dogs you'll get outside the US, plus they serve 'em with cocktails - go for the Salt Dog Millionaire. You're welcome. If you like your cocktails with a side of chic then you'll love the set up at Camp and Furnace - the gallery style restaurant and caf is the perfect place to long luncheon and you can get involved in their dining experiences including their Meat Market and Food Slam.
Peter Kavanagh's - 6 Egerton St, Liverpool, L8 7LY // Salt Dog Slims - 79-83 Seel Street, Liverpool, L1 4BB // Camp and Furnace - 67 Greenland Street, Liverpool, L1 0BY
Dinner Date
It's dinner time and you're gonna need a feast to prepare for the night ahead. The burgers at Almost Famous are insane - order a Triple Threat; triple bacon, triple cheese and pulled pork (the threat is probably of a heart attack) and wash it down with a glass of b*tch juice. Just because. Arrive early because you can't book a table and this place gets rammed. Like your dinner dates low and slow? Slim's Pork Chop Express has got your back with smoked meats and Lucky Strike cocktails to get the party started. If you're on a health kick (you're in the wrong city) split the cals with your date over a plate of tapas at Maray, which is also a great place for veggies - these guys are the kings of falafel.
Almost Famous - 11-13 Parr Street, Liverpool L1 4JN // Slim's Pork Chop Express - 85 Seel Street, Liverpool L1 4BB // Maray - 91 Bold Street, Liverpool L1 4HF
Cocktail Hour
Time to get serious. Follow the green light down Seal Street, climb the stairs to Some Place and play with the absinthe fairy in the attic. The hot bartenders will show you how it's done, pouring the best absinthe you'll ever drink - they're even ready with a cup of coffee if sh*t hits the fan. Berry & Rye is this city's legendary speakeasy hidden behind a blacked-out shop front without a sign, if you can find this 1920's NYC-style speakeasy then you'll be rewarded with killer classic cocktails and a sexy dude on the guitar. The boys behind Berry and Rye have also recently opened Jenny's; slightly away from the main bar drag this slick bar is hidden in a basement (where else?) and oh boy do they know cocktails; whatever your poison they'll pick you one to knock you off your feet. Literally.
Some Place - 43 Seel Street, Liverpool L1 4AZ // Berry & Rye - 48 Berry Street, Liverpool, L1 4JQ
Late One
It isn't a party until there's tequila and nowhere does it better than El Bandito, the party joint from Liverpool legends Matt Farrell and John Ennis. Head down the crumbling staircase for shots by the dozen and mezcal Margaritas, before you know it you'll be getting a rude awakening by the morning light. If you want a taste of tiki in Liverpool say aloha to Aloha, soon you'll be donning a lei garland around your neck and swinging with the Scousers into the early hours, mug of flaming Zombie Punch in hand. Here for the music? Catch the amazing DJ's in the downstairs room at The Shipping Forecast on Slater Street too - Liverpool is the city of Pop, so if your feet aren't hurting the next day then you did something seriously wrong.
El Bandito - 41b Slater St, Liverpool, L1 4BX // Aloha - 22 Colquitt Street, Liverpool, L1 4DE // The Shipping Forecast - 15 Slater St, Liverpool, L1 4BW
Midnight Feast
It's late, you're p*ssed, it's time to get your grease on. Grab some napkins and order a big ol' kebab with extra chilli sauce at Botan Kebab House on Berry Street; it's their speciality and you might be able to rope your mates in to eating a whole chilli. Never not funny. At the weekends, American Pizza Slice is open 'til 3am and offers just about every topping from traditional Margherita to All Day Breakfast and Brie and Bacon - save yourself a slice for breakfast for whern you wake up and have it with a Berocca dissolved in a glass of prosecco. You'll be good as gold for the journey home.
Botan Kebab House - 24 Berry Street, Liverpool, L1 4JF // American Pizza Slice - 52 Whitechapel, Liverpool, L1 6EG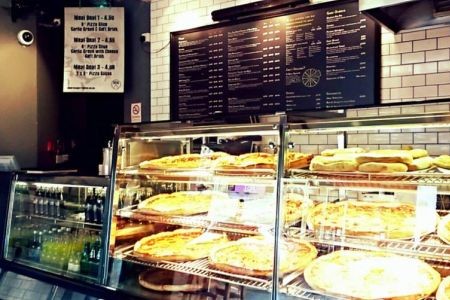 Sleepover
If the scouse charm has worked you'll be spending the night in Liverpool. Hope Street Hotel is a go-to for the rich and famous , so book a room in advance if you're looking to impress. The Malmaison is also a great shout, mainly because the nightcaps you'll get at Malbar are the perfect way to end the night / keep it going. If you really want to up the notch on your Liverpool-meter then go for Hard Days Night Hotel.Yes, each room is Beatle themed and the music plays constantly in the lobby, but it's bang in the city center and in Liverpool you go hard or you go home. Here's a tip: go hard.
Hope Street Hotel - 40 Hope Street, Liverpool, L1 9DA // Malmaison Liverpool - 7 William Jessop Way, Liverpool L3 1QZ // Hard Days Night Hotel - Central Buildings, N John St, Liverpool L2 6RR