Forget the diet, it's time to shake it up this season and that involved some liquor in your milkshake... AKA the hard shake! Oh yes, hard shakes are being served everywhere. Here is where to go for the best of the hard and milky stuff…
The Shakes: The shakes on offer here are outrageous. With six different flavours available all tasting ridiculously amazing, this hard shake menu could compete with some bars' normal drinks lists! We say get the Bad Ass Pimp with pistachio di bronte ice cream, blended with Drambuie and Grand Marnier Cuvee du Centenaire, topped with cinnamon and cardamom, whipped cream and chipped pistachios.
Why try them? Cos the guys at The Loft think their milkshakes are on par with Kelis, bringing everyone and anyone to the yard.
Won't I be sick? There are enough flavours on offer that you can choose one that you think your body can hack. Don't be a wimp.
Drink up: Between £5.50 and £6.50, 67 Clapham High Street, London, SW4 7TG
The shakes: Maple Bourbon, White Russian (vodka & Kahlúa) or a Jager Shake… don't wince, just try it they're good.
Why try them? Some say they're better than the restaurant's meat feast.
Won't I be sick? They may be as thick as a McDonald's shakes but they're made with better ingredients.
Drink up: £6, The Deck, Jubilee Market Hall, Tavistock Street, WC2.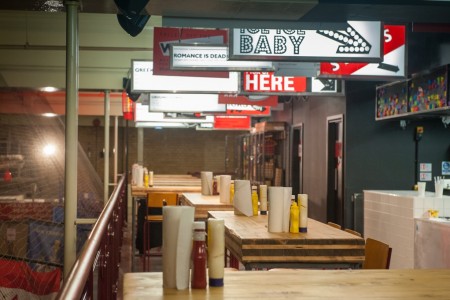 The shakes: Toblerone and a Pie & Scoop hardshake.
Why try them? They use Beefeater gin, vanilla ice cream, milk and Crème de Mure in the Pie & Scoop, and Baileys, Frangelico, Toblerone.
Kahlua, honey, chocolate ice cream, milk & Cream in the Toblerone.
Won't I be sick? Using fine ingredients means these should keep you from feeling too shady afterwards.
Drink up: £6.50, 43 Great Titchfield Street, W1.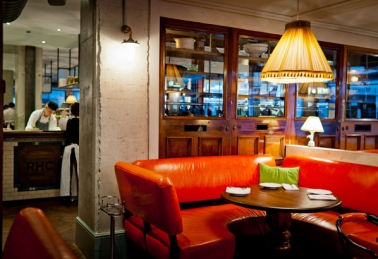 The shakes: Choose from their Captain Caramel with rum, Strawberry Soul with Bailey's and The Chock N Roll with a hit of bourbon.
Why try them? Cos if get their Oreo cocktail and have your choice of over 100 bourbons to add
Won't I be sick? Not if you choose the most expensive bourbon! Now enjoy all these in their Camden AND new Shoreditch hangout.
Drink up: £7, 111-113 Camden High Street, NW1.
The shakes: Dark rum & Chocolate or Baileys.
Why try them? Ed's makes you feel you've been thrown into a US diner even on a rainy London evening.
Won't I be sick? These shakes come with any extra bits served in a metal blender tin on the side, giving you practically two shakes.
Drink up: £5.15, 12 Moor Street, Old Compton Street, W1.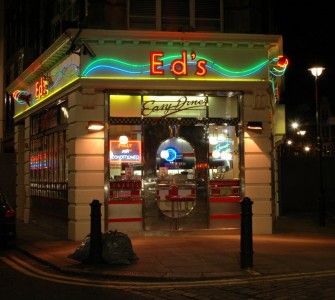 The shakes: They've got four different varieties of flavours from the Honey Whiskey Ginger to a Spice Rum & coconut Shake
Why try them? These have got that bit of extra oomph. Go early and tuck in.
Won't I be sick? Depends on the flavour. Take all your mates, order the lot and share them around.
Drink up: £6, 95 Brick Lane, E1.
The shakes: There are 10 normal beauties on offer all ready and waiting to have a shot of spirit added to them for an extra £3.50.
Why try them? Something for everyone: coconut, chocolate, Oreo, pistachio... you name it they have it.
Won't I be sick? Tuck into a snickers with chocolate, Nutella, peanut butter, a shot of maple and some rum and you might be asking for seconds.
Drink up? £7.20, 190 Shaftesbury Avenue, WC2.
The shakes: Brownie & Bourbon Shake
Why try them? Brownie and bourbon?!.. come on do you need to ask. This will be MEGA.
Won't I be sick? This place is decedent with high ceilings, amazing food and lucky for you is dedicated to all things American, so naturally the milkshake will ROCK…
Drink up: £10, 18 Wellington Street, London, WC2E 7DD