You're having a house party, and due to country-wide social distancing laws, absolutely no-one is invited. Apart from your favourite bar. When you can't leave the house, the only choice is to get your next round delivered to your door, and these kick-ass bars are offering just that.
And P.S most of them are delivering to the whole of the UK. Bars on tour, baby! 
The crew at this West Hampstead bar have turned Tails into a basement laboratory for batching selected cocktails for local and national delivery so you can get your paws on 500ml bottled cocktails, wines, beers & snacks. All cocktails come with ice & garnish + instructions for whipping up the perfect serve in your kitchen at home. Then if you upload a pic of your delivery you could win another. BOOM!
Place your orders here. Never been to H+T before? Read our review to see what you're in for.
#StayHome but get Scout & about. The webshop of this Hackney-based 50 Best Bars has launched, offering pre-batched 200ml & 300ml bottles of some of their favourite classics. Get the Scout Vesper, Tropical Old Fashioned & the Super-soaker Manhattan for same-day delivery to the local area, and nationwide in 3-5 days. Once that doorbell goes, get 'em chilled and serve over ice or pour neat when your Happy Hour at Home kicks off.
Place your orders here. For the BarChick low-down on this Hackney bar, read our review here.
You might have to wait a while to visit this slick Spitalfields basement bar, but you don't have to wait to try the drinks. The crew are offering an imaginative menu of Ready-to-Drink cocktails for free same-day, no-contact delivery in a 2-mile radius of the bar, or across the UK within 48 hours for £8. Order one of the bar's signature serves for 2 or more, or keep it classic with a bottle of Hayman's Gin and the mixer of your choice!
Place your orders here. BarChick loved this place when she checked it out recently. You can take our word for it.
The cocktails from this award-winning East London bar are now available to enjoy in homes across the UK. BOOM! They've launched nationwide delivery of bottled cocktails, including their Earth Martini, Negroni & Old Fashioned, all of which will last a month refrigerated - though they're so damned good, we bet they won't last the night.
Place your orders here. Wanna know why you should be ordering from these guys? Read all about it here.
The CC crew are delivering the party to pretty much every house from Zones 1 to 4 Thursday, Friday and Saturday night. You can get a selection of Callooh Callay classics to suit everyone's desires including 750ml bottles of their smokey Mezcal Abejita, their potent Rum Punch and their epic Vodka Martini. For the full at-home Callooh Callay experience, drink 'em in your wardrobe. If you know, you know.
Place your orders here. Never been to Callooh Callay before? Find out what you're missing here. 
Covid-19's hottest colab so far! The dream due behind Old Street's sh*t hot Tayer + Elementary have teamed up with Top Cuvee to bring you the Palo Santo Gimlet. If you were waiting for the right time to head to this award-winning bar before the world went into lock-down, now's the chance to get the next best thing. And this way you're guaranteed to get a seat.
Place your orders here. Find out why we think this place rocks here.
The crew at The Sun Tavern have turned their epic bar into a little factory where they're creating and distributing their "Quarantini Kits", including bottled Negroni, Old Fashioned, Rob Roy & Margaritas alongside kits to make an El Diablo or Strawberry Kir at home. They're all hand-delivered by the bar's co-founder Andy Kerr out of his 1980's MG to Londoners within a 3-mile radius. Talk about your cocktails arriving in style! Next-day nationwide delivery is also available for a fiver... NOT in Andy's 80's MG. Soz. 
Place your orders here.  Get the full low-down on this Bethnal Green bar here.
If you're only going to take one flight this summer, better make it a f*cking good one. If you've been to this Dalston Agaveria before, you'll know all about their ever-changing agave list and the awesome tasting flights including tequila, mezcal and the lesser-known spirits like bacanora and raicilla. Well, you can get a flight of 3 delivered to your casa, all paired with small snacks to enhance the flavour profile and give you a delicious insight into the world of agave at home. You'll be an agave pro by the time all this is over. Oh and what was that? You HAVEN'T tried the Cocktail of the Year yet? Well... there's no time like the present cos you can get 50cl bottles of the legendary Mirror Margarita delivered too!
Place your orders here. Find out why we love this place so much over here.
We're not sure there are any prizes for most elegantly presented bottled cocktails, but if there was, The Four Sisters would win. 'Specially as they've knocked up these cute designs in a matter of weeks to be delivered on Deliveroo around Highbury & Islington. But don't get too distracted by the bottles; it's the liquid inside that really matters. Choose from their Tea Old Fashioned, Fig Palmetto, Cafe au Lait or our personal fave: the Chamomile Gimlet which is out-of-this-world delicious.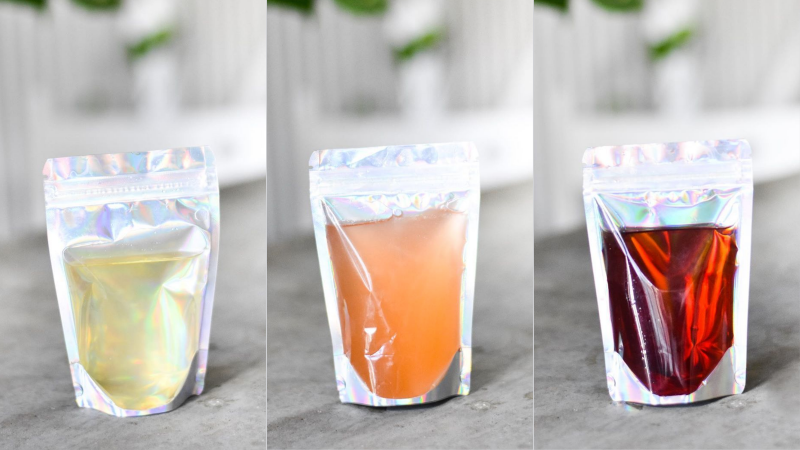 This relatively new bar has already made BIG waves in the industry, so if you haven't tried their epic drinks yet, now's your chance. They've launched delivery of their drinks (both alc & non-alc) in tandem with their new Spring cocktail menu (if you can't enjoy the season outside, may as well enjoy it in, right?) If you live within 6km of the bar, your serves will be delivered by a bartender on a bike... if you're a little further out, slide into their DM's and they'll try and arrange a special delivery for ya. 
Place your orders here. Wanna know what Bar Tincture is all about? Read our low-down here.