The tartan is donned, the haggis is being addressed, and you're ready to ceilidh like never before. It can only mean one thing - Burns Night is back. We've got the lowdown on where to raise a dram to the ultimate Scot on January 25th. Oh, and this year it's on a Friday...
Mac & Wild, Devonshire Terrace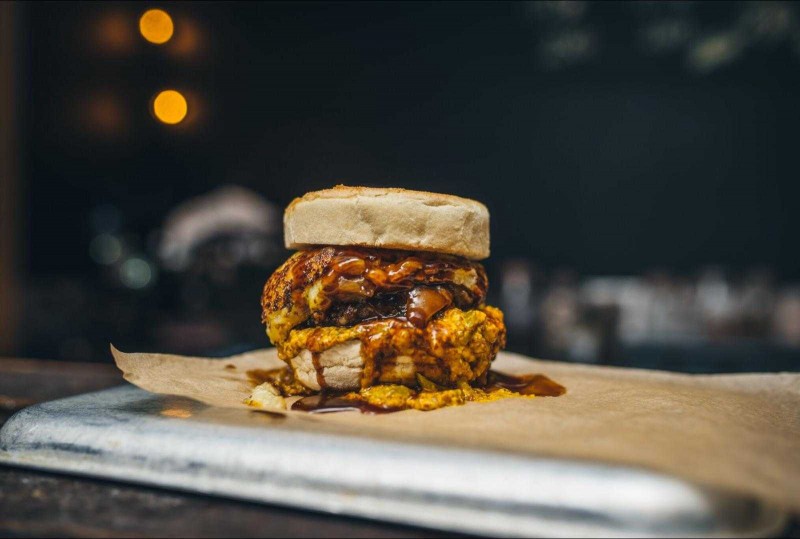 Listen up laddies and lassies - it doesn't get much more Scottish than this. Mac & Wild are going ham on the Burns night celebrations with a killer set menu at their Devonshire Square venue in The City. Not only will you enjoy haggis (with a toast, natch), but there's lobster and venison to boot. Nice. Entertainment wise, this is a  ceilidh you don't wanna miss. Think AC/DC being played on the bagpipes, a silent Burns X Glenfiddich disco, live poets, and whisky… oh, so much whisky.
Always wanted to try your hand at haggis making? Thought so. Head here for a masterclass and become an expert. If you're an early riser then you're in luck - Mac & Wild are putting on a Burns Full Scottish breakfast, complete with tattie scones, venison sausage, black puddin' and haggis. Talk about lining your stomach...
5 Course Tasting Menu, includes dram of Glenfiddich, Burns Poet and piper. £75 per person. 
9A Devonshire Square, London EC2M 4YN
Glenfiddich X Skylight Rooftop
On the 25th January, the Skylight Rooftop is kicking off its final weekend of the winter season with one helluva boozy makeover from the multi-award-winning Glenfiddich distillery, all in honour of Robbie Burns. Fuel yourself up with their signature whisky tipples and head to the rooftop dance-floor. You're about to fling yourself into the ceilidh performed by traditional Scottish musicians. Expect music, singing, dancing and storytelling, plus street food with some Scottish twists added to the menu. 
Tickets are £3 and include a Glenfiddich cocktail on arrival, whisky tasting sessions throughout the night and some high energy performances throughout the night. Grab yours here.
 Tobacco Dock, Pennington St entrance, St Katharine's & Wapping, London E1W 2SF
Boisdale of Canary Wharf 
Boisdale is Scotland's official unofficial embassy in London. Fact. So if you're unable to get north of the border this Burns Night, Canary Wharf is the next best place to get addressing that haggis. They're chucking together some swing classics with a few wee Scottish surprises along the way from the Pete Long Orchestra. And don't forget about the piper, of course - Burns Night doesn't get more authentic than this. Dining tickets start at £59.50, or you could just rock up and enjoy the show from £15 and sip from a choice of over 1000 whiskies in the world's most extensive whisky bar. Dram right!
www.boisdale.co.uk/canary-wharf/the-venue/restaurant/
15 Cabot Square, Canary Wharf, London E14 4QT
B&H Buildings Burns Night banquet
One of the most stylish venues in London is going Celtic. Pop on your swankiest kilt (underwear optional) and get ready to wash down a five-course feast with cocktails plus drams of the finest scotch. Bourne & Hollingsworth Buildings is bringing the sophistication this Burns Night. There'll be singing, there'll be bagpipes, there'll be that essential welcoming of the haggis. And, of course, a mini ceilidh to get you in the spirit. Feeling confident after all that whisky? Why not try your hand at reciting some of the poet's trickier verses. Go on, we dare you. 
Tickets will set you back £80 and you can book 'em over here. 
42 Northampton Rd, Clerkenwell, London EC1R 0HU
Burns Cocktails with Glenfiddich at The Sun Tavern
You say: 'whisky?', we say 'The Sun Tavern'. This place has the amber spirit nailed - BarChick's yet to leave here without draining a dram or three. It makes sense that Burns Night wouldn't go unnoticed, then. The squad here have teamed up with Glennfiddich IPA to create a Scotch heavy cocktail, in tribute to the Ploughman Poet. Rock up on the 25th and order the Tam o' Shanter. They bring together Glenfiddich IPA, Cocchi Torino, Dolin dry, cardamom syrup & Abbott's bitters to create a drink of depth. For those who prefer their scotch a little neater, The Sun Tavern's award-winning whisky list will also be on hand. If all that drinking makes you peckish, you can fill up on the haggis Scotch eggs they're gonna be plating up for free. Tastes Of Ink will be performing some spoken word – you can expect a rendition or two of Burns' finest pieces as the nectar loosens the tongue.
441 Bethnal Green Road, London E2 0AN 
Modern Burns Supper at Cub
Highland fling yourself towards this Burns Night supper at Cub. They've got Craig Grozier, in-house chef for the PHD distillery, taking over the reins of the kitchen, and the guy is a bloody maverick. Loosen that kilt, cos he's developing a Burns-inspired 10-course set menu of 5 dishes and 5 drinks so revolutionary, Robert Burns would write a poem about it if he was still kicking about. It's a clichéd cullen skink and cranachan free zone, but it's still gonna be authentic, with an address of the haggis by Cub's resident Glaswegian. Those riding the Veganuary train aren't excluded from the celebrations; there's a vegan haggis (though we're yet to learn if this imposter will be addressed or not). And Cub's focus on sustainability hasn't been ignored - you're going to love the native foraged ingredients Grozier uses.
£75 per person
mrlyan.dinesuperb.com/reserve/experience
153 Hoxton St, Hoxton, London N1 6PJ 
Devonshire Club Burns Night Cocktail
So the distinctive squeal of Bagpipes ain't quite your jam. Fair. Good news is you can enjoy a "Quiet Symphony" at the not-so-private member's club, The Devonshire Club, this Burns Night. This heavenly cocktail of Drambuie, Talisker Skye infused with orange, tequila, lime juice, honey & acai liquor is a bonnie drink to wash down the epic Burns Night feast they're laying on. Obviously, you can't have Burns Night without a bit of a pipes soundtrack, but don't worry - they've secured a world class band, Shotts and Dykehead to deal the blow, so expect to discover a new love for it. Oh and there's a deep-fried Mars Bar for pudding.  Now you're talking. 
 Two courses: £28, three courses: £35.
www.devonshireclub.com/events/burns-night-2019/
5 Devonshire Square, London EC2M 4YD
Whisky Trolley & Burns Feast at 34 Mayfair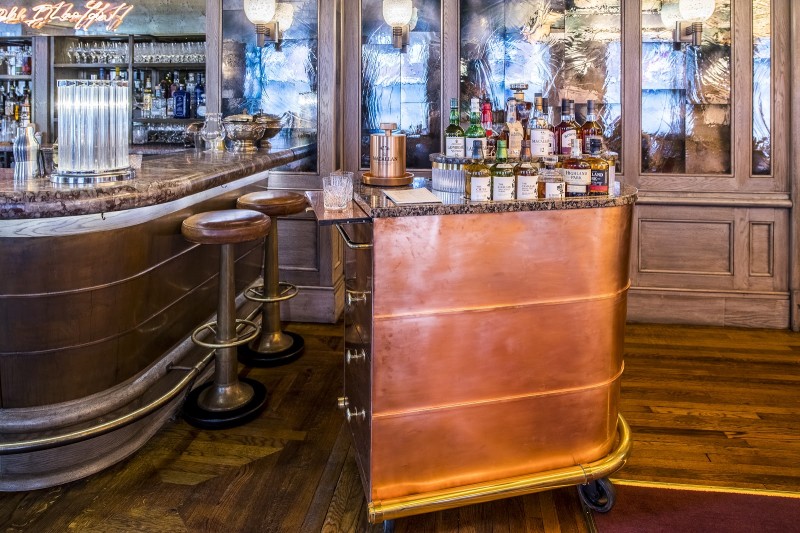 Uh, hold the front page - did you know there's a goddamn Whisky Trolley at 34 Mayfair? It's usually exclusive to the Emin Room, but this Burns Night, the trolley is going wheel-about and making a special cameo appearance in the main restaurant. The world's most popular, unique and luxurious whiskies will be brought to your table alongside highland classics like Roasted Highland Deer with Haggis, Neeps and tatties and smoked whisky sauce, plus Rhubarb Cranachan with toasted hazelnuts and oats. It is a reason to get wheeley excited. It is not an excuse to get absolutely trollied. 
34 Grosvenor Square Entrance on, S Audley St, London W1K 2HD 
J Sheekey Burns Week
The gang at J Sheekey don't think one night is enough, so they're drawing out the Bobby Burns celebrations over a whole week. We feel that. From the 21st-27th January they're gonna be shaking up two bespoke cocktails: a traditional Whisky Sour of Bowmore 15yo whisky, lemon juice and miraculous foamer; and Rob Roy, a blend of Auchentoshan single malt whisky, sweet Vermouth and Benedictine liqueur. These delectable serves will be accompanying a special dish of seared Isle of Mill scallops, spiced heritage carrot and haggis crust. We'll drink to that.
28-33 St Martin's Ct, London WC2N 4AL 
Scottish Milk Punch at Aqua Shard
Milk & Whisky might sound like the kind of insane concoction you'd cobble together in desperation at the end of a house party. But trust us - it's actually a seriously decent Scottish classic. This Burns Night, check out Aqua Shard's bespoke interpretation. The Scottish Milk Punch (not to be confused with a Glaswegian kiss), is made using pineapple, cinnamon, star anise, coriander, lemon, Scottish Earl Grey tea, barley syrup and hot milk, blended together with Johnnie Walker Black. Smoooooth. 
Level 31, The Shard, 31 St Thomas St, London SE1 9RY 
The Glenlivet Glade at The Rosewood
Burns Night and whisky go together like Miley and Liam so it makes sense that this year The Rosewood is welcoming you to their hella cosy Glenlivet Glade for a night of epic whiskies, hand picked by Glenlivet ambassador Phil Huckle. Pair these up with a series of Scottish dishes created by Holborn Dining Room's ultimate pie master, Calum Franklin  (you'll know him from those pie masterpieces on Insta) and you've got a full-blown Scottish celebration on your hands. Expect Highland Venison & Haggis Wellington, Neeps and tatties and Cullen Skink with Oatmeal bread to be enjoyed under the Glade's stars.
Burns Night Supper - £145 per person.
Want a piece of the pie? Grab a ticket over here.
252 High Holborn, London WC1V 7EN 
Isle of Raasay Distillery's Burns and Whisky Weekend 
BarChick takes Burns Night very seriously indeed. Whisky, haggis, men in kilts. What's not to love? If you're like us, you'll wanna go all out this year, and what's more 'all out' than heading North of the wall up to The Isle of Raasay Distillery for a full Burns & Whisky Weekender!  Check into one of their gorgeous rooms for a two-night stay including all meals, a distillery tour and of course, one helluva whisky tasting. They'll ply you with proper Scottish dishes, from traditional haggis to rhubarb cranachan with homemade shortbread and whisky fudge, and of course, plenty of the delicious amber stuff. Bobby would be proud. 
The package costs £339. Book it here. Slàinte!
The Bar Monkeys at Callooh Callay
Looking to get your super freak on this Burns Night? You know that's how BarChick gets down, so you'll find us at Calloh Callay where they're ready to satisfy with a legendary Monkey Shoulder partnership. It's gonne be a weekend of whisky tastings, epic cocktails and guest bartenders from across the UK, so you know it's gonna get funky. For the rest of January, you can get your hands on the "Super freak" cocktail, celebrating the famedScottishh spirit in a combo of Monkey Shoulder Scotch whisky, Smokey Monkey, Pear liqueur, Cardamom bitters, and fresh pear juice. To get the party lit, the drink is served in a miniature disco ball. It pairs well with the music being spun on the decks by Mr Disco Drinks himself, Joe Petch, Global Monkey Shoulder Brand Ambassador. 
Not your average Whisky Tasting is going down at the bar on the 23rd, and on the 27th, The Bar Monkies can be found behind it, rounding off the Scotch Whisky Weekend with DrinkUp London. Check out the full line up over here.
65 Rivington St, London EC2A 3AY
The Lobby at The London EDITION
This Burns Night, The  London EDITION Lobby Bar is getting a makeover more Scottish than the Loch Ness Monster tossing a caber.  Get your mingle on to the sound of London's top Scottish Ceilidh five-piece, Licence to Ceilidh. They're gonna be blasting out a fresh twist on traditional Scottish tunes and dances. Loosen up your limbs with a couple o' cocktails which celebrate Scotlands legendary ingredients, and we're not just talking about Whisky.  The Bobby's Bru is a punch made with Chivas 12, sugar syrup, lemon juice, green tea, a lemon wheel and grated tonka garnish, all topped with the most legendary Scottish tipples of them all; Irn Bru. Aye, now you're talking! After a few of those, sneak your way into the intimate drinking den, The Punch Room, and learn to blend your own whisky with experts from Chivas' team. Talk about mixin' things up!
10 Berners St, Fitzrovia, London W1T 3NP