The best pop ups, cocktails, trees and bars to hit post-shopping... miss these and Yule be sorry. We'll see ya beneath the mistletoe.
Candy sticks in cocktails, seasonal snacks (we're looking at you pigs in blankets) and an excuse to drink hot butter with rum - yes we're feeling f*cking festive.  Plus the KICK-ASS BarChick advent calender is kicking off on 1st December.  We'll show ya how to do Christmas in style. 
Ski memorabilia lining the walls, shots of frozen gin, and a three-cheese fondue... bring us some chalet boys and we could be back on our ski season.  If you're more apres-ski than black runs, this place is for you. The Swiss resort of LAAX is bringing the laidback party vibes of the slope straight to Mews of Mayfair. Get involved with alpine-inspired One Gin cocktails (Rocks Negroni, we're looking at you), and build up your energy with traditional delicacies, including a Bündner Teller. Dunno what that is? We're not gonna translate, just head along and get ordering. The mountains have come to Mayfair, and there's no ski pass required. 
10-11 Lancashire Ct, Mayfair, London W1S 1EY
Ding dong merrily on high indeed - Madison Rooftop's pop up is bang on for sky-high festive fun. Cool views and hot cocktails (one featuring Cognac and chamomile tea) this magical terrace has gone for an Enchanted Woods theme with illuminated trees and fairy lights - ideal for knocking back a Belvedere vodka cocktail or three. Get snug beneath the faux fur, or be a Chrimbo baller and hire out a Little Lodge for your crew; Moët Champagne, snacks and hot water bottles. We're moving in. 
Open from 6th November until the end of February
Rooftop Terrace One, New Change, London EC4M 9AF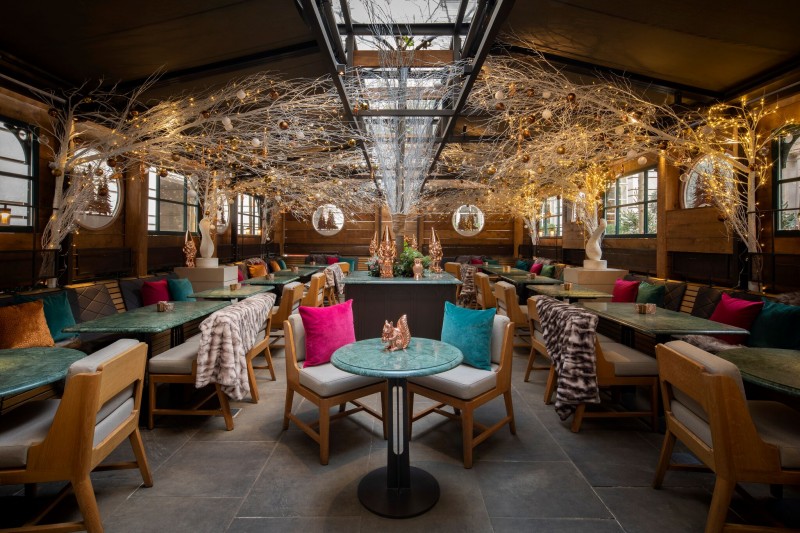 Shimmy over to Southern Sweden this festive season and join us in sinking some vodka cocktails. Absolut Elyx is bringing their version of a Nordic winter wonderland to one of London's swankiest hotels, and naturally it's awesome. Twinkling lights, snow-dusted fir trees and chic fur throws  - what more could you want? If the answer is a Peanut Butter washed with Absolut Elyx cocktail, you're on. 
November 7th 2019 - February 29th 2020. Opening Times: 2019 – 4pm till late, every day // 2020 – 4pm till late, Wednesday to Saturday
252 High Holborn, Holborn, London WC1V 7EN
Keep your Vanilla Ice, the flavour we're going mad for this Xmas is White Grape. CÎROC White Grape, more precisely. You'll find this epic flavoured vodka in the CÎROC Grape Martini - just one of the limited edition cocktails at the Ice Ice Baby pop-up. Hold us back. Get cosy beneath the glitter balls and shining baubles, this is festive disco glam with a modern twist. Check their Insta for weather forecasts if you wanna experience snowfall. Oh, did we mention you can also order a festive platter - mini turkey sliders and glazed pigs in blankets, anyone? Get in line now.  
Ice Ice Baby at the Secret Garden will be open from 27th November – 30th December
If you're interested in booking a private event space at South Place please contact their events team events@southplacehotel.com
3 South Pl, Finsbury, London EC2M 2AF
December is all about decadence, fact. Badass chick and award-winning designer Holly Fulton agrees and she's gone for 1920s glamour with her DecoDance Christmas Tree at Aqua Shard. Who doesn't enjoy decorations of sassy females toasting the season with Champagne? It's almost like looking in a mirror.  Whizz up to level 31 of the Shard and take in London's insane views while getting festive with a 'DecoFizz' – a seasonal mix of sherry and Veuve Clicquot Champagne, with Advocaat reduction and a touch of pine essence. 
Level 31, The Shard, 31 St Thomas St, London SE1 9RY
Hiding in cupboards during December is usually the result of raging hangovers or hiding from creepy relatives. But not this time! This time we're walking through the wardrobe to get to Narnia, only this one has fewer fawns and more cocktails. With a 'Gateway to the Snow Queen's Garden', seriously bling embellishments and even a freakin' throne, these guys have gone all out. Elbow your way past the hoards of influencers that'll have descended on the place, and grab a seat inside. The Narnia Negroni features Sloe gin, Martini Rubino, Campari and a cinnamon syrup twist - keep your magic lions, this is what we're really here for. 
195 -197 King's Rd, Chelsea, London SW3 5EQ
More balls than a Boxing Day football match. 34 Mayfair have gone 'f*ck it' to the less-is-more mantra and decided to get gaudy. BarChick approves.  Don't worry about trying to count, we've done it for ya - that's 14,000 decorations burning your eyeballs, and over half of them are colourful baubles. What's more, it's in collaboration with one of our fave fizzes, Moët & Chandon. Epic. If this doesn't make you wanna celebrate Christmas, there's no hope. 
34 Grosvenor Square, S Audley St, Mayfair, London W1K 2HD
Hot Toddy's - BarChick's had a few. But Cold Toddy's were something we'd yet to tick off... until we headed to THIS festive pop-up. We won't spoil the surprise, but it contains yellow chartreuse, spices, and Laurent-Perrier La Cuvée. Makes sense, since Laurent-Perrier Champagne has collaborated with 12th Knot roof terrace for this epic winter popup. Celebrating/been paid/just love Christmas? Grab a bottle of the bubbly stuff. Or nail one of the other three limited-edition cocktails on the menu. Don't worry, you can't miss the building - Sea Containers  London is lit up to reflect the pink of the Northern Lights. 
20 Upper Ground, South Bank, London SE1 9PD
You've seen the icy forest on the frosted Belvedere vodka bottle - now's your chance to drink it in a bar designed to look like the logo landscape.  Freaky. One of London's most baller bars has hooked up with one of the world's top vodkas, and the result is suitably dark and dramatic, perfect for any brooding ice queens tired of kitsch Christmas clutter. Six cocktails include an Old Fashioned Blanc and a Rosé Negroni. But be careful where you point on the menu 'cos there's also a £300 knockout: Dom Perignon Brut Vintage alongside one of the world's finest Cognacs and gold leaf (what else). Or hey, blow the Xmas budget and give your family home-made gifts again, we won't judge. 
Tuesday 12th November - Tuesday 31st December
70 Stratton St, Mayfair, London W1J 8LT

Stockings, twinkling fairy lights & a fly as f*ck Christmas tree. Deck the halls, it's the return of the Miracle Pop-Up at the Henrietta Hotel. It's kitsch, it's nostalgic, it's OTT. Experimental Cocktail Club has created a full-blown festive fiesta of outrageous cocktails with wild glassware and colourful lights. Sick. Join us in getting transported to a '70's Christmas home' with retro decorations and an epic super-sized fireplace. Those chestnuts will soon be good and roasted.
November 12th until December 23rd
14-15 Henrietta St, Covent Garden, London WC2E 8QG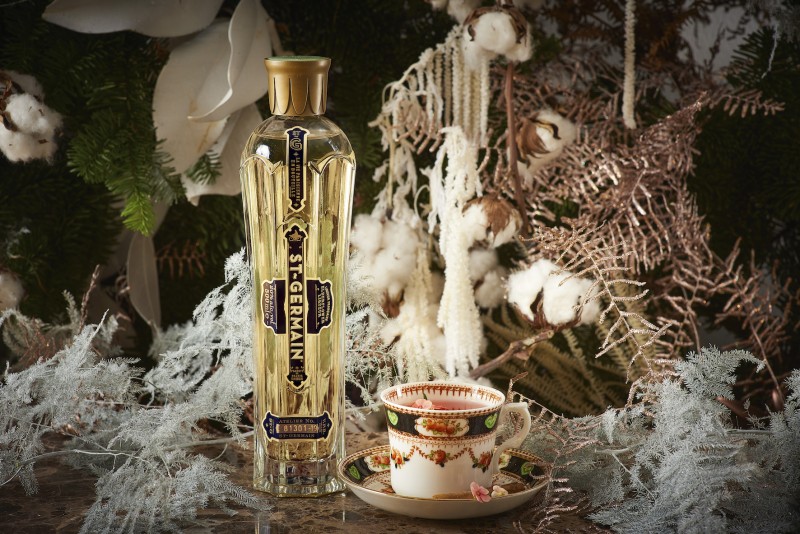 It's officially cuffing season and even the restaurants are at it. Heddon Street Kitchen has coupled up with everyone's favourite elderflower liqueur, St-Germain. Sexy. They've had beverage babies of mulled Cidre Chaud, Le Grand Fizz and Glory of Expedition, all served beneath a wintery floral installation.  That's our kinda fling. 
2nd December – 31st January
3-9 Heddon St, Mayfair, London W1B 4BE
Stepping into a wardrobe in Wandsworth - bit dodgy. Not when it's Xmas though. This one leads to a snow-filled forest, via a pub. The best kind of winter wonderland, then. Expect frost-covered pine trees, snow-topped tables, and fairy lights. 'Tis the season for warm cocktails and they've got plenty. Hayman's Hot Gin & Glenlivet toddies will give you the booze jacket you need when the weather outside is frightful (and let's face it, it's gonna be). Take a date and get cosy in Mr T's lodge; a heated exclave with silver birch and comfy sofas. You'll find us at the pop-up 'Guilty Pleasure Bar'. Santa's Naughty List, here we come. 
From Now - 31st January 2020 
345 Trinity Road, Wandsworth, London, SW18 3SH

The highest (and let's face it, most bling) garden in the city has Christmas wrapped up. Wreath adorned archways, twinkling lights and a gleaming Christmas tree = festive glam. But you know us. We're more about the bubbles over baubles, and they've got plenty with a sparkly Moët & Chandon collab. Hungry? Moët pretzel match sticks dipped in olive cocoa butter take seasonal snacks to the next level. Walk-ins are welcome after 6pm weekdays and 9pm weekends, but booking will guarantee you a faux fur throne and cable knit blanket to keep you cosy.
19th November until 6th January 2020
1 Sky Garden Walk, London EC3M 8AF
Regent Street got you teetering on the edge of sanity? Find sanctuary at La Belle Epoque at Cafe Royal's Green Bar. Less frenzied shoppers/elbowing past tourists, more indulgence, opulence and frivolity. We know which we'll take - one of the six new cocktails created in partnership with Courvoisier. Try the twist on the classic Espresso Martini, or the Tremblement de Terre featuring pineapple-infused Courvoisier V.S.O.P. They taste as high society as the era that inspired 'em. Fa la la la la meets Ooh la la.  
Available until 6 January 2020
Hotel Cafe Royal, 68 Regent Street, London, W1B 4DY
Gin lovers, this is an early Christmas present for you. A sprinkle of festive magic has transformed London's Bloomsbury House into The Tanqueray Townhouse. Get cracking on G&Ts as you throw yourself into this 'immersive experience' that promises to heighten the senses. Sick. You can expect an elegant lounge bar, cocktails matched to your aura from a special 'aura photographer', and a gifting room for all your gin-related pressies. Look out for world-renowned Magic Circle artists pulling their tricks, oh and don't forget to try your luck on the telephone for entry into the Secret Bar. 
The Tanqueray Townhouse will be open between the 6th-14th December 2019. Tickets for the event cost £12 and include two Tanqueray cocktails and an access all areas Townhouse discovery experience. Grab yours here: www.eventbrite.com/o/tanqueray-townhouse.
Bloomsbury House, 2-3 Bloomsbury Way, Holborn, London WC1A 2RL
What makes this the best time of the year? You can drink Champagne at 8am, no judgement (not that we would - you do you, babe). Kick start the day with fizz and you're set for a good one. Iris Bar by Searcys at the top of the city's most recognisable sky-scraper are sleigh-ing it. A Laurent-Perrier breakfast aside a blinging 12-foot Christmas tree and the 360-degree view? We'll get outta bed for that.
Available Monday to Friday 7.30 – 11am from 18th November – 30th December
30 St Mary Axe, London EC3A 8EP
Afternoon Tea has been given a festive glow-up at St. Pancras Renaissance Hotel. Sure, a brew is fine, but we're here for the Perrier Jouët Champagne and spiced mulled wine. Swing by on a Friday night and you'll even get to be serenaded by carolers. Tidy. Need more convincing? Alongside your roast turkey sandwiches and raspberry wreaths, there's an edible Christmas Bauble with Mulled Wine mousse. Ding dong. 
The Festive Afternoon Tea is available from 18th November -5th January priced at £38 per person or £50 including 1 glass of Perrier–Jouët champagne.
The Hansom, St. Pancras Renaissance Hotel, Euston Rd, Kings Cross, London NW1 2AR
London loves an igloo, fact. Now you can get high and chill out in the luxury igloos at the rooftop bar of the Courthouse Hotel Soho. Escape the crowds of Carnaby Street and head up to Toy Roof, where a night of cosy comfort awaits. Whether you only have ice for classics like Mulled Malbec or wanna branch out with a White Christmas Martini, there's a festive drink for you. Hungry? The Smorgasbord platter with Chateau la Croix St Emilion has your name on it. If you can't indulge at Christmas, when can you? 
19 - 21 Great Marlborough St, Soho, London W1F 7HL