You thought awards season ended with The Oscars. Think again.
Last night, we rubbed shoulders with the best in the biz at the biggest event of the year... the annual CLASS Bar awards ceremony hosted in Hackney.  The award categories recognise the bars and bartenders that set the standard for hospitality and innovation across the UK, and should help shape your drinking calendars for the rest of the year.
Judging is split into two processes enabling CLASS to best evaluate the UK's leading bars and bartenders. Trying the best bars, drinking the most insane cocktails and meeting the legends of the industry... It's a tough job, but someone's gotta do it.
AND THE WINNERS WERE...
Front of House Star of the Year 
Winner: Georgi Radev, Laki Kane, London
Runners-Up: Gosia Krok, Lobby Bar at One Aldwych Hotel, London & Veronica Di Pietrantonio, Lyaness, London
You'll find Georgi running the roost at Islington's wildest tiki-tastic party bar, Laki Kane. He brings the party with double doses of outrageous cocktails all week long. When Georgi is in the house, you're gonna have a wicked time. Yeah baby!
Bar Back Star of the Year sponsored by Grand Marnier  
Winner: Geovanni Marenco Rodríguez, Sexy Fish, London
Runners-Up: Kane Fowles, The Milk Thistle, Bristol & Danilo Frigulti, Lobby Bar and Punch Room at The London Edition, London
Words from the man himself: "Being a Barback means sacrifice. Means kills your pride, your ego, but not your self-love. Being a Barback is a state of mind because from now on you're going to be part of a system, an engine that works and functions every day at its full potential." Yeh, this is a guy who deserves this award.
Sustainable Practices Award Sponsored by Ramsbury Vodka
Winner: Terroir Tapas, Bournemouth
Runners Up: Nine Lives, London & London Cocktail Club, London
This joint is a wicked eco-aware global tapas bar who are all doing what they can to eliminate waste, chemicals and unnecessary carbon trails. It's all about preserving & enhancing what we have on earth, and they do it epically well. Hell yeah!
Social Media Presence of the Year 
Winner: Cahoots, London
Runners-Up: Funkidory, London & Mr Fogg's, London
They didn't have social media in the 40's,  but they did have a taste for hijinx and underground partying. The Cahoots crew won this award for bringing the underground party vibes of their disused train station turned post-war cocktail bar to our hand-held screens. No need to mind the gap between Instagram vs reality; they're both EPIC.
Emerging Bartender of the Year Sponsored by Patrón
Winner:  Sam Boevey, London Cocktail Club, London
Runners-Up: Connor Michael Smith, Coupette, London & Joe Brooke, The Hedonist, Leeds
It took only 10 months for Aussie Sam to go from Barback to Head Bartender at LCC Liverpool Street. Now he's the Group Head Bartender, so you might find him in any one of the 11 LCC sites. If that isn't deserving of an award, we don't know what is. Ledge.
Bar Manager of the Year 
Winner: Anna Sebastian, Artesian, London
Runners-Up: Daniel Crowther The Hedonist, Leeds & Alex Mills, Lab 22, Cardiff
You'll find some of the best bars in the world on this woman's CV. She rocked into the industry accidentally (she originally wanted to be a war correspondent - thank f*ck that didn't work out) and now she's kicking ass at The Artesian. She also helped design their award-winning menu. Is there anything this woman can't do?
Cocktail of the Year
Winner: Mirror Margarita, Hacha, London
Runners-Up: Strawberries and Cream, Coupette, London & Connaught Martini, The Connaught, London
If BarChick was a betting girl, she'd have made bank putting her money on the legendary Mirror Margarita winning this award. It looks like a glass of water, but on reflection, it's an incredible, sweet & sharp marg made with malic acid and Don Julio tequila. Dangerously smashable, it's the thing that keeps us heading back to Dalston over and over again.
Drinks Menu of the Year Sponsored by Fentimans
Winner: Artesian, London
Runners-Up: Tayer & Elementary, London & The Beaufort Bar, London
The "minimalist" menu at Artesian features an insane list of 22 cocktails, created by Award Winning Bar Manager Anna Sebastian and head bartender Remy Savage. It follows minimalist architect Mies van der Rohe's "less is more" mantra, with each serve being mixed from just one spirit, liqueur or wine and one other key ingredient or flavour.  Think insane pairings like Star of Bombay gin with golden beetroot, or St Germain elderflower liqueur with red carrot.
Bar Food Menu of the Year
Winner: Tayer & Elementary, London
Runners-Up: Scout, London & Public, Sheffield
With the crew from TaTá Eatery cookin' up a storm in the kitchen, it's no shocker that Tayer & Elementary have nabbed the crown for this category. We reckon it was The  Katsu Sando that really swung it. It's a thing of dreams.
Specialist Bar of the Year
Winner:  Black Rock, London
Runners-Up: Hacha, London & Sexy Fish, London
In the last year, this place went from wicked basement whisky bar to a full-blown four-storey whisky Mecca, complete with a chilled out tavern on the ground floor, a mixing & blending room one floor up, and a bad-ass whisky hotel at the top. Just imagine the mini bar!
Restaurant Bar of the Year Sponsored by Real
Winner: Hawksmoor Spitalfields, London
Runners-Up: Hawksmoor, Manchester & Sexy Fish, London
They had their first cocktail menu revamp in almost a decade just before Christmas, and when BarChick is craving something epic and meaty, Hawksmoor is where we bee-line for. Their team are made up of industry legends and as it's the O.G Hawksmoor, it'll always hold a special place in our heart/belly.
Hotel Bar of the Year Sponsored by Asahi
Winner: American Bar, The Savoy, London
Runners-Up: Artesian, The Langham, London & Connaught Bar, The Connaught, London
We reckon this was probably the hardest category to judge, cos when it comes to hotel bars, we don't think anywhere does 'em better than London. The American Bar at The Savoy is no stranger to winning awards, and boy do they deserve them. We couldn't get enough of their Savoy Songbook menu, and we reckon their next menu landing at the end of March is gonna blow your minds.
Bar of the Year Sponsored by Manifest
Winner: Swift, London
Runners-Up: Kwant, London & Tayer & Elementary, London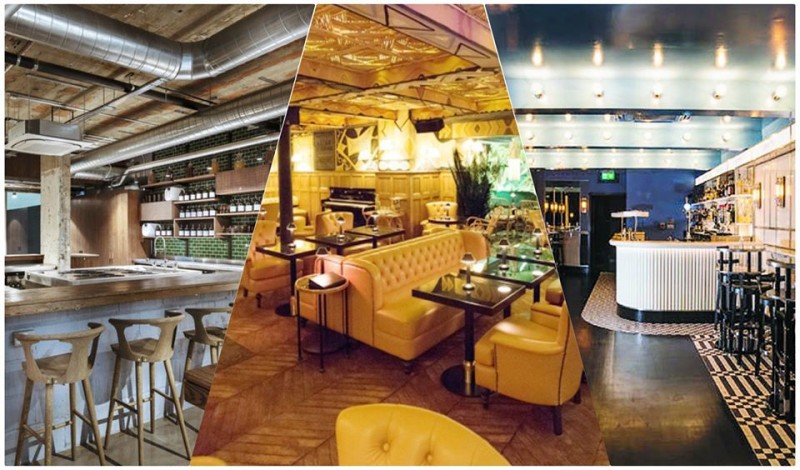 When we're kickin' it in Soho, you'll always find us in Swift. This place is as reliable as rain during your summer BBQ, always takin us from after-work aperitifs to date night. Their martinis are legendary but if you're looking for something a bit different, you should check out their killer new menu which is launching this weekend.
New Bar of the Year Sponsored by Scapegrace Gin
Winner: Kwant, London
Runners-Up: Present Company, Liverpool & Tayer & Elementary, London
When this classy, muted tropical haven from a whole other era opened last year,  the buzz was BIG. No surprises considering it's headed up by Erik Lorincz who used to head up the best bar in the god damn world. Needless to say, high expectations were met and that's why it's taken the title of best new bar of the year, baby!
Bartender of the Year Sponsored by Grand Marnier
Winner: Pippa Guy, ex-American Bar, London
Runners-Up: Monica Berg, Tayer & Elementary, London & Nicole Sykes, Lyaness, London
Pippa has a sh*t loada accolades to her name already, from being the first female senior bartender to be appointed to The Savoy's world-renowned American Bar in over 100 years to being shortlisted for International Bartender of the Year at Tales of the Cocktail last year. She's released her own book all about fizz, is one of the Co-Creators of Coca Cola Signature Mixers and she's just moved to NYC to work alongside Crown Shy bar manager Harrison Ginsberg and bar director Jonathan Lind at a new venue which is about to open. Damn right she deserves this one. You go, girl. 
Bar Innovator(s) of the Year
Winners:  Monica Berg & Alex Kratena, Tayer & Elementary, London
Runners-Up: Lyndon Higginson, The Liars Group, Manchester & Ian McPherson, Panda & Sons, Edinburgh
This was a new award for 2020, and it's gone to the ultimate power couple of the booze biz. In the last year alone these two launched a range of three modern liqueurs made with natural ingredients alongside Simone Caporale; opened up award-winning Tayer + Elementary, and Monica won the prestigious Altos Bartenders' Bartender award at the World's 50 Best aka the Oscars of the Drinks Industry. BOOM!
Lifetime Achievement Award sponsored by Gosset Champagne
Winner: Tomas Estes
Tomas Estes is basically the King of tequila.  He's one of two Tequila Ambassadors for the Mexican Government worldwide, helped to create Ocho tequila and has been a bar and restaurant owner for over 40 years, having founded the Pacifico Group in 1976 which includes one of our favourite Tequila joints in the whole of London, Cafe Pacifico. He's a total legend, drinks biz royalty and as far as we're concerned, any guy that reps an epic tequila brand is a worthy winner.