Some say drink it neat. Some say all it needs is a splash of water. We say whisky should be drunk however the hell you wanna drink it, and if a whisky cocktail is your thing, these recipes should keep you satisfied.
Eastern Whiskey Sour
If you want a Whiskey Sour to taste good then you need to make sure you have good bourbon and good citrus. Simple. If you're feeling wild (which we think you might be) then add egg white. Don't squirm, it adds texture and it's good and proper. We like this extra fruity twist by the crew at TT Liquor.
60ml Bourbon
25ml Lemon Juice
35ml Orange Juice
0.5 Egg White
2-3 dashes of Angostura
12.5ml Orgeat (aka almond sugar syrup)
Firstly shake all the ingredients together in a cocktail shaker without ice for at least ten seconds to help the emulsification of the egg. Next, shake all of the ingredients again WITH ice, then double strain into a rocks glass filled with ice. Garnish with a lemon wheel and a cocktail cherry.
The Unholy Alliance
This take on a Boulevardier takes inspo from the unholy alliance of Scotland (the whisky), France (the cask heads) and Italy (the vermouth) - call it unholy all ya want, but it sounds like a trio made in heaven to us. Especially when it includes Compass Box.
40ml Compass Box The Spice Tree
25ml Red Vermouth
25ml Campari
Stir ingredients with ice. Strain and serve straight up in a cobbler glass garnished with orange zest.
Rob Roy 
This is a cocktail that means business - no messing about, damn good booze. Not for the lightweights, but definitely for those with some good taste.
75ml of Scotch
30ml Sweet Vermouth
4 drops of Angostura bitters
Dash of Cherry Syrup
1 Maraschino Cherry with stem
Stir over ice and strain into a chilled Martini glass. Pop in a cherry. BOOM. 
The Tartan Tiki Mai Tai
Traditionally made with rum and a tiki party fave, the Mai Tai gets a smooth as hell upgrade with The Glenlivet Caribbean Reserve, finished in barrels that previously held Caribbean Rum giving it flavours of tropical fruit. We can hear waves lapping over white sands just thinking about it.
50ml The Glenlivet Caribbean Reserve
25ml Pineapple Juice
2 Dashes of Angostura Bitters
Top with Peach Sparkling Water
Build all ingredients over ice in a glass. Top with peach sparkling water. Heaven.
The Stamhattan
This juicy twist on a Manhattan uses Stambecco, a balanced, smooth and fruity amaro infused with maraschino cherries. That's how to take your Manhattan to alpine heights, baby.
60ml Stambecco
30ml Rye Whiskey (we loved it with Whistle Pig Rye)
A dash of bitters
Orange peel
And a Starlino Maraschino cherry to garnish.
Serve it shaken over ice or non the rocks. Your choice. Both will be delicious.
Hot Toddy
Looking for a cocktail that'll warm your cockles? With sweet honey, warming cinnamon and a delicious punch of whiskey, this hottie will get those temperatures raised in no time.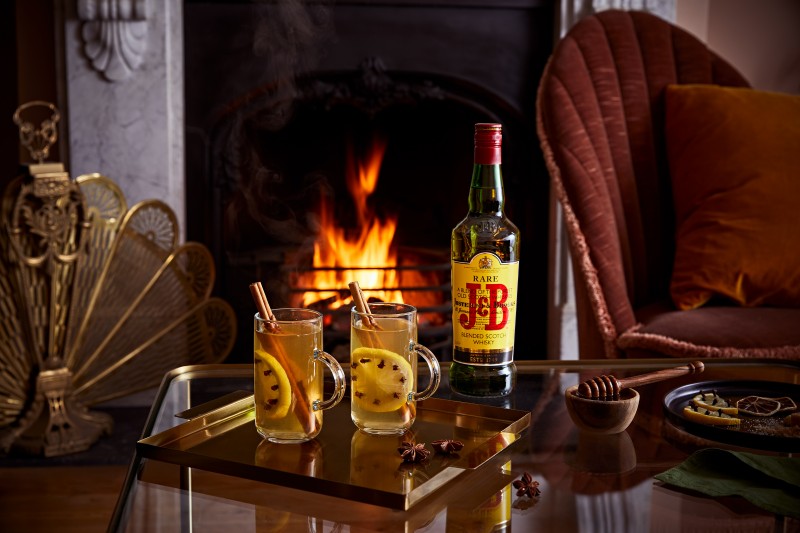 50ml J&B Rare
20ml Dark Honey
25ml Fresh Lemon Juice
1 x cinnamon stick
boiling water to top up
& 2 pieces of lemon zest studded with cloves to garnish
Add all the ingredients to a heatproof glass and stir gently to mix. Top up with boiling water and serve garnished with a piece of lemon zest, studded with cloves. Hot stuff.
The Penicillin
This bad boy was created back in 2005 (ya know, round about the time you were going through your emo phase) as a riff on the whiskey sour by bartender Sam Ross at Milk & Honey. Feeling under the weather? It includes all the remedial goods to get you feelin' perked up, and we like it with a lil extra punch of single malt Peat whisky to really bring the life back to ya.
60ml Stauning Peat
25ml fresh lemon juice
25ml honey syrup
3 slices of fresh ginger
Muddle the ginger in a cocktail shaker then add the other ingredients. Fill with ice and shake until chilled. Double strain into an ice-filled rocks glass and garnish with candied ginger or lime wheel.