Summer is so close, we can taste it... or maybe that's just the Piña Colada we're sipping. Either way, we're seeing in the season with a full line-up of boozy events, from an epic tequila festival, to a terrace with free-flowing rosé (emphasis on the free), to a five-day party run by London's best restaurants. Bring it on, baby!
The World's Best Cocktail Menu In London
When: Wednesday 7 June
Where: Silverleaf, 3rd floor, Devonshire House, 3 Bishopsgate, London EC2M 4JX
What: Wanna taste of the world's best cocktail menu? This is your chance. Last year, the team at Ecuador-based Juliana took home the Siete Misterios Best Cocktail Menu award at The World's 50 Best Bars, with their list of drinks shining a light on their home country's astounding biodiversity. Now they're bringing their signature style to sleek 'n' sexy East London bar Silverleaf for one night only, in partnership with Ramsbury Gin. It's gonna be big! 
Book here
Raise A Glass To World Ocean Day
When: Thursday 8 June until the end of August
Where: Drake & Morgan restaurants
What: We've been fans of Lost Years Rum since it launched in 2020 - it's a smooth AF liquid hailing from the Caribbean with an epic mission to save endangered sea turtles. What's not to love? For World Ocean Day, the brand has teamed up with Drake & Morgan's bars to create a special Message in a Bottle cocktail with big beachy energy - a deliciously tropical mix of Lost Years Rum, Aperol, lime juice and Angostura Bitters. And the best part: Drake & Morgan and Lost Years have pledged to save one baby sea turtle hatchling for every cocktail sold. Shell yeah! 
Junipalooza
When: Friday 9 June - Sunday 11 June
Where: Tobacco Dock, Wapping Lane, London E1W 2SF
What: World Gin Day is Saturday 10 June - what better way to celebrate than with a full weekend of juniper-related activities? This epic three-day festival features the chance to meet distillers from more than 30 brands while sampling loadsa different gins, along with music, entertainment, a full bar and masterclasses on all things gin. 
 Tickets from £16.08 | Book here
La Piñata
When: Friday 9 June - Saturday 10 June
Where: Tobacco Dock, Wapping Lane, London E1W 2SF
What: Attention agave lovers! Get yaself to Tobacco Dock for this two-day tequila and mezcal fiesta, where you'll get to meet the makers of over 20 different agave spirits while sipping the good stuff. You'll also be able to brush up on your agave knowledge through masterclasses taught by the experts... and maybe even face off with a luchador or two. 
Tickets from £26.80 | Book here 
Free Bottomless Rosé
When: Saturday 10 June
Where: M Canary Wharf, 10 Newfoundland Place, London E14 4BH
What: The booze-based holidays just keep rollin' - turns out 10 June is both World Gin Day and National Rosé Day. Who knew? If drinking pink is your style, then riverside restaurant M Canary Wharf is the place to head. They're celebrating National Rosé Day by serving up bottomless Mirabeau Rosé on their terrace from 12pm-1pm. Oh, and did we mention it's completely free? Wicked.
Taste of London
When: Wednesday 14 June - Sunday 18 June
Where: Regent's Park, Outer Circle, London NW1 5HA
What: If you've ever referred to yourself as a "foodie" (ironically or unironically, we won't judge), this is the festival for you. We're talkin' 36 of London's best restaurants, all in one park, serving up their most iconic dishes and drinks. And then there are the activities: wine and cheese tastings, Michelin-starred masterclasses, coffee tutorials.... It doesn't get more delicious than this. 
Tickets from £24 | Book here
Pasta Evangelists Pasta & Beer Masterclass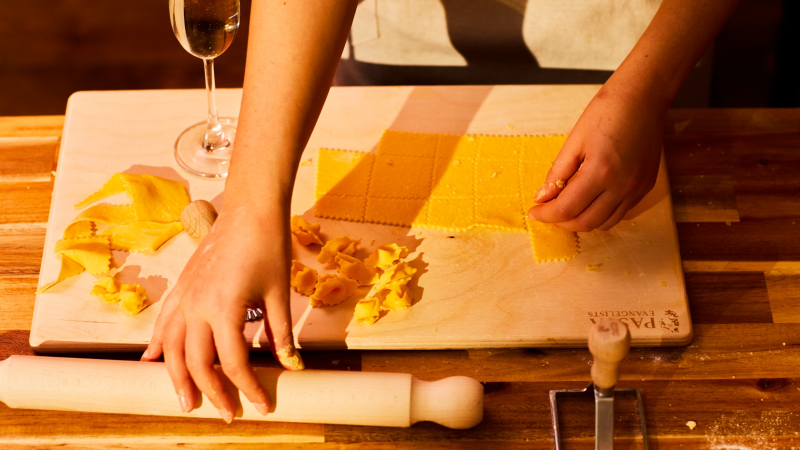 When: Saturday 17 June, 6.30pm; Sunday 18 June, 1pm and 6.30pm
Where: The Pasta Academy, 62-63 Long Lane, EC1A 9EJ
What: When it comes to carb-on-carb action, pasta and beer is one of the best combos in the game - and in this masterclass, you'll learn the art of both. Each guest gets a welcome glass of Birra Moretti and a spread of antipasti from Friuli-Venezia (the home of Moretti, FYI), and will learn how to make a traditional pasta dish from the region. This one's got Father's Day activity written all over it! La dolce vita, is that you?
Tickets £65 | Book here
Searcys Bubbly Show
When: Friday 23 June - Saturday 24 June
Where: 10-11 Carlton House Terrace, London SW1Y 5AH
What: Time to brush up on your bubbly knowledge, 'cos sparkling wine bar Searcys is hosting its first-ever fizz festival. Nab a ticket and spend your day sampling eight pours of the best Champagnes in the biz, chatting to the folks who make the stuff. You'll also get the chance to learn the art of sabrage, show off your nosing skills in blind tastings and sip vintages alongside a fine-dining experience. 
Tickets from £49 | Book here
Combine luxury & well-being at the Mandrake's boujie brunch
 
When: Throughout June and beyond
Where: 20-21 Newman St, London W1T 1PG, United Kingdom
What: Life's all about balance, right? And if that means holding a fourth glass of bottomless rosé in one hand and an oyster with Champagne Granita in the other, whilst having an Oracle card reading before heading on to a Sound Bath session then... well, sign us up. The Mandrake's new menu on their ludicrously-beautiful Jurema terrace gives the usual free-flowing brunch a uniquely spiritual twist. Sip on bottomless cocktails or wine (or REALLY ramp up the luxury with Veuve Clicquot Champagne) then indulge in their hotter-than-hot menu that includes Fish Tacos and Brioche French Toast. Now that's food for the soul. 
Book here
Try Swift's New Menu
When: Throughout June and beyond
Where: Swift, 12 Old Compton St, London W1D 4TQ
What: The crew at Soho bar Swift are switching up their menu just in time for summer, launching a brand-new list titled Postcards From Swift. It's all about how cocktails can evoke a sense of time and place. Case in point? The Sweetwood cocktail, a mix of Glendronach 12, Cocchi Americano, pineapple, passionfruit, Luxardo Bianco and lemon - a smoky, tropical banger that delivers easy-drinking barbecue vibes. Pow!
Book here
Take a TRIP at St Martins Lane Hotel
When: Throughout June and beyond
Where: 45 St Martin's Ln, London WC2N 4HX
What: Heatwave getting you hot under the collar? Need to chill the F out and find some zen in the city? We've got you covered - just take a TRIP to St Martins Lane Hotel and get a couple of CBD cocktails on the go. Try the BON VOYAGE - featuring TRIP's Peach & Ginger CBD, Aperol, crème de pèche, rosemary and fresh lemon - and wave bye-bye to the fast lane, in favour of relaxing in style. CBD promotes balance in the body and mind, so if you're looking to make this a summer of self-love, we suggest you start here. 
Check it out here
01/06/2023