The coronation is coming, but ya don't have to be a staunch royalist to get involved with all the epic boozing that's about to go down. From next-level cocktails to the street party of the century, here's the DL on how to raise a glass to an extra bank holiday - and the new monarch, if you're into that kinda thing...
Cocktails To Order
Take This Waltz
It's hard to imagine a setting more suited to toasting the coronation than The Langham hotel's traditional British boozer, and The Wigmore crew have whipped up a special tipple just for the occasion. Take This Waltz is a riff on a classic English milk punch, named after Charles' fave Leonard Cohen song. Yup, the team did their research. Available 5–8 May.
15 Langham Pl, London W1B 3DE
The Sceptre
The Beaumont's wood-panelled Le Magritte bar is the picture of elegance, so naturally their bartenders have dreamed up a celebratory serve with big boujee energy to match. The Sceptre brings together Tanq 10, St-Germain, Italicus, Vetiver and Cocchi Americano, with a cheeky pour of Pommery Champagne to top it all off. Hello, gorgeous.
8 Balderton St, Brown Hart Gardens, London W1K 6TF
Royal-Tea Martini
Apparently the newly minted King is partial to a Martini every night before dinner - us too! So the 40 Elephants team has done us all a favour and joined forces with Hepple Gin to make the Royal-Tea Martini, with tea, orange and, of course, a healthy pour of the juniper spirit. Even better, £2 per cocktail will be donated to The Prince's Trust. We love to see it.
3-5 Great Scotland Yard, London SW1A 2HN
English Royal Punch
Leave it to our peeps at the OTT jazz den Nightjar Carnaby to come up with the most creative coronation serve of 'em all. Their English Royal Punch is a mix of Hennessy Cognac, Eminente Rum, orange liqueur, hedgerow and Port jelly, Cumberland sauce, apple and rhubarb juice and cream Earl Grey Tea. Now that's a cocktail we'll pledge our allegiance to...
Kingly Court, 49-51 Carnaby St, London W1F 9PY
Royal Cocktail Collection
'Cos just one cocktail is never enough, the overachievers at Mayfair's The Arch Bar went and created a whole damn menu to mark the coronation. The Royal Cocktail Collection features 12 bangin' serves dedicated to different British icons. Our pick? It's gotta be the Duo, a combination of hopped gin and Dubonnet that pays tribute to Queen Elizabeth and Prince Phillip. Luckily, this list is gonna be around for awhile, so you can work your way through the lot.
1 Hamilton Pl, Park Lane, London W1J 7QY
Events To Hit
Portobello Road Distillery Gin Tasting
When: Thursday 4 May, 4pm - 7.30pm
Where: Royal Opera House Shop, Bow St, London WC2E 9DD
What: Wanna learn how to make epic gin cocktails at home for your bank hols festivities? Head on over to the Royal Opera House (ROH) to learn from an absolute master. Portobello Road Distillery founder Jake Burger will be on hand to drop some serious knowledge and tell ya all about the epic gin he made in collab with ROH. Hell yeah!
Tesco's First Pub
When: Thursday 4 May - Friday 5 May, 12pm - 11pm
Where: 34-35 Cowcross Street, London EC1M 6BD
What: Yep, you read right: Tesco is entering the pub game. The supermarket chain plans to launch a two-day pop-up boozer called The King in the Castle in Farringdon, donating all proceeds to The Prince's Trust. And this ain't your average pub menu - from trifle-flavoured Bellinis to cocktails in tea pots, you're gonna be in for some next-level tipples.
Book here; walk-ins available
Street Party & Nyetimber Bus at The Savoy
When: Friday 5 May - Sunday 7 May
Where: The Savoy, Strand, London WC2R 0EZ
What: Potentially the swankiest coronation celebrations in all the land (outside of Westminster Abbey, of course). The Savoy has transformed into a full-on English garden decked out with wisteria, gold crown installations and limited-edition bottles of English sparkling wine. It's also hosting multiple events to get the royal party started. Across the weekend, Savoy Court will play host to English wine brand Nyetimber's 1968 Routemaster bus, which will welcome guests for wine tastings and pastry pairings. Fancy, huh? But if ya really want to celebrate in style, snag a ticket to The Savoy Street Party. A coupe fountain of flowing Nyetimber, intensely British finger sandwiches and cakes, live music: it doesn't get more festive than this.
Book The Savoy Street Party here and Nyetimber tastings here
Concert & Fizz at 116 Pall Mall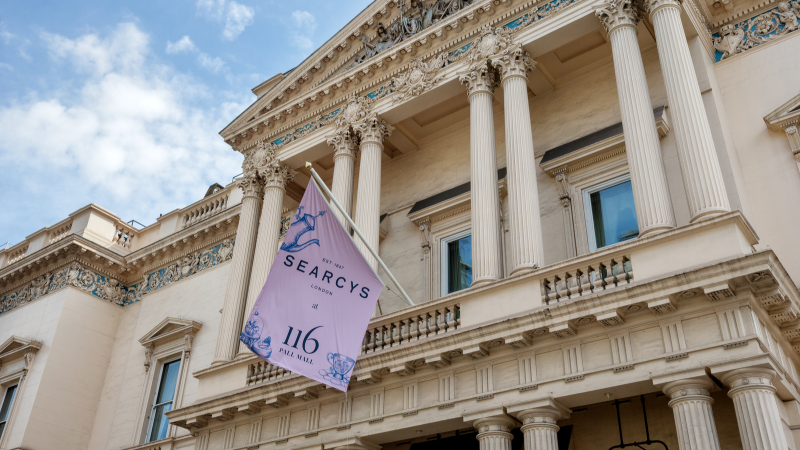 When: Saturday 6 May
Where: 116 Pall Mall, St. James's, London SW1Y 5ED
What: Searching for the ideal soundtrack for your coronation festivities? Look no further than the musical stylings of the London Chamber Orchestra (they played for the Queen on her 80th birthday, nbd). This epic concert is set to feature some of King Charles' fave pieces of music - in case you're gasping to know his go-to classical jams - and you can hang out in 116 Pall Mall's gorgeous Champagne Bar before and after the show. Wicked.
£45 for a concert ticket and a glass of bubbly; book here
Mrs Fogg's Coronation Brunch
When: Saturday 6 May, 12.01pm
Where: Mrs Fogg's Dockside Drinkery & Distillery, 37 Broadgate Circle, London EC2M 2QS
What: This is brunch with the royal treatment, baby! Mrs Fogg is gonna treat you right on Coronation Day with a lush set menu and an hour and a half of flowing pink bubbly. The bar will also be hosting a live screening of the action on the big screen, so you can watch the play by play. 
£25 for two courses; add a welcome drink and 90 minutes of bottomless pink Prosecco for £45 more; book here
100 Wardour St Britpop Brunch
When: Sunday 7 May
Where: 100 Wardour St, London W1F 0TL
What: Celebrate the new monarch by dancing your ass off with the kings and queens of pop. This glorious brunch will be bumpin' tunes from British icons like Elton John, Harry Styles and The Spice Girls, with delish dishes, bottomless fizz and special coronation cocktails to keep you fuelled throughout. 
Three courses for £35; book here 
Big Penny Social Bank Holiday Bonanza
When: Sunday 7 May, 2pm - 8pm
Where: Big Penny Social, 1 Priestley Way, London E17 6AL
What: Barbecue season is here, honey, and you can drink about it all day long at this awesome knees up. With Cajun spiced ribs and lamb chops on offer, this is a carnivore's dream (though there are strong veggie options too - hello, spiced aubergine). But when you're at the biggest beer hall in the UK ya gotta get on the pints, and you can bet they do 'em RIGHT. We'll raise a glass to that!
Book here
02/05/2023