Though Thanksgiving is the remit of our pals across the pond, there's plenty to be grateful for this month right here in London - namely, a sick line-up of epic boozy events. From secret pop-ups to mood-boosting masterclasses, these are the ones you won't wanna miss. 
Visit A Tequila Farmacia
When: 2-14 November
Where: BFI Southbank, Waterloo, London SE1 8XT
What: Yeah, it's called a pharmacy, but this ain't your average Boots. Step through a sliding bookcase in the BFI and you'll enter Don's Farmacia, a hidden pop-up bar modelled after an ancient Mexican apothecary, complete with antique medical journals, tinctures, tonics and botanicals. It's inspired by the healing practices of Don Cazcabel, creator of Cazcabel Tequila, which means this place is all about agave, baby. Each restorative cocktail on the menu features Cazcabel alongside a variety of indigenous ingredients from Mexico. Just what the doctor ordered...
Get your £15 ticket here
Try Ganymede's Bloody Mary Brunch
When: Saturdays 10am-4pm; Sundays 10am-12pm 
Where: Ganymede, 139 Ebury Street, Belgravia, London SW1W 9QU
What: There's nothin' like a little hair of the dog that bit ya to guarantee a great weekend, and Belgravia spot Ganymede has you covered with its new Bloody Mary brunch. The bar team have dreamed up six versions of the savoury classic, from a tequila-spiked Bloody Maria, to a Bloody Martini, to a massive version for sharing (she's called a Bloody Susan, and she's a beaut). Take your pick and pair it with your fave brunch dish - whether you're a full English kinda person or you're all about pancakes with puddles of maple syrup, you'll find your happy place here.
Party with Aldama at Hacha
When: 15 and 16 November, 5pm-11pm
Where: Hacha Dalston, 378 Kingsland Rd, Haggerston, London E8 4AA
What: When two powerhouses of Mexican spirits join forces, you know it's gonna be a wild ride. This month, the team from Brooklyn-based Mexican bar Aldama are heading to Hacha for two nights of agave-fuelled fun. They've worked with the Hacha crew to create a menu of six bangin' serves featuring Cazadores Tequila, each clocking in at £10 a pop. Catch us sipping the Salted Strawberry Rossini, with Cazadores Blanco, salted strawberry puree and Cava, and bopping to Aldama's wicked playlist all night long. 
Holiday Spectacular at Common Decency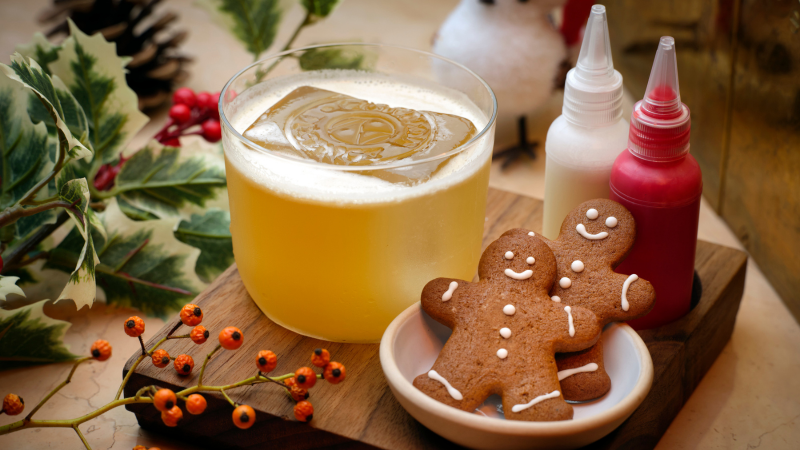 When: 16 November-Christmas
Where: Common Decency at NoMad London, 28 Bow St, London WC2E 7AW
What: The NoMad's newest bar is celebrating its first holiday season in style, transforming into a winter wonderland and serving up a limited-edition menu of festive drinks. The new list features three sections: Naughty, with heavy-hitting boozy riffs on classics; Nice, with lighter, lower-ABV options; and Cocktail Explosions, a selection of over-the-top sharing cocktails. We're already eyeing up the Not The Buttons - that's a mix of bourbon, cortado sherry, ginger, lemon and brown butter, served with a gingerbread man and icing for a bit of DIY garnish action. 
Get Mixin' at Sweeties
When: 20 November
Where: Sweeties at The Standard, 10th floor, 10 Argyle Street, London WC1H 8EG
What: Sweeties, the stunner of a bar set on the 10th floor of The Standard hotel, is spillin' the secrets to its functional cocktails. Get in on this 90-minute masterclass, and you'll learn how to create three of the menu's epic functional cocktails from head mixologist Jack Sotti himself. These drinks are big on boosting your mood, so expect adaptogenic and nootropic ingredients alongside funky flavours and fun presentations. Each ticket includes a welcome drink and three cocktails - not to mention soakin' in Jack's expert insights under the glow of Sweeties' massive disco ball. Groovy.
Get your £50 ticket here
Have A Wicked World Cup Party
When: 20 November-18 December
Where: Market Halls Oxford St, 9 Holles St, W1G 0DB; Market Halls Canary Wharf, 25 North Colonnade, E14 5HS
What: The World Cup is kicking off this month, and so are Market Halls' footie-related festivities - we're talkin' huge HD screens, tabletop BrewDog beer kegs, face painters and your pick of the mega food vendors that call this place home, from Le Bab to Black Bear Burger. Up for a post-game boogie? After the match, DJs will be playin' all the footie anthems until late - and if England come out on top, Market Halls are promising 100 pints for £1 each. Winning.
Get your £5 ticket here
3/11/2022