Can't get a reservation at your favourite bar? There's plenty of space in the park, yo, and these bottled cocktails are the perfect side-kick. 
The legendary crew behind Murder Inc. & The Cocktail Trading Co have been hard at work creating some sick new bottled cocktails using J&B Rare, and we're feeling them.  The Rusty Phocus Cocktail created by Holly Law from Murder Inc. is a refreshing blend of J&B Rare, a saffron-honeyed pinot noir, Assam tea and clarified bergamot soda. It's Holly's playful take on a Rusty Nail, inspired by her old man's past time of hitting up the fanciest booze on offer when he got bumped up to First Class, which translated as him picking the most expensive miniature whisky to be whipped into a Rusty Nail. Talk about a boss move. Now that Holl's all grown up, she now tries to get the fella to dabble with Scotch a little differently, hence this little number.
Over at The Cocktail Trading Company, Peter Lidstone has mixed up and bottled J&B Rare, a ginger earl grey infusion, and fresh sage & light white wine cordial to make the Equine Cocktail, all clarified, carbonated and classy as hell. The inspiration behind the cocktail is a ride; from a fascination with Daniel Radcliffe to a traumatic experience watching him in Equus (that was the play he got his wand out, FYI), this cocktail is a twist on a Horses Neck (an American cocktail made with brandy and ginger ale) and the result is... magic.
Both cocktails are available via Slerp. RRP: £12.50 plus London delivery.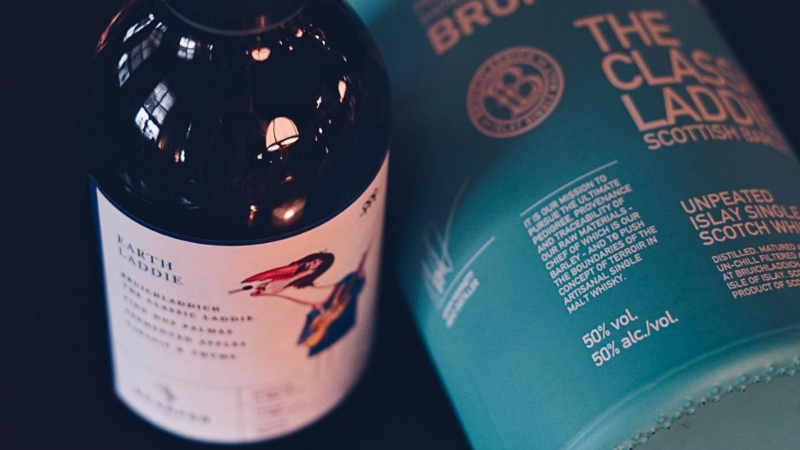 Save The Earth... Drink Whisky! That's our motto, and we're stickin' to it. The award-winning Scarfes Bar crew teamed up with Bruichladdich Whisky for an epic limited edition bottled serve in celebration of Earth Day on April 22nd. The Earth Laddie is an earthy & complex concoction inspired by the distillery's sustainable approach to making whisky, combining a heady mix of Bruichladdich's The Classic Laddie and Fino Dos Palmas Sherry with leftover produce otherwise destined for the bin - we're talking fermented apples & sweet, woody parsnips.
Each 300ml serve is available to purchase for £34 each, for collection or delivery across Central London via Scarfes Bar website & Slerp.
The new season of cocktails from The Drinks Drop has... er, well dropped: and it's as tantalising as that last pub garden table positioned right in the sunshine. Their Summer Menu has everything you need to bring vacation vibes to your casa, including a whole section on Margaritas (Pink Rhubarb Marg? It's yours. Lychee & Coconut? Sure thing. Acai & Elderflower? Roll right up!). We guarantee at least one of your favourite bars is featured, so whether you're craving a Cuban concoction from Laki Cane, wanna get groovy with the Summer Solstice from Artesian or feel like making it a Grand & Sour from The Coral Room, you're sorted. What's more, they have a selection of special Earth Boxes where the packaging has been made from mycelium, the material structure of fungi. What with the epic cocktails found inside (including some awesome plant-based serves using booze-free aperitif, Everleaf) there's not mush-room for anything else...
Head to thedrinksdrop.com and choose your fave cocktails for Nationwide delivery. 
Ready to bring the party to your local park? After reading this you will be. World of Zing have been keeping us well-watered with premium bottled cocktails throughout lockdown, and they've stepped up their game now we can step outside and socialise with pals. You can now order their craft cocktails in easily transportable pouch form. Crack on with a 250ml serving or go in like a G with their 1.5l Magnum pouch. Whoof. The cocktails come in 7 sexy flavours including a Passionfruit Margarita, a Rhubarb Cosmo and a Salted Caramel Espresso Martini. Ladies & gents: it's time to pick your pouch and enjoy.
Available to purchase at worldofzing.com priced from £10.00.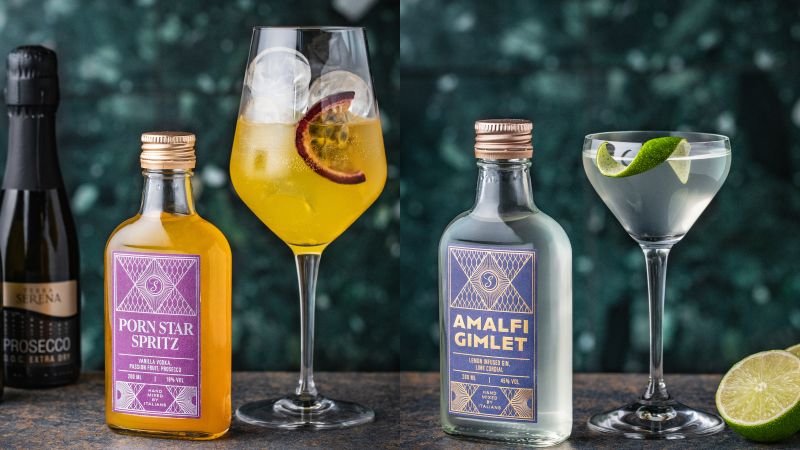 When it comes to fresh, perfectly portioned pasta delivery, these guys are the dons. But how do their Italian inspired bottled cocktails fair? Bellissima, baby. They've launched 6 sassy bottles, but have you ever heard of a small Italian family? Nuh uh - they've got a clan of 15 that'll be available on rotation, from Negronis and Spritzes, to classics given an Italian makeover, like their Amalfi Gimlet created by infusing gin with Italian Amalfi lemons instead of lime to give it a very Mediterranean twist. The kits serve 2-4 cocktails and come with garnishes and instructions for your perfect aperitivo. Now all you need is the pasta to go with them.
Cocktail kits starting from £12 (200ml) with free nationwide delivery over orders of £25. Order here.
What did you miss most during lockdown? Your family? Your friends? The physical touch of literally anyone outside of your bubble? For us, it was all of the above. For the co-founders of Black Cow vodka, it was British summertime with a Negroni in hand, good company and a view. That pining is all it took to inspire them to create their first ready-to-serve cocktail; celebrating the spontaneity of Summer - one drink that turns into three, day that turns into night. The Black Cow Negroni is a bottled blend of Black Cow's English Pure Milk Vodka, Italian Campari, Spanish vermouth, and a hush hush blend of natural bitters that give it a citrusy zing that speaks of summer. Fill your glass with ice and pour straight from the bottle. If you wanna make it last longer, lengthen it up with soda and finish with a slice of blood orange.
The ready-to-serve cocktail will be available via Black Cow's website for £25, or through Ocado.com
Only Fools & Horses probs has you thinking of Peckham as the home of wheelin' & dealin', and Funkidory are the dealers of funky music, tasty drinks and good vibes. When the pandemic hit, these cool cats reimagined their space and morphed into a bottle and vinyl record shop with a killer natural wine offering, delicious local products and their cocktails, bottled and ready to go - and it's no shock that they're pretty damn fly. If you're a Peckham purist (with a taste for whiskey), hit up their Rye Lane mix of Rye Whiskey, Dry Vermouth, Fennel Seeds Syrup & Giarraffa Olive Brine, and set your Spotify playlist to "funky" to recreate the vibes of this ultra-cool 'hood bar. 
Free same day local bike courier available all week long servicing Peckham Rye, Queens Road, Nunhead, East Dulwich & Camberwell, and nationwide delivery available for £6.