If you're into whisky (who isn't?) then chances are you're gonna freak when you hear that Glenmorangie are praising all things Old Fashioned by kicking off a whole week dedicated to drinking them. That's right, it's Old Fashioned Week from 13th – 19th June and you should definitely get involved.
It's all about Glenmorangie's Extra Matured Range of whiskies - they've all been aged for 10 years in ex-bourbon casks, then 'finished' in different wine casks, giving each dram it's own twist: Lasanta: finished in sherry casks // Quinta Ruban: finished in Port casks // Nectar D'Or*: finished in Sauternes wine casks.
A few of our favourite bars are doing cool twists on this classic using the Glenmorangie Extra Matured range. PLUS you can win the chance to go down and try them for FREE. Nice one.  Just message into BarChick Concierge or chat to us on our homepage and tell us which of these sounds like your kinda Old Fashioned and why! We'll pick a few winners to go down with a mate and try their fave on us.
1. The 'Green Day' cocktail at The Gallery at The Ace, London
This number's all burnt applewood smokiness, sweet hints of whisky and a hint of sea saltiness to give it a taste of Scotland. It's mega. Wanna win 2 rounds of it for you and your 3 best mates?  You got it baby. Just message into BarChick and tell us why this one's got your name on it.
2. 'The Gold Nectar' at Quaglinos, London
A shaken cocktail, served in a beautiful old-style martini glass, sprayed gold for a bit of bling, with a drop of Moet Rose Champagne and sweet Creme de Peche alongside lemon meringue foam. Pow.
3. 'Twelfth Green' at Happiness Forgets, London
The base of the drink aims to have flavours and essences of all three of the whiskeys in the matured Glenmorangie range. Bold. So guests can choose which one they'd like, depending on their flavour preference.
4. 'The 19th' cocktail at Boisdale Canary Wharf, London
Bars don't get more classic than Boisdale, get your tartan out 'cos it's a whisky lovers dream in here.  They've infused the Glenmorangie Nectar D'Or with dates to enhance the sweetness, added ginger bitters for a fiery kick and added a splash of water to allow the flavours from the whisky to really come through. Plus it's served up with crackers and cheese which is probably the best cocktail garnish of all time.
5. 'Twist on Old Fashioned' at Vinothec Compass, London
Peach, honey and whisky. We're in. It's classic with a fruity twist, spot on for easing the smokiness.
6. 'The Admiral' at Cartizze, London
Sweet tooth? Get in line. This is delicious with a toasty nutty flavour from the almond syrup (think hints of homemade amaretto) and a few drops of chocolate bitters to give it depth. It's smoked with sandalwood and served up with Glenmorangie chocolate. Enough said. Get sipping it with 3 mates on us. Tell us why it looks like your kinda poison.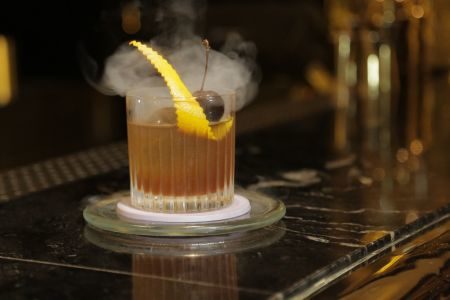 This is partner content with the awesome Scotch Glenmorangie