It's easy to crack open a bottle of wine when you have a night in; but we say man up, dust off your booze cabinet and get shaking. It's cheaper than drinking them in some swanky bar and you'll look like a total G in front of your mates.
Don't know your Martinis from your Manhattans? Fear not, BarChick is here to help. Here are some classic cocktail recipes everyone should be able to make at home. Want BarChick's advice? Invest in good quality spirits, embrace trial and error (experimentation is the best bit!) and go get stuck in.
Bloody Mary
This old school classic is an absolute MUST. How many times have you woken up needing a cure for the hangover from hell?! This. Is. IT. Sunday sessions just got real. First things first, everyone has a preference. Extra spicy? Splash of OJ? Horseradish? Sherry? Clamato vs tomato? BarChick like to get creative as there is no right or wrong way with this one. But stick to the recipe below for your base and go from there. NB. Less can be more, so don't go too wild.
Ingredients:
45ml Vodka
90ml Tomato Juice
15ml Lemon Juice
4 dashes of Worcestershire Sauce
3 dashes of Tabasco
Pepper
Celery salt
Garnish: whatever the f*ck you want!
Method: Rim the glass with celery salt. Pour ingredients into a shaker filled with ice, gently shake and strain into glass. Garnish with celery, olives, a burger. Whatever Trevor. 
Espresso Martini
A pick me up to 'wake you up and f*ck you up'. The Espresso Martini is the perfect cocktail before a big night out (especially if you've had a long day at the office.)  Caffeine and booze = double trouble. So if you weren't in the mood before, you will be now.
Ingredients:
60ml of Vodka
45ml of Espresso
10ml of Coffee Liqueur
15ml of Sugar Syrup
Method: Pour all ingredients into a shaker filled with ice and shake until the outside of the shaker is cold. Strain into a Martini glass and garnish with 3 coffee beans.
Tommy's Margarita
The party starter; If tequila doesn't make you happy then it will definitely send you loco. Plus this twist on the classic Margarita is insanely easy to make so keep it simple and make it a Tommy's.
Ingredients:
60ml of 100% Agave Reposado Tequila
30ml Fresh Lime Juice
15ml Agave Nectar
A handful of ice cubes
Lime wedge, to garnish
Method: Salt rim half of a Margarita glass or jam jar. Pour ingredients into a shaker filled with ice, shake and strain into the glass. Garnish with a lime wedge, and don a sombrero to really get into the mood.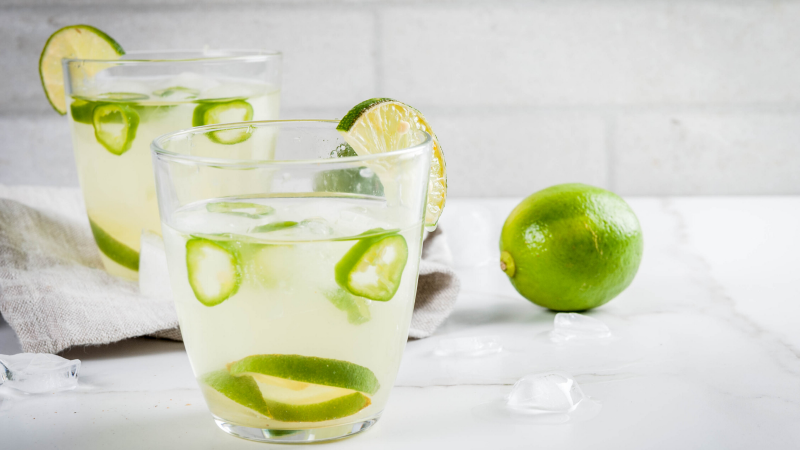 Negroni
Go Italiano and whip out this bad boy for the ultimate aperitif. Negronis are a classic and they're damn easy to make, but when it comes to serving act nonchalant as it'll taste killer.
Ingredients:
25ml gin
25ml Campari
25ml sweet vermouth
Ice cubes
Method: Pour all ingredients into an ice-filled old-fashioned glass and stir briefly. Add an orange peel garnish and shout "BELLISSIMO" as you serve.
Gin Fizz
The Gin Fizz is old school; this light and refreshing drink is easy to make and is an all-year-round crowd pleaser. Winner winner.
Ingredients:
50ml of gin
25ml lemon juice
12.5ml of sugar syrup
1 egg white
Top up with soda water
Method: Put the egg white into a shaker and pour in the rest of the ingredients (minus the soda water) and fill the rest of the shaker with ice and shake. Fill the glass with ice and strain the shaker contents over, finally top up with soda water. Watch that head rise, baby!
Whisky Sour
If you want this to taste good then you need to make sure you have good bourbon and good citrus. Simple. If you're feeling wild (which we think you might be) then add egg white. Don't squirm, it adds texture and it's good and proper.
Ingredients:
60ml Whiskey
30ml Lemon juice
15ml Sugar Syrup
0.5 Egg White
Dash of Angostura
1 Maraschino Cherry
Method: Firstly shake all the ingredients together in a cocktail shaker without ice for at least ten seconds to help the emulsification of the egg. Next, shake all of the ingredients again WITH ice, then double strain into a glass. 
Dirty Martini
Everyone has a way they like their Martini to be served, but in true BarChick style we like ours dirty.  Gin is the classic base spirit, but you can go for vodka, the choice is all yours. Main thing is – make it ICE COLD BABY.
Ingredients:
75ml of good quality gin (or vodka)
8ml of dry Martini Vermouth
10ml of olive brine (the more brine, the dirtier it is)
Olives to garnish
Method: Pre-chill your bar equipment and ingredients (shaker, glass, gin and vermouth). Once happy it's TOTALLY chilled, add the ice to the shaker and measure in the needed measurements of gin, brine and vermouth. Stir and strain into your chilled glass and garnish with olives. Mmmmm filthy!
French 75
One for the special occasions, to perk up your Champagne, or make that cheap Prosecco taste good. It's got a hell of a kick (that'll be the added gin) so maybe don't refill Nan's glass too often come Christmas morning.
Ingredients:
45ml Gin
15ml Lemon Juice
8ml Sugar Syrup Top up with Champagne (or Prosecco)
Method: Shake ingredients with ice and strain into a Collins glass half full of cracked ice. Top up with Champagne. This can also be served in a Champagne flute so you can be proper fancy... like the French. Ooh la la. 
Manhattan
This is a cocktail that means business - made from just pure, no p*ssing about, booze. Not for the lightweights, but definitely for those with some good classic taste.
Ingredients:
75ml of Bourbon
30ml Sweet Vermouth
4 drops of Angostura bitters
Dash of Cherry Syrup
1 Maraschino Cherry with stem
Method: Stir over ice and strain into a chilled Martini glass. Pop in a cherry. BOOM. 
White Russian
Not for the lactose intolerant but definitely for the bowling enthusiast. Sip slowly, it always goes down smooth.
Ingredients:
Ice
60ml of Vodka
30ml of Coffee Liqueur
30ml Single Cream
Method: Pour the ingredients into an old-fashioned glass filled with ice and stir well. Now pop on the Big Lebowski and watch while you drink.
Lead image by Soho Home via Pinterest