A three-day weekend with a national celebration can only mean one thing: cocktails! From tried-and-true classics to wicked riffs made with quintessentially English spirits, we've got the best recipes to toast the Corry Nash (yup, it's a thing).
The King's Elixir
The Donovan Bar's cocktail maestro, the legendary Salvatore Calabrese, has mixed cocktails for royalty, so it's no surprise this Mayfair drinking den has dreamed up a truly epic serve to celebrate Chaz's new headgear. Fun fact: The King's Ginger Liqueur, used here, was created back in 1903 as a medicinal drink for King Edward VII. Fitting, no?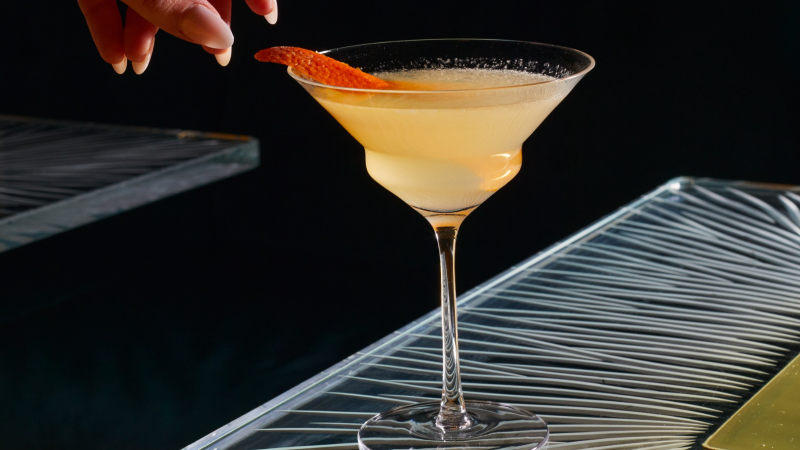 You will need...
45ml No.3 Gin
20ml The King's Ginger Liqueur
5ml honey syrup
15ml lime juice
3 drops fiori d'arancio (orange blossom water)
Orange twist, for garnish
Add all ingredients to an ice-filled shaker and shake that thang! Strain into a chilled coupe and garnish with an orange twist. 
Pimm's No.1 Cup
'Cos nothing says bank hols like a giant jug of booze. Pimm's No.1 (that famous gin-based liqueur infused with spices and fruit) was invented in 1823 as a drink to aid digestion, and it's been going strong ever since. Pimm's has made other Cups throughout its history too - fingers crossed they'll bring back Pimm's No.7, which was apparently tequila-based and produced for a limited time in the 1960s. The more you know...
You will need...
250ml Pimm's No.1
500ml lemonade
Lemon, orange, cucumber and strawberries, sliced
Mint leaves
Combine all the ingredients in a jug with cubed ice. Give it a stir and pour into individual glasses to serve. Garnish with more mint to keep things fresh AF.
Strawberry Martini
We hear the King is a fan of the Martini; why not give his signature tipple an English twist by serving up this version, made with Dorset-based Black Cow's strawberry vodka? 
You will need...
1 fresh strawberry
70ml Black Cow & English Strawberries
7ml dry vermouth
5ml fresh lemon juice
Touch of honey water (diluted honey)
Muddle the strawberry in the bottom of a shaker. Add all the other ingredients and chuck in some cubed ice. Shake hard, then double strain into chilled Martini glass. Fresh and fruity!
The Royal Ruby Spritz
Wanna lighten up your Spritz so you can keep the drinks flowing, without the headache? The crew at Cornish brand High Point have created a perfect lower-ABV option using their wicked non-alcoholic aperitif - it's also banging with tonic water, if going entirely alcohol-free is more your style.
You will need...
4 fresh strawberries
35ml Ruby High Point Non-Alcoholic Aperitif
25ml London dry gin - check out our faves here
100ml English sparkling wine
10ml sugar syrup
1/2 lime
Another strawberry, for garnish
Muddle the strawberries in the bottom of a cocktail shaker. Add the Ruby Aperitif, gin, lime juice, sugar syrup and ice to the shaker and give it a good shake. Strain into a chilled flute glass. Top with your fave English fizz (Prosecco works too) and garnish. 
R&R
The team at NoMad London's sexy basement bar Common Decency design their menu around seasonal ingredients. Their latest list features this banger, which is alllll about rhubarb. Making it is a bit of a workout (all that froth means a whole lotta shaking), but that just means you can skip the gym and go straight for the cocktails, baby!
You will need...
1 egg white
1 strawberry, muddled
15ml sugar syrup
15ml Aperol
15ml rhubarb syrup*
22.5ml lemon juice
30ml rhubarb creme fraiche**
45ml Olmeca Altos Plata Tequila
60ml sparkling water
Add all ingredients except for the sparkling water to a tin and dry shake (AKA shaking without ice - this helps things get foamy). Add three small ice cubes and shake hard until they're dissolved. This will probs take around a minute, maybe longer, so just close your eyes and think of England. Add 45ml of the sparkling water to a highball glass, then strain in the cocktail until it's flush with the top. Pop the drink in the freezer for one minute to rest - this helps a perfectly frothy head to form on the drink without things getting too outta control. Finally, top with the remaining cocktail mixture and 15ml sparkling water. She ain't easy, but she's worth it!
*To make the rhubarb syrup: Combine 500ml rhubarb juice and 350g caster sugar. Mix until smooth.
**To make the rhubarb creme fraiche: Combine 250ml rhubarb syrup and 250g creme fraiche and whisk until it reaches a smooth texture.
Orange Kiss Margarita
Just because the royals are keeping things traditional for coronation weekend doesn't mean you have to. We recommend going rogue by making this awesome twist on the Marg, featuring a hit of zesty flavour from the new Brockmans Orange Kiss Gin. 
You will need...
30ml Brockmans Orange Kiss Gin
30ml tequila
25 ml lime juice
15ml sugar syrup
Lime wheel, for garnish
Combine all ingredients in an ice-filled shaker. Shake vigorously, fine strain into a coupe and garnish that bad boy! 
04/05/2023