Warning: watching these *will* make you wanna get your booze on.
You can't leave the house but boy, do you want to party. Or to clink glasses with someone that isn't your partner /mum /cat. Close the curtains, put on one of these movies, and pretend you're right there drinking with the best of 'em. 
Drink This: Champagne.
Watch this: The Great Gatsby
No movie makes us want to pop the corks more than Baz Luhrmann's technicolour take on F Scott Fitzgerald's debaucherous novel. The story is about a rich guy who loves to host extravagant parties, damnit. And we're pretty confident that at some time in your life you've sent that Gif of Leo raising a glass of fizz. If you can't be surrounded by stunning hedonists in spangly leotards then live vicariously through this movie instead. Just make sure to get up and shake your tailfeather when the dancing scenes come on screen. It counts as exercise, right? 
Drink this: Whiskey.
Watch this: Lost In Translation
It's a film about dislocation, feeling adrift in an alien culture and sparking up unusual friendships. But one of the key scenes of Lost in Translation has to be Bill Murray's character attempting to shoot an advert for Suntory whiskey. Rolling his eyes and trying not to look like he wants to throw himself off a building, he swirls around the Hibiki 17 Year Old and tries to understand what the Japanese commercial director is saying to him. Apparently, Murray improvised a load of lines and was actually super jetlagged through the filming. One of the best exchanges is when the photographer asks 'Are you drinking now?' and he replies. 'As soon as we're done.' We've all had those meetings, right?
Drink this: a frozen gin Martini.
Watch this: A Simple Favour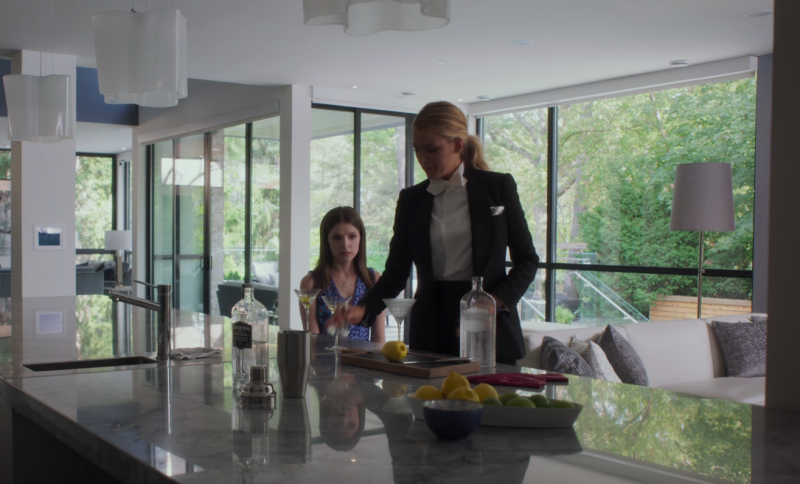 How this film was able to be released without a fat alert saying 'PRODUCT PLACEMENT INCLUDED' we'll never know. Blake Lively basically spends 2 hours as a beautiful, psychotic booze-hound with a penchant for Aviation Gin Martinis. Aviation Gin being the spirit owned by her husband Ryan Reynolds, let's not forget. Crafty. However, you gotta love the shoutout that comes at 17.35 mins in when she tells Anna Kendrick's character she needs a 'real' Martini - having tried it in Dukes in London. LEGENDS! The key? Frozen gin, and a frozen glass. You know it, Blake. Watch them necking Martinis everywhere from luxe apartments to... graveyards. If you don't fancy a trip to Dukes after this, we'll be amazed. 
Drink this: a French 75.
Watch this: Casablanca 
You can't head to cocktail bars right now, but you sure as hell can watch a movie set in one. Casablanca is based on the play Everybody Comes to Rick's, and the Rick's in question is the 'gin-joint' owned by Humphrey Bogart's character. This is definitely a watering hole we would hit up - roulette tables, a Mexican band, a live piano player... BarChick'd be dancing on the tables. One of the most famous cocktails ordered is by Rick's ex Yvonne and her new Nazi boyfriend, who asks for a French 75. This Champagne cocktail also combines gin, lemon juice and sugar syrup, and gets its name from the 75-millimeter M1897 gun that was commonly used by the French field artillery in World War I. The cocktail itself is a banger - pour it again, Sam. 
Drink this: a Manhattan
Watch this: Some Like It Hot
Quarantine has us doing some crazy things - shaking up a cocktail in a hot water bottle isn't one of them. Yet. If it does come down to it then we'll be taking our cue from Marilyn Monroe in Some Like It Hot. Marilyn uses bourbon for hers, shaken with vermouth in a hot water bottle on a train and poured into paper cups. It's set in Prohabition times when boozing wasn't allowed, so we like her style even more. Lockdown is all about being resourceful, after all... 
Drink this: red wine.
Watch this: Sideways
"If anyone orders Merlot, I'm leaving. I am NOT drinking any f***ing Merlot!" The classic line from this wine-soaked flick that you might find yourself yelling at your flatmate, depending on who made the last Majestic order. If you're missing the Great Outdoors then slip into this film and watch Miles and Jack career around Santa Barbara wine country, sipping on banging vintages and tucking into sun-hazed picnics. Yes, it will make you want to book a ticket to California once we can all fly again. But if you've ever disgraced yourself at a wine tasting you'll feel a hell of a lot better too. 
Need wine in your life? Check out our list of the best Wine Home Delivery services here: www.barchick.com/bar-chat/wine-delivery
Drink this: white wine.
Watch this: Bridget Jones
'Isolation Day 18... alcohol units 7, lunches 2.5, times dressed up miniature poodle 17... v. bad.'  If quarantine has sent you slightly loopy, get in line. Everyone seems to be functioning on some level of insanity right now. And if you've spent two days on the sofa in your PJs, drowning your sorrows in Chardonnay and singing power-ballads to get you through... that's okay too. Stick on Bridget Jones and take inspo from everyone's favourite single heroine. She got over the fuckwittery of Daniel Cleaver, you can get over the fuckwittery of having to stay home for a few weeks. Solidarity! 
Drink this: a White Russian.
Watch this: The Big Lebowski
If you've yet to be acquainted with The Dude, now's the time. This dressing gown wearing, bowling-obsessed unwitting detective rocks around California meeting a bunch of crazy characters, while always finding time for his favourite cocktail. In case you weren't sure, a White Russian is made from vodka, coffee liqueur and cream served over ice. Whether you love the sound of it or are on the fence, it's pretty impossible not to watch this film and wanna get involved. We dare ya. 
Drink this: Cosmopolitans.
Watch this: Sex & The City
Ah, remember socialising and after-work drinks and the buzz of a busy cocktail bar... no you're crying. Truth is, if you're anything like us you'll miss the entire performance of going out and not just the cocktails. This includes brushing your hair and wearing something that doesn't just have an elastic waistline. For an injection of glamour and to remember what it's like to make an effort then stick on Sex & The City to watch Carrie, Samantha, Charlotte and Miranda trot around in towering heels, dressed to kill, sipping on pink Cosmos. We then recommend getting on Houseparty to your pals and planning the most epic meet up once we're allowed out again. It's gonna be good. 
Drink this: a Margarita.
Watch this: Jurassic Park The Lost World
Random entry we know, but who can forget that scene where a terrified park visitor makes a run from the attacking pterodactyls... carrying not one but two of his precious Margaritas. Absolute legend. We'd do exactly the same. Want an extra bit of movie-trivia? The person playing this hero is none other than "Margaritaville" singer Jimmy Buffett! 
Drink this: everything.
Watch this: Withnail & I
There is a legend of a drinking game that accompanies Withnail & I, the cult movie about two struggling actors/alcoholics who booze everything from sherry to lighter fluid. If you intend to drink the equivalent of what the two waster protagonists imbibe you're gonna need: 9 and a half glasses of red wine, half a pint of cider, 1 shot of lighter fluid, 2 and a half shots of gin, 6 glasses of sherry, 13 glasses of whisky and half a pint of ale. In other words: DO NOT TRY IT AT HOME. Instead, sit back, laugh at classic lines like 'We want the finest wines available to humanity. We want them HERE, and we want them NOW', and feel happy in the knowledge that although you really fancy a drink, you don't need it as much as these guys.