Not everyone can afford to jet off into the sunset, drink coconuts under palm trees and hit the non-stop Ibiza parties, but so what? If you're living in London you can bring Ibiza to you. This city is pretty damn good too, you've just gotta know where to go. Not only is Ibiza hot and sexy, but in Spain they've taken the humble gin and tonic to a whole new level, pairing garnishes and different tonics to each gin, nothing like the tepid, bubbly drink you normally get in the pub. Whether you're sitting on a roof top in the sun, or you're inside sipping a great G&T Spanish style avoiding the terrible English weather, we've got the bars you need to know about to bring some Mediterranean into your life without a passport.
Sitting up here is like some sort of plush haven and we love it. With plants, exotic trees and a nice long cocktail list this is the perfect escape from a busy schedule.  You could be in a hidden garden in the deep depths of Ibiza. To get in the summer mood sip on a Goji Carrot Martini, a mix of Gin Mare, goji berry juice, pressed carrot juice, lemon and a hint of fresh home grown thyme... damn refreshing and kind of one of your five a day, right?! Ring ahead before visiting the gardens to make sure it isn't booked for a private function. If it is, don't sweat it, hit Babylon bar on the 7th floor, they have a banging terrace too!
99 Kensington High Street, London, W8 5SA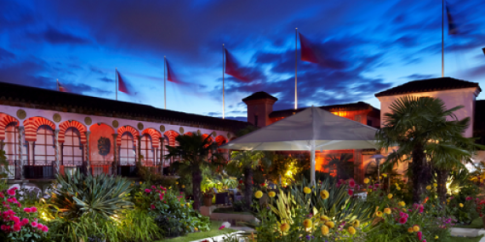 Soho couldn't be less Ibiza if it tried, BUT Star at Night is ready to change that out for you. They've got a G&T menu that teams up different gins with different tonics and garnishes (not to look pretty, think of it more like food pairing, matching the flavours). There are so many on offer that you can get involved with the Spanish delicacy as many times as you like. We say try them all, but maybe not all at the same time (and yes, they are served in a gin Copa, those huge bowl-like glasses you get on holiday). Like what you see? Then get involved with their London Gin Club that holds various tasting sessions as well as coffee shop style loyalty cards for the stuff, NICE.
22 Great Chapel Street, London, W1F 8FR
Meridien Hotel Terrace Bar & Grill  
Overlooking Piccadilly, The Terrace Bar & Grill at Le Meridien Hotel has its very own gin bar. If the sun is out, escape the hustle and bustle below and sit out on the terrace sipping a refreshing cocktail. What are you in the mood for? An aperitif? Get involved with the G&T Afternoon Tea for £34 and for that you'll get a selection of finger sandwiches, homemade scones, fresh pastries and a choice of herbal or fruit infused gin with tonic syrup... far better than tea!
21 Piccadilly, London, W1J 0BH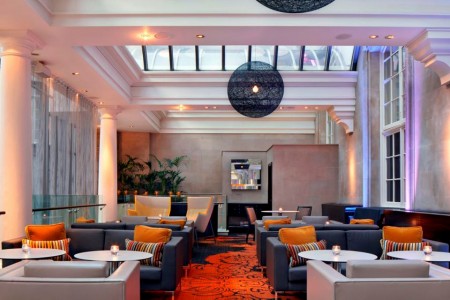 Get the London views but the Mediterranean tastes over at the OXO Tower. Enjoy Gin Mare's Perfect Serve, the savoury Mediterranean gin is paired up with a delicate Peruvian tonic 1724, and the flavour is enhanced by a smoked rosemary sprig, a lemon and a basil leaf, which you can smell as you sip. Plus it's teamed up with a burst of green gazpacho served on a spoon by the side, tapas stylee... a must try! We all like a food pairing, and this burst of flavour will wake your taste buds up and get them dancing like they're partying on down in Pacha.
 Barge House St, South Bank, London, SE1 9PH
Brixton is more Caribbean than Mediterranean, but hidden under St Matthews Church is a new Spanish booze and tapas bar Gremio. Watch out for the big bull's head on the wall, that beast is HUGE (it doesn't get more Spanish than that!) and work your way through this spacious, dark underground hang out to the bar. Check out the little Catholic shrine in the corner (very Romeo & Juliet) with tapered candles and icons, it's pretty cheeky and a nice touch to set the mood. Cocktails aren't on offer but G&Ts are with various gins available and of course expect Spanish beers, sherry, and wines.  Hungry? They've got a selection of pinxto and tapas ready for you to tuck into. With no windows and a cosy atmosphere it's easy to forget you're in busy, hectic Brixton and think you're lulling the evening away in an authentic, old school, classic Spanish bar. Plus they've got DJs spinning Spanish and Latin beats at the weekend with a 3am licence… party time.
The Crypt, St Matthews Church, Brixton
Summer is all about kicking back, so lucky for you Voltaire have partnered with Temple Spa skincare pioneers to bring cocktails teamed up with spa products! We say order the appropriately named Aaahhh cocktail made with Gin Mare, thyme, rosemary, sugar, lemon and grapefruit juice. Plus it's served with some AAAAHHH! soothing balm... awesome.
19 New Bridge Street, EC4V 6DB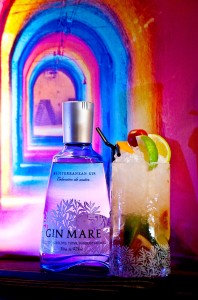 Head to The Trafalgar, take the lift up to the 6th floor and be ready to party. The lifts themselves get you in the mood with a glittery floor, multi-coloured lights and banging music... 10 second club. This stylish roof terrace is as good as it gets, it's nice and big, with lots of plants, comfy seating and heaters for when it gets cold (it is London after all). This could be an Ibiza hang out, it's sleek and discreet and a nice little secret to know about, take your mates and you'll look bad ass. It's easy to think you're there with the smooth groove lounge hits playing through the speakers, but look below and you'll see London's Trafalgar square and the usual people clambering on the lions below… best of both worlds we think!
The Trafalgar, 2 Spring Gardens, Trafalgar Square, London, SW1A 2TS 
It's all very kitsch in here, so even on the coldest and wettest days you feel some sunshine. With plants, garden furniture and watering cans you can pretend you're in some sort of garden party, forget the traffic and pollution outside, this is a haven. We suggest hitting the Honey & Mustard Picnic Fix with Gin Mare, fresh apple, honey, tarragon, pea shoots and whole grain mustard to give it a kick. Don't knock it till you try it! Tuck into their huge food menu, they've got salads, sharing boards, a large selection of mains as well as a great grill. Wanting to get all Mediterranean? We suggest the sharing antipasti board and some fresh fish… sorted.
The Park Pavilion, 40 Canada Square, London E14 5FW
Gin & tonics sort anything out, it's like the Spanish answer to a cup of tea in London. Therefore if you are after a perfect G&T when you are in town we suggest you head down to Graphic where they have over 180 different gins and you can have it any way you like it (look at their Gin Bible if you're having difficulty choosing). They've got a load of art around the bar with the artist changing every few months, so you're already getting a bit of culture! Plus with laid back tunes in the afternoon and DJs by night, this is the perfect place to party after work... sure it isn't on a beach but the vibe is just as laid back.
 4 Golden Square, London, W1F 9HT