So dishy Rishi has given us all a sweet deal to get us dining out. TBH we didn't need the incentive to get out the kitchen & into our fave restaurants, but if the government wanna give us a tenner off in some of the best restaurants in the country, we won't turn them down. 
Quick lowdown on Eat Out To Help Out: From 3rd - 31st August, you can get 50% discount (max £10 off - so that's half price on a £20 spend) on food or non-alcoholic drinks to eat or drink in every Monday, Tuesday and Wednesday at participating restaurants as many times as you like. Sweet, right? Even better: you don't need a voucher to use the scheme (so no having to borrow your neighbour's printer - phew!) AND you can use it at the same time as other offers and discounts. There's not even a minimum spend. NICE.
These are the menus we'll be working through this August:
Terraces & Al Fresco
We make no secret of the fact that this is one of our favourite terraces in London. What's not to love? Beautiful seasonally changing flower setting; elegant light dishes; clever cocktails... if you want the feel of dining in an English country garden, this is where to go. We'll be using the discount on one of their Afternoon Teas. Because we definitely didn't eat enough sweet treats during lockdown...
16-22 Great Russell St, Fitzrovia, London WC1B 3NN
All of the vendors at this West London pub-meets-al fresco epicurean paradise have signed up to the EOTHO scheme, so if you're after the warmth of the sun dappling on your face as you get involved with the pizza x waffle hybrid from Utter Waffle, or enjoy a soft breeze blowing through your hair as you load up on a Lobster Roll from Jack Sprat, this is literally the best place to do that.
14 Lillie Rd, London, SW6 1TT
Fancy spending your August evenings chilling in a glass igloo 9 storeys above Finsbury Square? Course ya do. Who doesn't want to sip on sensational cocktails beneath the stars. Rub shoulders with London's iconic skyline in one of the 4 igloos available to pre-book on the Palm Terrace. 2 of them are dine-in friendly, and while the EOTHO deal is only on main courses, they've removed the £10 limit so you can get an un-capped 50% off. We'll be going for the Seabream in that case...
22-25 Finsbury Square, London, EC2A 1DX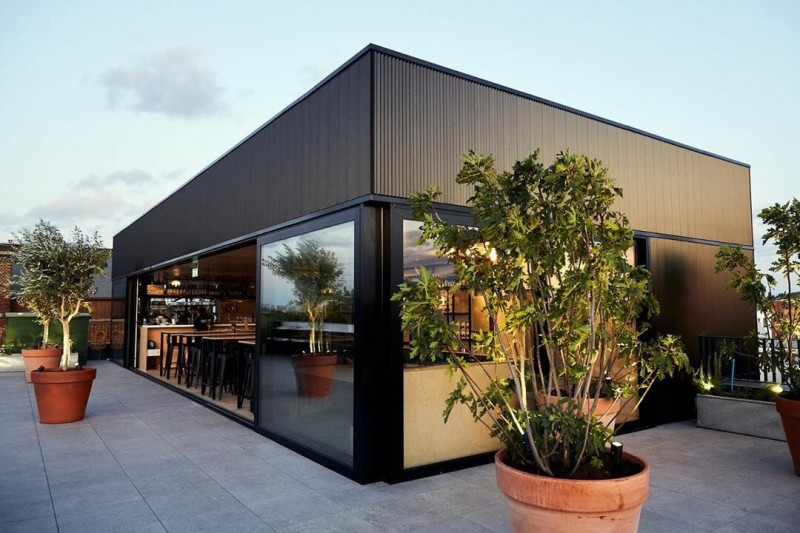 Drinks. Snacks. Views. This rooftop bar doubles up as a sh*t hot snack spot, where you can share a couple of their Italian based dishes with your crew, or just keep 'em between you and the horizon. Whatever you do, you'll be getting 50% off (up to that £10 limit), and they have a couple of smashing non-alc cocktails you can get for a steal too. 
Floor 5, 133A Rye Lane, Peckham, SE15 4BQ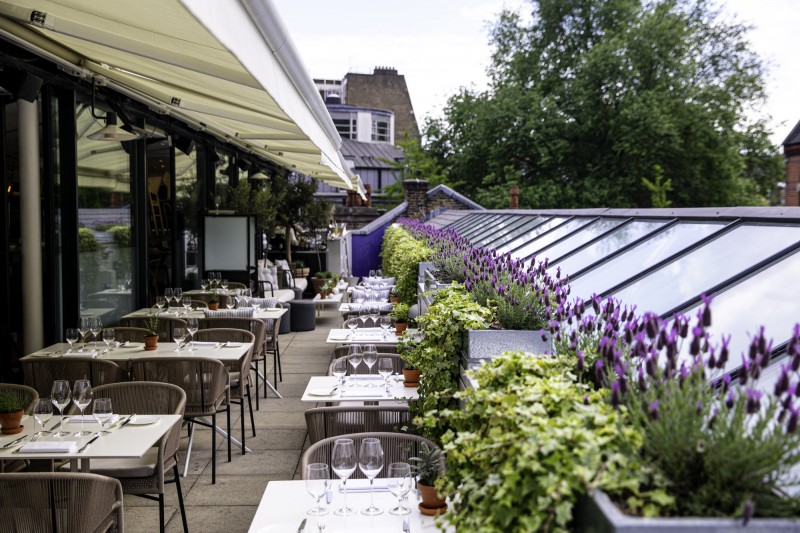 Seeking elegant French food in the middle of Marylebone? Well, that's specific but turns out you're in luck. This is one of the best-kept secrets in Central; a beautiful terrace lined with delicate lavender and olive trees. If you missed out on that holiday to the South of France this Summer, this is probs the next best thing. They've curated a special Eat Out To Dine Out menu available Monday – Wednesday 6pm to 7pm, and it's got all our favourite seasonal ingredients packed into it. Summer truffles and Jerusalem Artichokes? Oui baby!
55 Marylebone High Street, London W1U 5RB 
Eat Out To Help Out, plus a little bit more...
Not only are these restaurants part of the EOTHO scheme, but they're throwing in some extras deals just for you! Legends.
Complete with awesome views across the capital and kick-ass cocktails with Japanese influences, Aqua Kyoto is where to hit up in August for some of the best sushi in central. As well as getting a tenner to put towards a Japenese feast, they're also giving an extra £10 off a bottle of wine for the table. It's redeemable against all bottles of vino with a listed price over £40 - we've got our eye on the white Koshu wine from Japan. When in Rome Japan the West End, eh?
5th Floor 240 Regent Street Entrance 30 Argyll St, W1F 7EB, London W1B 3BR
We spent lockdown craving the legendary Bacon & Egg naan (THE undisputed best breakfast dish in London) and now not only can you finally book a table at these epic Bombay cafes (hasta la vista 2-hour queue!) you can really get your fix as these guys are waiving the £10 discount cap and going all out with 50% off the entire menu Monday - Wednesday. That's breakfast, lunch, dinner and soft drinks - all 50% off, no limit. Bring on the black daal!
Multiple venues across London
We apologise in advance for this one, cos getting a Monday-Wednesday reservation at any of the open Hawksmoor restaurants in August ain't gonna be easy. Their tables booked up as soon as the protein kings announced they were discounting their classic £30 steak and chips combo so you could get it a tenner with the Eat Out To Help Out deal! BUT it's worth keeping an eye open for a cancelled slot, just in case. Refresh refresh refresh.
Multiple venues across London + Manchester & Edinburgh
What's better than good cheap cheese? Unlimited amounts of the stuff. Both The Cheese Bar (think Yo Sushi conveyor belt, but with cheese) and its sibling restaurant Pick & Cheese are spoiling you with all-you-can-eat deals that are running alongside Eat Out to Help Out. The Camden restaurant is serving up bottomless raclette on Wednesdays for £18 (that's £9 for all your can eat oozing dairy, baby), while Pick & Cheese in Seven Dials Market is gonna let you choose as many British cheese dishes you want from the belt for just £20 per person (£10 to diners) on Monday nights. That's a gouda deal.
Unit 93, Camden Stables Market, 94 Chalk Farm Rd, Camden Town, London NW1 8AH
So the Eat Out to Help Out discount only applies to soft drinks (fair enough) but Boxpark have decided to give a wicked discount on their boozy drinks Mondays to Wednesdays in August, too. Legends.
The grub discount will apply to 40 of their food vendors at their Shoreditch, Croydon and Wembley locations. Niiice.
Walk Ins

Bookable!
These restaurants used to be walk-in only. Fine if you didn't mind a queue, a bit sh*t if it was raining/you were famished/you had someplace to be. WELL - now you can actually book these babies! 
We always quite liked how Hoppers handled their queues (who doesn't appreciate waiting for their table while enjoying a pint in the neighbouring pub?) but now you can actually book a table at this ever-popular Sri Lankan restaurant. We're all for reduced wait time to get our chops around a dosa or two. And of course, a little bit of money off is a nice additional bonus.
Soho, Marylebone & Kings Cross
There are three certainties in life: Death, taxes and a two-hour wait for a table at Padella. Until now. For all the angst, stress and upset Covid-19 has brought us, it has also brought the introduction of a booking system at London's most popular pasta restaurant. It's the carb-based silver lining we've been looking for. Padella was already super purse-friendly pre-pandemic, but now in August, you can get their legendary 8-hour Dexter beef shin ragu for £4.75 and the infamous Pici Cacio e Pepe for less than the price of a cup of coffee. You'd be... fusilli to miss this one. 
6 Southwark Street, Borough Market, SE1 1TQ   /  1 Phipp Street, Shoreditch, EC2A 4PS
Good news: You and your crew can nab a table at the insta-famous Circolo Popolare & and her big sis Gloria without having to stand in a 400 person queue! BOOM! If you've been desperate to try out Circolo Popolare (AKA the hottest opening of 2019) but didn't fancy spending most of your evening on the pavement outside, THIS is your chance. Gather your squad together and order plenty of their epic pizzas to share, and your bill should stay lower than our expectations for a lockdown-free winter.
54-56 Great Eastern St, Hackney, London EC2A 3QR  /  40-41 Rathbone Pl, Fitzrovia, London W1T 1HX 
Got a taste for meat but on a budget? Flat Iron is our go-to. £12 for a juicy, perfectly cooked steak has always been a bargain, but now with the EOTHO scheme, you can throw in some of their beef dripping chips, a lust-worthy bowl of creamed spinach and a sauce (we like peppercorn, if you're asking) and only hand over a tenner. Hell yes!
Their London Bridge (Tooley Street) and Spitalfields (Commercial Street) sites are now open and available to book online.
They say good things come to those who wait, and boy is that the truth when it comes to Barrafina. But ya know what? Better things come to those who book, cos suddenly you're that little bit closer to a plate of Gambas Rojas al Ajilla and that gooey, cheesy, eggy tortilla (which you can basically get for free with the government deal!)
Drury Lane, Adelaide Street, Dean Street & Coal Drops Yard
Best For Carnivores
This secret smokey hideaway below the streets of Soho is filled with music and wood-smoke from the 6m long central fire-pit (the biggest we know of in any restaurant in, well, anywhere) It's where the chefs cook up big cuts of meat over the open flame, prepare epic corn tacos, and butcher meat from whole animals. This is a carnivorous theatre, so grab a front-row seat. With an extra £10 to put towards your dinner, we recommend getting friendly with one of their cheeseburger tacos. Meat heaven = found.
25 Broadwick St, Soho, London W1F 0DF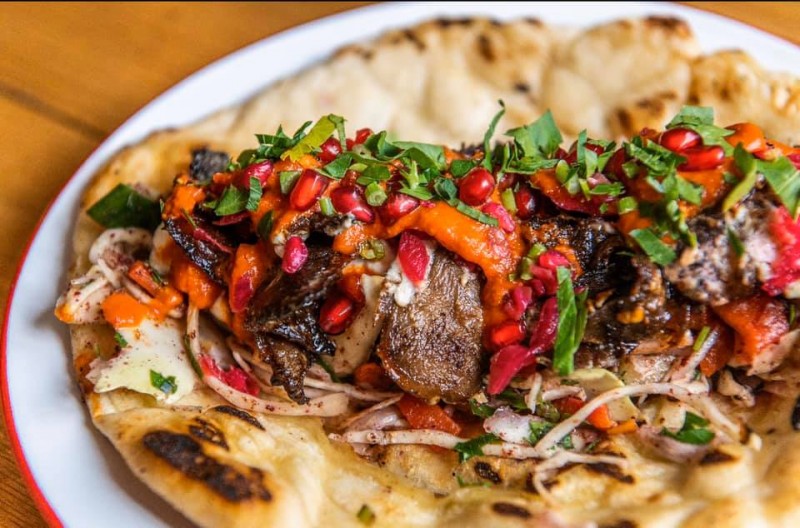 If someone told you back in January that the Government would help pay for your kebab habit you'd look at them with disbelief - but it's here and we're embracing it. Round up 4 friends, order every kebab and every side going (that's 9 sides, FYI!) and a frozen lemonade each... and you'll only pay a mouth-wateringly minuscule £10 per person. Baba BOOM indeed.
30 Battersea Rise, London SW11 1EE
Image credit: HNWorth
For every day of August, this tasty Clerkenwell restaurant is running a special £20 lunch menu of their signature dishes: a pork chop with confit potatoes for your main, olive oil ice cream for dessert. That's a bit of us, right there. Even better, if you're heading there on Tuesday or Wednesday can get it for £10 with the Eat Out to Help Out discount.
88-94 Farringdon Rd, Farringdon, London EC1R 3EA
When it comes to steak, you're usually either Team Hawksmoor or Team Goodmans. Us? Oh, we don't pick favourites, but if we did... well, we love 'em both the same. At Goodmans, they do their beef aging on site. Six tonnes of the stuff. They cut it every day on request and get it from all the best meat producing corners of the world. They don't make it easy for themselves, but that just makes it better for us. And with the EOTHO scheme, their famous lunchtime Steak Frites (250g NY Sirloin served with hand-cut chips and peppercorn sauce) is only £12!
Three locations in Mayfair, The City and Canary Wharf 
We like our burgers filthy. We're talking mustard round your mouth, juice running down your forearm filthy. You know who we can count on for that level of filth? London's OG dirty burger bar MEAT Liquor, that's who. They've teamed up with Jägermeister to give away a mini bottle of Jäger to anyone who gets the maximum discount of £10 on their meal. The bottles are a special limited edition design featuring our chancellor's happy little face and a 'Cheers Rishi' slogan.
Venues across London plus Leeds and Brighton.
Best for Herbivores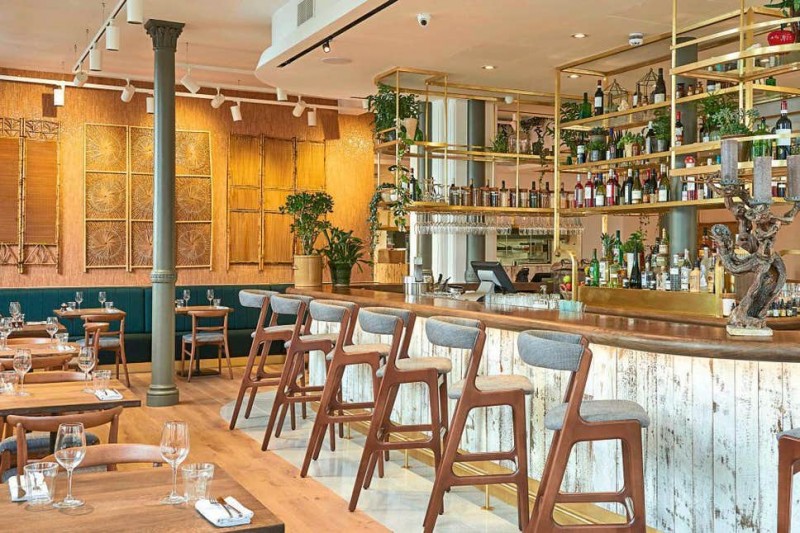 If you're not one for the animal-based produce and prefer your grub more au natural, this place has your name on it. This organic Notting Hill restaurant (obviously, where else) serves seasonal produce free from additives & chemicals. Everything they grow (which they do on their own plot of land in Kent) is organically and biodynamically prepared between the soil and the sun. Mix that together with the Government discount and it's literally a small price to pay for putting really good stuff in your bod.
74-76 Westbourne Grove, London W2 5SH
When the going gets tofu... the tofu gets, er... cheaper? It's been a hard 5 months so we're all deserving of something really bloody tasty. When we're off the meat-eating wagon, you'll usually find us chilling at Mildred's where they serve the best "Mock Duck" Banh Mi, epic tofu bangers and mash and some smashing puds including their vegan Limoncello Elderflower Truffles. Order a few of those for a tasty little booze loop-hole on the EOTHO scheme.
Soho, Camden, Kings Cross & Dalston
Image credit: Jade Nina Sarkhel
London's first 100% vegan pub runs a minimal waste kitchen, uses seasonal and sustainable ingredients and knows how to create epic British pub dishes without tapping into the animal supply chain. We bloody love it. Never had a vegan Ploughman's before? You're gonna want to change that ASAP. If you're still on the fence about going vegan, take your crew (they take bookings up to 6) and check out what these guys can do with plants. The government discount should help towards checking out the whole menu.
224 Homerton High St, Homerton, London E9 6AS
You thought all vegan food was carrot sticks, hummus and lentils? Think again. A vurger = a vegan burger. Delicious, vegetable-centric patties combined with the freshest toppings and indulgent house-made sauces. Hmm-mm. Yeah, vegan fast food is f*cking epic, especially when these guys are serving it. They've also nailed how to make a killer side dish (like their house-made mac n cheese sauce with truffle oil and topped with vegan parmesan) and even their thick, indulgent shakes are plant-based. Fair play.
Unit 9, Avant Garde Building, 6 Richmix Square, Cygnet Street, Shoreditch, London E1 6LD
This is a vegan's place of worship, and a few bites of their insane plant-based burgers will have you praising the Lord. This is one of the OG vegan joints in the capital, and pretty much put vegan fast-food on the map. If you've taken the leap from meat-eater to a plant-based diet but you're desperately missing that KFC, these guys have your back - and you won't even know you're missing the C. 
43 Parkway, Camden Town, London NW1 7PN
If you're feelin' fancy...
This might be a favourite haunt of the rich and famous, but we bet even they won't turn their noses up at a tasty little discount at this Mayfair joint. £10 off might feel like a drop in the ocean when it comes to the prices here, but the way we look at it is more dollar to put towards one of their awesome cocktails in the bar. Cha-ching! Just don't pull a Jess Glynn and rock up in your trackies. We're not in lockdown anymore, love.
Berkeley Square House, Berkeley Square, Mayfair, London W1J 6BR
You want fancy? This place gives you fancy. This is a fave of A-List celebs and footballers (apparently they're all about the Black Cod, and we're inclined to agree). When the decor is this minimalist, you know you're gonna need to flex the plastic - but hey, £10 off means £10 less into your overdraft, right?
COMO Metropolitan, 19 Old Park Lane, Mayfair, London W1K 1LB
Michelin starred food doesn't have to bankrupt you, ya know. It doesn't even have to be put on your credit card (even if you do wanna build up your Amex points). Jason Atherton's Soho joint Social Eating House is offering two prix fixe menus on Tuesdays and Wednesdays, available at lunchtime or from 6-6.30pm and listed as £22 for two courses, and £28 for three - if you're maths savvy you'll have worked out this means you can get a Michelin-starred meal this month for £12. We suggest you take that saved cash upstairs to the Blind Pig speakeasy and check out their awesome cocktails afterwards.
58 Poland Street, W1F 7NR
Like to enjoy dinner while you're high? Us too. Ideally 33 storeys high. But what we enjoy more is a cheeky food discount courtesy of Her Majesty's Government AND a delicious gift of £10 off any bottle of wine priced at more than £40 from the team at Hutong at the same time. Twenty quid off for a sky-scraping dinner on a Monday? Sign us UP.
33, The Shard, 31 St Thomas St, London SE1 9RY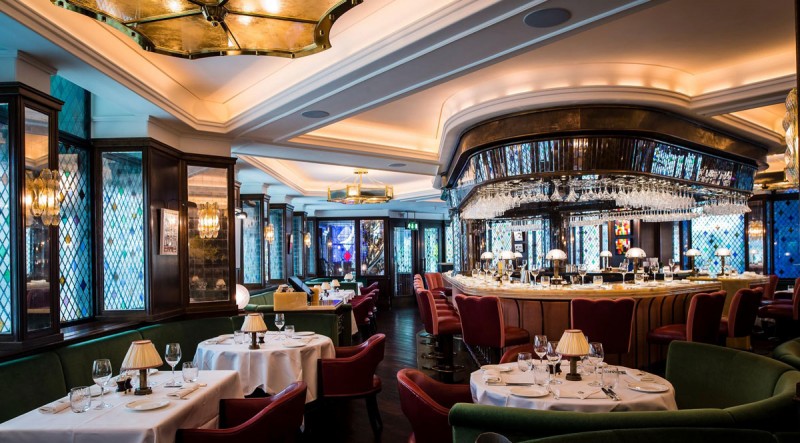 There are only a few restaurants left in London that hold icon status. And The Ivy is one of them. We're talking The Ivy, Ivy, not the brasseries, cafes and grills (although the deal applies to them, too - hell yeah!) This place is special, and if it's always been on your "must try" list, now's the time to hit it up while you can save a bit of cash. That's money for pud, and we recommend the off-menu Icelandic Frozen Berries every time. If you know, you know.
1-5 West St, West End, London WC2H 9NQ
Keep it familiar with these Chains
Unlucky to anyone who lives outside of the Wagamama Delieroo radius and had to go a whole lockdown without chowing down on a couple of tasty gyozas and a steaming plate of katsu curry, but at least now you can make up for lost time AND pay a fraction of the price while doing it. We've done the maths and have worked out you can get 5 portions of Chilli Salt Edamame Beans for a tenner. Yes please. 
135 chains across the UK, and over 100 have reopened. 
If you're just after a really f*cking good burger and the best "fast food" chips going (a fact not up for debate), there's only one chain to hit up. Honest Burger was already well priced before Rishi's gift to the nation (change from a tenner for a burger AND rosemary fries? A god damn steal!) But add that to the VAT cut back in July, and you, my friend, have yourself one helluva bargain, and a mega tasty lunch.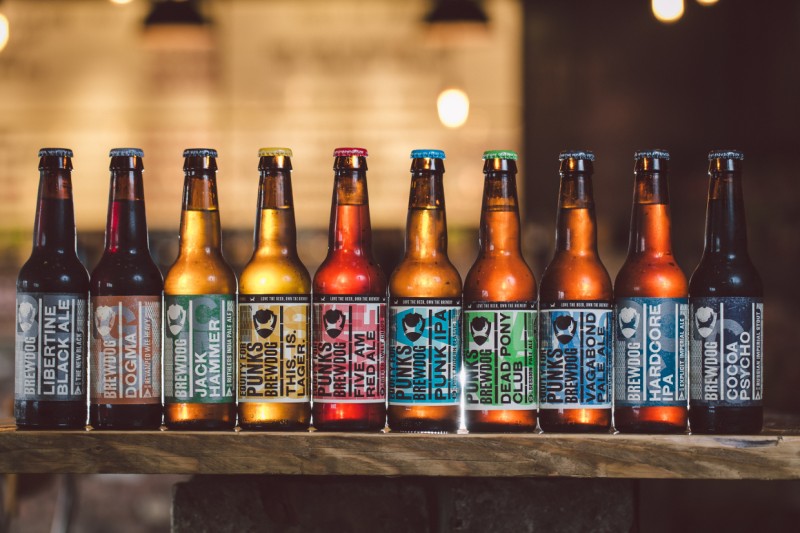 Heading out for a brewski with your squad? Better turn that into dinner and get those stomachs lined with a few discounted plates of their "world famous" Buffalo chicken wings, a couple of burgers (stick with the chicken and go for the Cluck Norris) and a cookie dough and Oreo sundae, and you'll have some cash leftover to try out a few of the new beers they have on tap.
At last count, there are 78 Brewdogs across the country. That's a lotta beer.
Hands up if lockdown was the era you embraced the "Treat Yo Self" mantra and decided that elasticated waistbands are actually the way forward permanently? Yep, us too. Better take full advantage of the EOTHO discount at Crosstown then. We personally don't see anything wrong with ordering half a dozen of their Peanut Butter & Blackcurrant Compote... that sounds like breakfast to us.
Discount is available at their Cannon St, Canary Wharf, Piccadilly, Victoria & Soho locations, and only on dine-in (but you can take-away what you don't finish, so...)
Thick, chewy sourdough crusts and fresh, seasonal toppings you can customise ... ah, we bloody love Franco Manca. The pizzas at this joint start at a fiver which is already insane, but if you're really watching the pennies or if you're usually someone who holds back on extra toppings cos you don't wanna shell out a bit more dosh, the 50% off deal here is a no brainer. Go on. Add the Spicy Lamb Sausage. It's worth it.
There are now 50 Franco Mancas across the UK (and Italy, but we don't think Rishi is gonna fund your holiday lunch...)
Reminder: always tip your servers.