Frame Gyms are BarChick's hottest new hangout. Gym, you cry? Yes gym, us BarChicks like a tight ass, and Frame will give you just that; not only do they have the best classes in town, but there's no joining fee or monthly costs, you just turn up as and when you want. Plus with all this drinking going on, we have to tick the responsible box if we want to keep BarChicking forever.
The girls that run Frame are wild and encourage a good work / play attitude to life, in fact we met them at 2am in some Shoreditch speakeasy, and they say that classes usually wind up in a drinking session round the corner. Anyway, they have taught us all about their funkiest classes, and which bars to hit after…work out hard, then play harder. See you there.
"At Frame, we're all into balanced lifestyles. A little bit of good to weigh out a little bit of bad, and all that! Someone once told us that angels leave a very dull existence – we're inclined to believe them!
Our aim is to spread happiness and good times around our favourite London neighbourhoods of Shoreditch and Queens Park. We want you leaving Frame, both looking and feeling great, but it shouldn't stop there – you need somewhere to continue looking and feeling great well into the night.
So this is where the Frame Bar Guide comes in… Once you've done your good, where can you go to ensure that your equilibrium is maintained?!  Here's our pick of which classes go with which bars – Like a degustation for the body and mind. Let the good times roll…
NB. Attending a bar pre/post Frame is not essential. On many occasions a bottle of water and an early bed will suffice!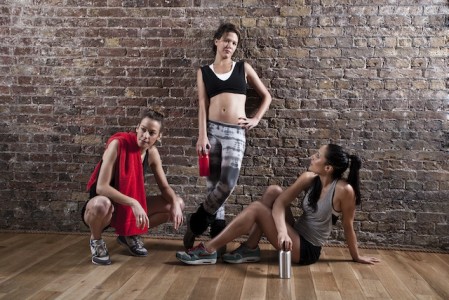 GET THE PARTY STARTED: REBOUNDING
It's Friday night. You've had a long week. You have 2 choices: Go home and stuff your face with pizza whilst you sit on the sofa (a sure way of guaranteeing guilt and stomach rolls) OR get yourself to Frame, put on your brightest leggings and jump on a trampoline for 45 minutes to a mash-up of ridiculously upbeat tunes. You'll sweat, your heart will be beating faster than you think it really should, but we will put money on the fact that you'll walk out of the studio on the biggest high of your life shouting "get me to the nearest bar." Well lucky for you, we've got just the place to quench your thirst, line your stomach with some quick and easy grub, and keep the party going…
Shoreditch: The Book Club – This place is open ready and waiting for you whenever you need them, morning noon or night, 7 days a week. Get involved with ping pong, pool, big beats and a cool crowd. The atmosphere is laid back, grab a quick bite to eat, get working through the cocktail list and let's party. 
Queens Park:  Crazy Homies – The weekend starts HERE. This is like "day of the dead" on steroids, think  fairy lights, multi coloured skulls, graffitied walls and ceilings, neon chandeliers and old school pinups. Get the Margaritas in and a big plate of nachos before heading down to the tequila den for shots and a serious party.. Don't feel guilty, tequila is the only booze that makes you happy, fact. PLUS Jennifer Aniston swears by it, and always orders it straight when she's out drinking… it must be doing something right.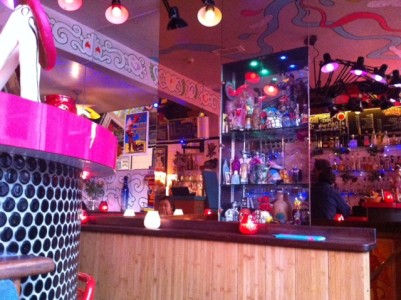 Crazy Homies
CHILL THE F*CK OUT:  FLOW YOGA
It's Wednesday. You're half way through the week. The weekend seems like a long way off. You could quite easily head straight to the pub with work, but you're better than that, you muster up your best will power, turn left out of the door and head straight to Frame for a large dose of "chill the f*ck out". Why would you want to spend 1 more minute with your boss anyway?! Take to the mat for a Flow Yoga class where you'll feel all your stress and worries melt away as your body and mind gently unwind. Move slowly to the breathe and take an hour out of your crazy life, concentrating purely on yourself, without any distractions. Leaving class you're going to feel utterly Zen and you want to keep this feeling as long as possible, so this is the time for continuing 'me time' and taking yourself for a glass of wine, which you will sip slowly as you watch the world go by.
Shoreditch: Boundary Roof – When the sun is out, and you want to treat yourself to some nice surroundings, good drinks and chilled vibes compared to the city hustle then get the lift up to Boundary Roof, the perfect chill place after an intense yoga session. Share a bottle of sparkling wine and take in them views.
Queens Park: Salusbury Wine Bar – Huge wine list, great food and chic surroundings. This is a great place to unwind with a friend in a relaxed atmosphere instead of sitting in a huge, loud, busy pub. Sure you'll get a bottle of wine in but this is "chilling the f*ck" out drinking, there's a difference.
THE MORNING AFTER: BODY CONDITIONING
You wake up. You think you might die. Your head is pounding and memories of last night begin to flood back. This is not the time for sitting in bed allowing the fear to creep in. No – today is going to be a much better place if you drag yourself out of bed and sweat out the toxins and guilt from last night. The key here is to avoid classes with too much jumping around, but to choose something that's going to ensure that the sweat starts to drip… Body Conditioning is just the ticket. Work your entire body, mixing up conditioning moves to a loud obnoxious sound track so that you won't be able to hear yourself think, let alone consider how much you'd rather be in bed right now! After class enjoy a very long stand in our super showers, washing away the toxins and get yourself dressed and ready to face the day. Now it's time to get some goodness inside you in the shape of eggs and the best Blood Mary you can find.
Shoreditch: Dukes Brew & Que – after all the good that work out has done for you, you surely deserve a big beastly breakfast considering you could have easily stayed in bed all day. Reward time. Head down to Dukes Brew & Que and try the American Brunch. If it's the weekend, even better;  get involved with their hangover club with Bloody Marys in pitchers… perfect, (tomato juice… one of your five a day innit).
Queens Park: Paradise by way of Kensal Green – Whether you're after a posh meal, a drink in the sun, or even a chance to act like you're Mariah and hit the mic, Paradise have got your back. It's all bird cages, big mirrors and plants here, like you've stepped into a large open house that's ready to party and cater to all your needs. This place will forgive your actions from the night before, it's like the reassuring hug and pat on the back you crave, telling you everything is gonna be okay.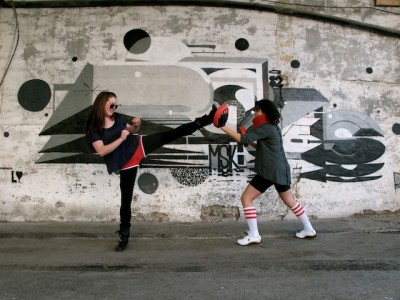 BUILD YOUR STAMINA: FRAME CAMP HOUR OF POWER
Go hard or go home! When the clock strikes 11pm and your average pub is closing down, our night is just starting. We can keep going until the early morning, thanks to our extreme stamina training at Frame. The Frame Camp HOUR OF POWER is not for the faint hearted, but we promise that it will certainly enhance your ability to keep going through the night. Half the class is spent doing sprint and hill intervals on the treadmill, and the other half is spent conditioning your entire body. Trust us, this is pretty hard after you've just busted a gut running up a v steep hill! Once done, you'll need a little while to recover so grab a coconut water packed full of electrolytes to re-hydrate, tart yourself up and then hit the town; first for dinner, then for a night of debauchery! Make sure you're wearing comfy shoes – it's going to be a long one!
Shoreditch: Sushisamba followed by Duck & Waffle – This is the new place to be seen, up way up in the Heron Tower you can munch swish sushi, or go one higher and have a meat feast at Duck & Waffle. Both places have some seriously good cocktails. The view is one of the best in London, there are terraces when it's hot, and the best part of all… it's 24 hours, so you never have to leave.
Queens Park: Santo followed by Notting Hill Arts Club -Tequila is what gets BarChick out of bed every morning, and she's partial to a quesadilla too, if you're the same then you'll love Santo. Plus this place is all about the party so you can work off your meal after. After neighbours complained they've had to close a bit earlier so get down to Notting Hill Arts Club after. With a different night on each day of the week you can head here, get the drinks in and dance till the early hours. It's nice and small and dimly lit so you can get up close and personal with anyone that catches your eye.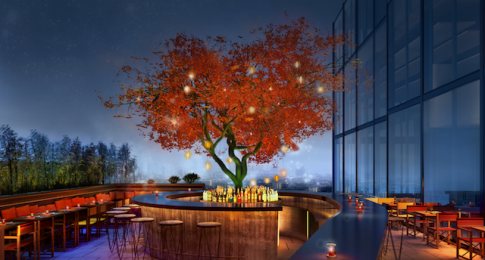 The Terrace at Sushisamba
IMPRESS YOUR FRIENDS: FRAME METHOD
Thursday nights are perfect for catching up with old friends, but don't pretend you're not in a constant game of one-upmanship when it's your go to plan the night. You want to show that you're in the know of the latest things to be doing and spots to be seen and we're to help. Frame Method is totally in the 'now,' drawing inspiration from the studios of New York (where the ladies have the 'work hard, play hard' mantra down to a t). The class uses a combination of small equipment and the ballet barre to target problem areas with small isometric movements. It hurts, your muscles will burn, but you won't sweat, so you can impress your friend with how well you already know the moves  whilst looking like a glamorous supermodel…  Once done, tidy up your fringe with the straighteners provided and lead your friend to one of the coolest bars in the area to sip on Campari-based cocktails and flirt deliciously with the bar man!
Shoreditch: Callooh Callay –This bar was inspired by Lewis Carroll so you can expect quirky mismatch décor like old cassette tapes, fake grass, 70's wall paper and a wardrobe that leads to another room, plus the drinks rock. Your mates will definitely be impressed with this one, especially if you can get them into the secret members Jub Jub bar. Try and get a key… say you're with BarChick.
Queens Park: The Shop NW10 – Head down here for a drink and you could leave with an antique table. Busier on the weekends, with some seriously good beats. The cocktails start at £3.50 for the "Size Zero": low calorie and cheap, perfect after a workout; but BarChick would get stuck into the "Once Loved", which comes in a vintage milk bottle so you'll feel like your back in the school playground.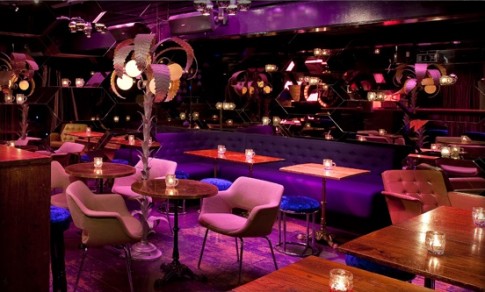 Callooh Callay
Frame Shoreditch - 29 New Inn Yard, Shoreditch EC2A 3EY
Frame Queen's Park - 27 Beethoven Street, Queen's Park W10 4LG