Okay, so we've told you how to drink like you're in Ibiza when you're cheating in London, but what if you're actually lucky enough to be there and you're needing to treat yourself to some refreshing gin goodness?! No worries, of COURSE we've got the best places to get your drink on in the city where partying NEVER stops. Make note… cos these will sort you right out!
This is far more than a restaurant. This gourmet restaurant is a crazy cabaret club spectacular at the same time. Dinner here isn't something you do before a night out – this IS the night out. Take your seat, take in the surroundings and get comfy, cos you're in for the long haul… in a good way! The show begins around 8:30pm until 1am and then the DJs kick in.
The food's great, cocktails are fresh and the atmosphere is buzzing. Plus your waiting staff are all performers, kinda like surround sound for the senses. It's all pretty much open air so needless to say the views are pretty breath taking. This will be a VERY memorable moment during your trip! Order in their Lio cocktail (it's gotta be good if they've named it after the place right?!) made with Gin Mare, fresh strawberries and basil, citrus mix, sugar syrup and a touch of La Feé Absinthe NV - BOOM.
Passeig Joan Carles I, 07800 Ibiza, Spain | +34 971 31 00 22
This has been around for years, and is a must tick box. It's the place you go to dance in gardens as you get your game face on and stretch it out before hitting the clubs. Famous for its Argentinean beef and boasting an impressive total of five bars, this magically transformed farmhouse can always be relied on for an entertaining evening. You gotta plan ahead and book this place and don't be late cos tables will be snatched up (told you it was popular!). Tents, sofas, trees, bushes, you get it. Kick back and get comfy. We say splash out and sip on a Deluxe Gin under the beautiful fig tree. A blend exclusive with Sea Plankton and Gin Mare topped with premium tonic water - your gin and tonic just got pimped!
Carretera Sant Josep, KM 5.6, Sant Josep de SA Talaia, 07817 Ibiza, Spain | +34 971 396 349
Built in 1901 this converted villa offers Mediterranean cuisine, stunning views of San Antonio harbour and cocktails. Candle lit tables and décor reminiscent of a colonial palace make this one of the more romantic spots in this part of town. They've got an outside cocktail bar (cos on an Island like this why would you want to be inside?!), stages for live music, split level dining areas and a chill out area with poster day beds... perfect place to get your pose on.
Their cocktails are some of the best around, especially teamed up with their Mediterranean fusion menu!
Paseo del Mar, San Antonio, Ibiza, Spain |  +34 971 348 543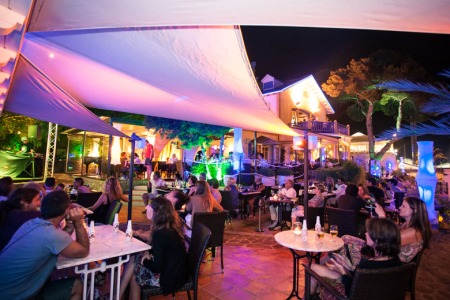 New to Playa d'en Bossa's blossoming beach bar pageant, Lips is an exclusive experience boasting a restaurant, sushi bar, lounge terrace and gourmet shop. Dine on Mediterranean dishes, Japanese haute cuisine or take home the finest pure Iberian acorn ham and cheeses for later. The fresh, white lounge is a place to relax, and crystal clear waters are offset by linen covered daybeds and touches of greenery. Slug cocktails as you admire the stunning seascape that stretches all the way to Dalt Villa. The drink of the moment here is the Onion Gimlet made with Gin Mare, cordial with red onion and parmigiano cheese and a dash of lime cordial. Not sure how you feel about the onion and cheese cordial?! Don't worry, after the dash of balsamic vinegar this drink really ties together nicely. An AWESOME savoury cocktail.
Carrer Porreres, 1, Playa d'en Bossa, Ibiza, Spain | +34 971 300 415
Amante is a cliff-edge balancing act, drenched in sunlight by day and moonlight by night, it's a bloody romantic spot. The opening and closing parties here are not to be missed. Amante is built like a towering tree house, three open-air floors are stacked ominously on top of each other, which makes for a fantastic party venue. It's a restaurant but we say ball straight up to the bar. Top tip, there is complimentary bread and aioli everywhere you look which is almost impossible to resist after one cocktail, wholly impossible after two and after three forget it, your carb free bikini diet is over and you will STINK. Everyone loves a G&T but if you're after a refreshing drink with a lil twist we suggest the Triple Orange G&T, made with Gin Mare, 1724 tonic water, a spoon of bitter orange marmalade, orange bitters and an orange twist. It will sort you out good and proper!
Sol Den Serra C/Fuera SN 07849 St Eulalia, Ibiza, Spain | +34 97 1196 176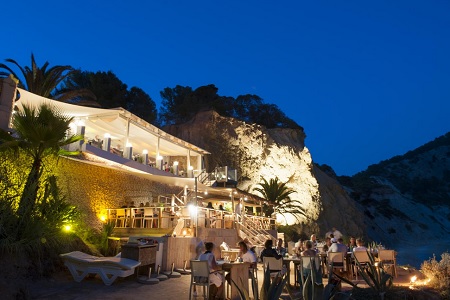 With a 600m2 pool surrounded by day beds and beats, a strong cocktail list, beautiful gardens, a restaurant with burgers, sushi and salads, a boutique shop and a massage therapist, it is hard to find someone who doesn't love this place. It pretty much caters to everyone's needs and boy do we love it. You'll want to look hot here (to match the inevitable weather) so make an effort we say, although it isn't a necessity. Head down early, and spend the day by the pool before moving things over to the bar area when the sun sets. We're guessing this is what heaven is like.
Carrer des Molí, 12-14, 07820 San Antonio, Ibiza, Spain |+34 971 80 32 60
Peaceful, tranquil and with a view to die for, this rustic, timbered paradise is seriously chilled out. Fronted by Vaughan – host of Pacha's Funky Room, this is where those in–the-know go. Open throughout the day and into the pre-club evening hours, you can chill or go large here, gin or tea, the choice is yours. Opt for a table on the terrace or one of the wooden sun loungers on the waterfront. The food is organic and the cocktails are of course served chilled. Get a Red Sea cocktail made with lime juice, red bell pepper, vanilla syrup, Gin Mare and thyme. This savoury cocktail will help you beat the heat.
Punta Es Farallo, 07840 Ibiza, Spain | +34 (97) 1332 181
This 5* baller goes from strength to strength. Home to Cipriani's Downtown Ibiza and the yearly IMS conference, those who spend big, spend here. If you really want to splash out go for the Vanity Fair Suite, top floor positioning ensures views of both the harbor and city, and your terrace comes complete with a private jacuzzi and a heated pool. Fully soundproofed, it goes without saying that you'll be hosting the after party.
Paseo Juan Carlos, 17 Ibiza Town, Ibiza, Spain | +34 971 806 806
Playa d'en Bossa's first boutique hotel, Santos Ibiza Coasts Suites; a tranquil beach club located on the shores of Playa d'en Bossa. Santos promises a uniquely refreshing experience in one of the area's first boutique hotels, embellishing their favourite elements of the Pitiusa islands with luxury, vibrant contemporary interiors, easy going spirits, vintage touches and a rock and roll attitude. We say sip on the Mojiterrano made with basil, lime, lemon and orange, Gin Mare and sugar syrup, a pinch of cayenne pepper and some Toni 1724. Freshness like no other!
Calle Bruc, 3, 07817 Playa d´en Bossa, Ibiza, Spain | +34 971 30 10 23
With Lio to your left and all the super yachts to your right, you'll know you're living the good life when you arrive at this waterfront spot. You don't even need to glam up for this joint, this place isn't very judgemental (which is rare in Ibiza). White furniture decorates the decking and people relax with views of Dalt Vila in the distance. Calma is a popular meeting point for those chartering boats too! The cava here is pretty cheap at €18 a bottle, they'll bring it over in one of those ice buckets on a stand too, so you'll feel like you're in the money even if you're not, or you can never go wrong with a round G&Ts. The perfect place for crashing boat parties and soaking up some rays in town.
Marina Botafoch, Ibiza 07800