You can't have Christmas without cocktails, and when there's so much going on, these awesome kits will cut the time it takes for you to get merry. The gift everyone wants, right?
Cocktail Porter Seasonal Boxes
Santa's not the only one with elves, ya know. Cocktail Porter's got his own set of helpers who have been working behind the scenes to offer up a new wicked collection of winter cocktails to serve up to your loved ones this Christmas. These kickass kits provide everything you need to realise those bartending dreams. They've got four boxes in the collection, from the Nöel Negroni & Auld Fashion; Gin-gle Bells & Tonic; Winter Spice Pornstar Martini or the Baileys; Pumpkin Spiced Martini & Flat White Martini. There's also one other Limited Edition box that we'd love to find under our tree this Christmas, featuring a collection of seasonal sours using J&B rare. Never tried an Apple Pie Sour before? Oh, you're in for the best Christmas ever!
Available for £41.95 from CocktailPorter.co.uk
GREY GOOSE x Giz 'n' Green Friendsmas Feast Delivery Kit
So the whole three households thing might have put a massive fly in the ointment when it comes to your Christmas plans this year, but hey, if you've got mates in the same boat, why don't you bubble up and celebrate with your crew and this epic Friendsmas Feast from Gizzi Erskine, Prof. Green and Grey Goose vodka? Kit highlights include a Giz 'n' Green curated three-course GREY GOOSE vodka-infused Christmas Menu, GREY GOOSE Christmas Crackers, a bottle of the good stuff (with cocktail ingredients so you can shake up a storm) and a few festive games and activities to enjoy together... and not a monopoly board family dispute in site!
£65 for two-person kit & £100 for a four-person kit with weekly drops on 27th, 4th, and 11th December. Order here.
All proceeds from the Friendsmas Feast kits will be donated to Hospitality Action, a charity that supports a range of services to help hospitality workers get back on their feet during challenging times.
Pinkster Gin Home Tasting Kit for Two
The Pinkster Gin Home Tasting Kit for Two is a wicked gift for that couple who don't like going out, even when we're not in lockdown. The kit includes five different serves: from the potent Pinkster Gimlet to a Hedgepig fruit gin liqueur made with foraged wild bullace and quince. They can drink them while tuning into an awesome virtual tasting with the Pinkster founder to learn all about their killer gin which has been hand-steeped in fresh raspberries, plus how to make their own pre-batched cocktails so they've got plenty to get through while they hibernate for the winter. Sounds kinda ideal to us...
The Home Gin Tasting Kit for 2 is available here priced at £30
Christmas Quarantini Kits from The Sun Tavern
The award-winning East London bar crew behind The Sun Tavern have launched a festive edition of their pre-bottled Quarantini Kits, and no surprises here - it's mega. Featuring a Terry's Chocolate Orange Negroni and the Umbrella Buttered Brandy, this kit will 100% spice up your Yuletide season. These legends have created four exclusive bottled cocktails packed with aromas, tastes and memories of Christmas pasts... so we're guessing it smells of Grandma getting on the sherry at 10am and re-runs of The Great Escape... Lush.
Kits are available to purchase from The Sun Tavern online shop.
Kuka's Epic Espresso Martini Kits
So your mate f*cking loves an Espresso Martini but still hasn't splashed out on a killer coffee machine? Well, this is the hack they need in their life this Christmas. This kit is Espresso Martinis made easy: no need for that elusive coffee machine (but still super high-quality coffee) or any bar equipment - it's all included. Pour the goods into the awesome shake jar and let 'em watch as the magic happens right there in their hands. Before they know it, they'll be caffeinated pros.
Kuka's kit is £29.99 and available at www.kukacoffee.co.uk
Hotel STARLINO Vermouth and Aperitivos Gift Pack
Not that working up an appetite on Christmas Day is ever really necessary, but just to be on the safe side, this cute little trio of Hotel STARLINO Vermouths and Aperitivos is the perfect small gift to slip under the tree and enjoy in a Spritz or rock in a Negroni while you're waiting for the roasties to crisp up. The Hotel STARLINO Miniature Gift Set includes 3x10cl of the whole range: STARLINO Rosso Vermouth, STARLINO Rosé and Arancione. Cheers to that!
The Hotel STARLINO Gift Pack is £12 Available from Amazon
Cointreau Margarita Kit
Tis the season for Tequila. That's the saying, right? Well, it is in Casa BarChick, and you know there's always one cocktail we can't resist shaking up on Christmas Day. If you've got a mate whos the same, they'll dig this Cointreau Margarita Kit. It comes complete with everything needed to make the world's most iconic cocktail: 70cl bottles of Cointreau and VIVIR Tequila, Maldon sea salt, a Cointreau cocktail shaker, strainer, jigger, a lime squeezer, VIVIR bar mat and an enamel pin. Shove a couple of limes in their stocking and they'll be Marg'd up in time for the Queen's Speech.
Available to purchase exclusively from Borough Box for £64.99 
Mr Black Espresso Martini Kits with MONIN & SOLO Coffee
For the pal who loves to take things in new directions, these two awesome kits from the kings of caffeinated liqueurs come with everything you need to make either a festively pimped Espresso Martini, or one that veers more to the classic side of proceedings. This awesome kit comes with three sweet n' festively themed syrups by MONIN so they can decorate their Espresso Martini with the festive flavours of caramel, gingerbread & roasted hazelnut, while this one is joined by SOLO Coffee Cold Brew and a pair of Jartinis for shaking them up when they don't wanna dig out your cocktail shaker. Both kits include a 700ml bottle of Mr Black (obvs), and with so much choice, we're confident Mr Black is definitely on the Nice List this year. 
The Mr Black x MONIN Festive Espresso Martini kit is priced at £65, while the Mr Black x SOLO Coffee Kit will set you back £39.99
Unconventional Wine Box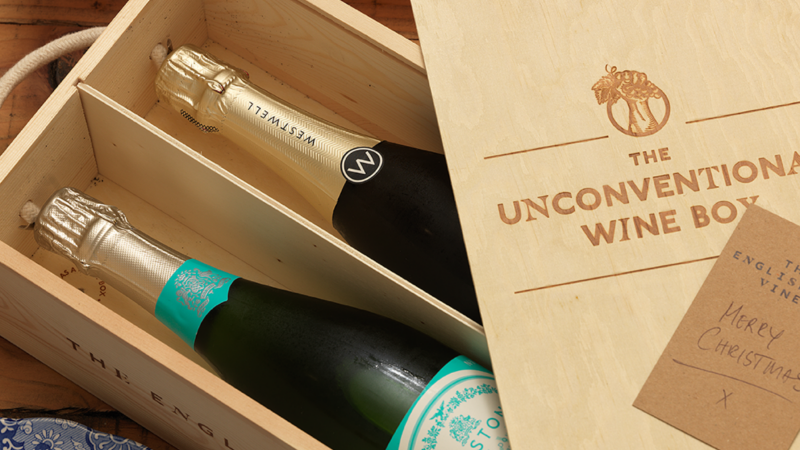 We're big fans of the unconventional. Breaking boundaries is our vibe, which is why we're into these cool gift boxes from The English Vine which are not just for Christmas. Each slick wooden box gift contains two bottles of awesome English Wine (and they've got an awesome choice of varieties depending on your preference) and it can be 100% upcycled, with a cool lid that can become a fun sign for the kitchen, and the box itself turning into a plant box. Even the holes for drainage are pre-drilled and it comes with seeds to get things going. Just add soil and water! Perfect for the mate who had a love affair with house plants over lockdown.
You can purchase an Unconventional Wine Box from The English Vine starting from £25
Devon Cove Vodka Cocktail kits 
Don't let your roasties be the only potato-based star of your Christmas. These awesome kits from Devon Cove contain their Devon-made vodka created using King Edward potatoes, lovingly grown on the family farm overlooking Hope Cove in South Devon. That's the wholesome levels we wanna reach this festive season. Each kit contains everything you need to create a star cocktail, from a spicy Moscow Mule kit with Luscombe Ginger Beer (another bad-ass Devon local), to the Cove Cosmo bringing a sweet combo of vodka, cranberry, orange liqueur and citrus for some real good times in a glass.
Cove Vodka kits start at £28 and available to purchase here.