The pumpkins of Halloween are rotting on doorsteps and our parks are littered with the carcasses of fireworks. Ya know what that means? It's officially time to think about Christmas, baby! We've been channelling our inner elf to bring you a collection of banging gift guides that'll thrill everyone from ya booze-loving buddies to tipple-drinking granny this noisy season, and we're kicking it off with the festive bottles we'd love to find under our tree on Christmas morning. Forget jingle bells, it's jingle bottles for us.
Black Cow Christmas Spirit
The Black Cow crew are known for creating a vodka smoother than the velvet on Santa's suit, and this year they've taken their classic pure milk vodka and given it a festive shakeup. The Black Cow Christmas Spirit takes inspo from the quintessential Christmas pud. We're talking citrus, cloves, cinnamon, figs, currants, raisins, and vanilla all macerated in Black Cow Vodka. Serve it with champagne, make it into a mulled cocktail or sip it straight. Now that's the spirit.
Black Cow Christmas Spirit, 50cl (37.5% ABV) RRP: £25 Available from the Black Cow website
Snow Globe Gin Liqueur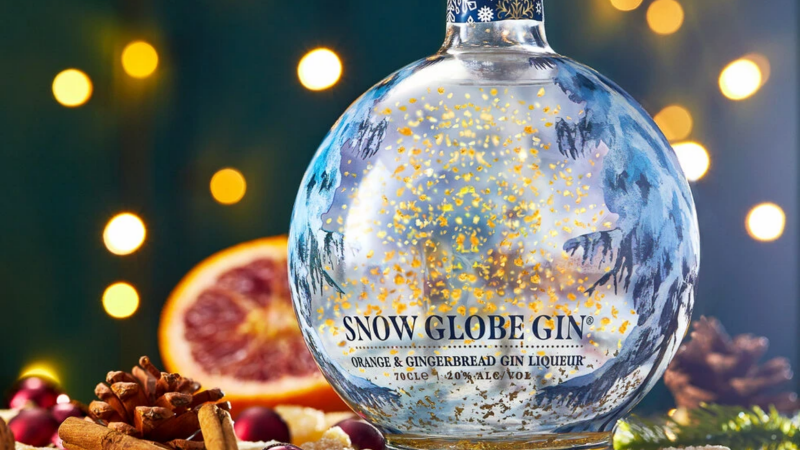 Made with real Seville oranges, cinnamon and other spices, this festive liqueur has been given the festive treatment. Who wants a white Christmas when you can have a 23 carat Christmas? They've bottled this beauty in an Italian made Snow Globe to bring a glittering blizzard to your festivities. Complete with a lamp in the base for some magical illumination, give it a sh-sh-shake and watch as the edible gold leaf swirls around the Christmas scene within. This is Christmas magic in a bottle!
Snow Globe Liqueur, 70cl (20% ABV) RRP £24.79 Available from Harvey Nics, Firebox and Costco
Storywood Tequila

This is the gift for that couple who can never decide between getting crunk on tequila or having a cosy night in sipping whisky, cos Storywood is the first luxury tequila aged in whisky casks. Yeah, that's right. They're bringing the best of both worlds, baby, and the result is next level. From their Reposado raised for over 7 months in a Speyside single malt whisky casks to give the taste of caramel, subtle oak and hints of vanilla and honey, to their 14-month raised Anejo with flavours of toasted oak, roasted nuts and treacle toffee. This is a bottle at the top of BarChick's wish list.
Storywood Tequila, 70cl (40% ABV) RRP from £38.95 Available on Prime and proofdrinks.com
Martin Millers Winterful Gin
If you've got a pal who's a sucker for mulled wine and gin, this limited edition bottle is gonna jingle their bells. Martin Millers Winterful Gin expression can be served warm or chilled, and was inspired by the ingredients typically used to make mulled wine. They've made this seasonal special using Martin Miller's Original with the addition of botanicals like cinnamon and mandarin orange peel, which are all added in the third distillation. Winter is coming, and it tastes epic.
Martin Millers Winterful Gin, 70cl (40% ABV) RRP: £27.99 Available from Waitrose
That Boutique-y Gin Company Yule Tide Gin
Wouldn't it be handy if all of the things that make Christmas Christmas could be found within one small vessel? Well Bullseye, Bingo! and Yahtzee, baby, cos that's basically what this is. Y'see, what That Boutique-y Gin Company have done here is distilled Christmas using a sh*t loada traditionally festive botanicals, as well as ingredients that are 100% Christmassy but technically not botanicals, including Christmas Tree Needles, Chestnuts, a big pile of chocolate truffles, Panettone, a whole gingerbread house, Frankincense and Myrrh - then they popped some edible gold flakes into the mix to complete the trinity and BOOM! It literally IS Christmas in a bottle.
Yuletide Gin 50cl (ABV 46%) RRP £34.95 Available at Master of Malt
Create Your Own Silent Pool
Christmas has returned and this time: it's personalised. Sending Christmas Cards is sooo 2019. Sending a personalised bottled of gin? You're living in the future. Silent Pool gin has had quite a year, and now they're offering up four exclusive new gin flavours to be personalised with whatever label and text you want. Choose from Original Juniper, Fresh Grapefruit, Wildflower or Spiced Pepper, then upload your fave pic and write your message. 
Silent Pool Distillers gin 50cl (40% ABV) RRP £35 for a 50cl bottle. Available from silentpooldistillers.com
HOCUS
We can't work out if this is magic, alchemy, witchcraft or just down-right genius, but we're inclined to say all of the above. This awesome new spirit is the answer to filling your home bar with booze, with just one bottle. Say WHAAAAAT? The crew behind HOCUS have worked out how to capture and separate the essence of all your fave spirits, so you can then add to their bottle of neutral blended spirit base and create whatever you're feeling. It comes with 20 natural essence ampoules to mix with the spirit base, so if you're into the taste of tequila while your other half is vibing dark rum, you can both get your fill from the same bottle. Literally any one of your booze-loving mates will dig this. 
HOCUS 50cl (40% ABV) RRP £59 Available exclusively online at hocus.uk
Caorunn Limited Edition Gift Tube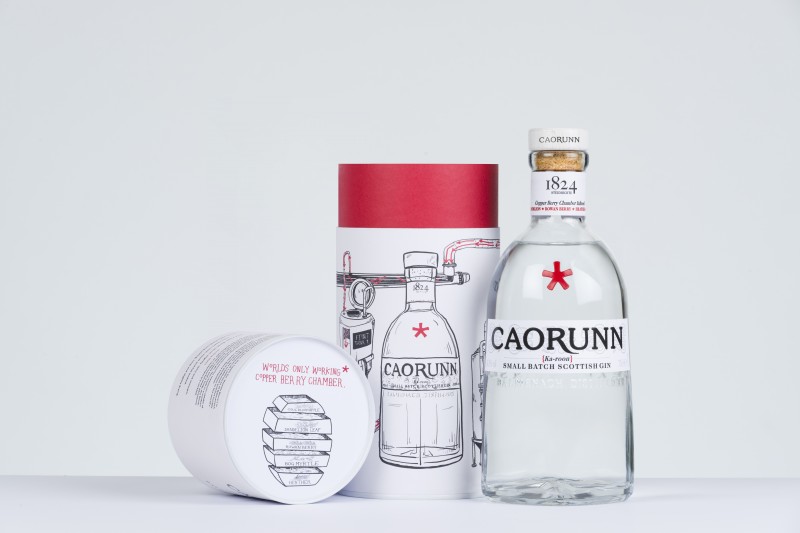 A 'gift tube' might sound like something you don't wanna open in front of your nan but fear not, there's nothing x-rated about this pressie. Caorunn super premium Scottish gin has released a limited edition Christmas gift tube which tells the story of how they produce their gin at their Balmenach Distillery, incorporating beautiful hand drawn Christmas illustrations. Ah, pretty. If you get bored of watching The Snowmann for the sixth time this winter just look at ths instead (while drinking, naturally). 
The Caorunn Christmas Gift Tube 70cl (41.8% ABV) RRP £29 Available to buy in selected Waitrose, Sainsbury's and Tesco stores, The Whisky Shop and other specialist spirit retailers. 
Johnnie Walker Personalised Bottles
Look, it doesn't get better than buying your loved one a bottle of whisky with their face on it. Unless you include a pic of your own face on it too, so they always remember exactly which legend bought it for 'em. Smart. You can customise any one of Johnnie Walker whiskies with a photo of your own, as well as include a personal message to make sure your favourite whisky drinker has a Christmas they won't forget (That is unless they drink the whole bottle during the Strictly Christmas Special. We've seen it happen...)
Personalise Johnnie Walker Bottle, 70cl (ABV 40-43%) RRP starting at £27.95 Available from The Whisky Exchange
24 Carat Gin
Hey big spender! If you've got a loved one you wanna splash the cash for this silly season, THIS is one boujji bottle that'll have jaws dropping on Christmas morning. Forget frankincense and myrrh. We're all about gold when it comes to Christmas gifting, and we're talking luxury on another level here; Distilled with 18 Oz gold and 24 Carat gold bars, this is pretty much the smoothest gin you'll ever get ya hands-on, which is what you want... for £1200! Every bottle of handcrafted 24 Carat Gin is unique, with a personalised bottle number and removable bar on everyone. This really is the Rolls Royce of gins. Cha-ching!
24 Carat Gin, 70cl (60% ABV) RRP £1200 Available from 24caratgin.com
PINK Prosecco
2020 will go down in history as a total cluster-f*ck, but rather than dwell in this gutter swamp, we're looking to the silver linings... or should we say pink linings? Back in May while we were all doing Zoom quizzes and baking sourdough, the Italian government finally approved the production of Prosecco DOC Rosé, and now the first-ever pink version of the stuff is on its way to the shelves in time for Christmas. If you've got a 'secco lover in your crew, they're gonna go wild for this rose-tinted sparkling this Christmas.
PINK Prosecco, RRP £8.99, Available from pinkprosecco.com
Sacred Christmas Pudding Gin

You might think at this time of year there's a tendency to over-egg the proverbial Christmas pudding when it comes to boozy festive expressions, but this smasher from Sacred is the OG of the Christmas Pudding gins, and it's as classy as it is festive. This is a gin, not a liqueur, so don't go expecting anything overly sticky or sugary. This bottle is what we hit up when we wanna give classic cocktails a festive makeover (which is how they roll at London institution, Rules, FYI) while keepin' them sacred. Amen.
Sacred Christmas Pudding Gin, 70cl (40% ABV) RRP £33.95 Available at sacredgin.com
Highclere Castle Gin
Got a mum whos a fan of Downton? The days of the special Christmas Day episode might be over (and thank god for that after the stunt they pulled with Cousin Matthew... talk about a downer) but you can still channel a bit of upper-class Maggie Smith style luxury with a bottle of the Highclere Castle gin, crafted with the botanicals grown on the infamous estate. They've added lavender, lime flower and orange peel, and then for a twist, Highclere's acclaimed estate-grown oats have been woven into the botanical blend to give an exceptionally creamy palate. Jolly good, we must say.
Highclere Castle Gin, 70cl (43.5% ABV) RRP £38 Available on Prime, Waitrose & Highclere Castle Spirits
Limited Edition Redbreast Irish Whiskey
Got a whiskey-drinking twitcher you need to buy a gift for? Oh man, you are in luck. Us BarChick's love Irish Whiskey, but when it comes to chicks of the avian variety, it probably isn't a good idea to share a dram (you know what they say about drinking and flying), so instead this epic limited edition release of Redbreast 12-Year-Old whiskey comes with an exclusive copper casing that doubles up as a bird feeder to help keep feathered friends fed during the winter months, while your pal stays watered. Oh and €15 for every limited-edition Redbreast 12 Year Old purchased will be donated to Birdlife international. Nice!
Limited Edition Redbreast Whiskey with Bird Feeder 70cl (40% ABV) RRP £50 Available from redbreastwhiskey.com from Monday 16th November