MEDITERRANEAN INSPIRATION FINAL
Why are they so cool?
Gin Mare's broken all the rules: move over sweet and quirky flavours, this Spanish, herb-heavy gin has botanicals such as basil, rosemary, arbequina olives and thyme. It's the only one of its kind, and BarChick loves it. It's perfect for food pairing, and goes down way too easy in a G&T. Plus, their bottle is cool, pretty and very useful with a bottle cap the size of a 50ml shot – perfect. And what's more, they invited BarChick out to Ibiza for sea, sun, lots of drink with some kick ass people (basically 4 days of living the dream)… Gin Mare we salute you. Olé!
Mediterranean Inspirations Competition
This competition had been travelling the UK and various countries around the world trying to find the one person who could reflect what Gin Mare was all about, they had to make 3 cocktails: their take on a G&T, a Martini and then a personal creation designed to a Mediterranean theme… simple right?!
Who came?

The first couple of days Gin Mare was bombarded with a bunch of UK bartenders/journalists and some serious drinkers to come and crown the UK qualifier to stay on for the world final.

UK finalists:

Becky Davies – a lovely loud mouth from Mojo Manchester
Lee Potter Cavanagh – moustached guy from Hix London who was never far from the pool
Toni Herbert – pretty blonde from Voodoo in Edinburgh
Dee Ann Quinones – sassy American from 69 Colebrooke Row, London
David Gerrans – a joker from The Colour Inn, Bristol
Susie Wong – the innocent one of the bunch from Epernay, Manchester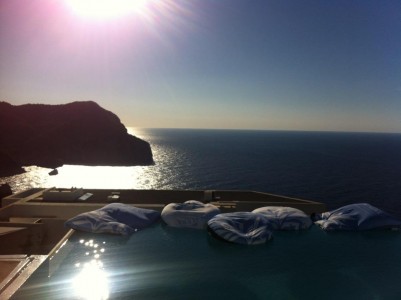 The UK judges:
Stu Ekins from CASK Liquid Marketing,
Simon Webster from BarLife UK,
Laura Foster from Imbibe,
Sam Fish from Mojo Leeds,
Jorge Balbontin from Gin Mare
Tough crowd.
What went down?
We were let loose in their amazing 'Villa Mare' with huge spreads of food, gin on tap and a beer fridge. With an infinity pool, various sun loungers and humungous 'Gin Mare' pool pillows it wasn't long before we all made our selves a little too at home!
Masterclasses – One from Gin Mare Brand Ambassador Jorge Balbontin about the history of Gin Mare sampling some G&T's with plankton mixed in (yes… the sea organism). And another from Michelin star chef Angel León about his amazing seafood restaurant.
We had fat ballerinas, fruit fights in the pool, some rather X-rated sessions of Chinese whispers at an amazing meal at Nuba, and a pervert night at Space club with some censored dance moves. Then there were after parties, missed flights, hangovers, three legged cats, giant chess, and way too much garlic.
UK Final – Competition day
We had bartenders' nerves at a high, chopping all sorts of garnishes (Suzie fashioning a detailed butterfly out of a carrot was by far the most impressive). Everyone brought their game faces and made some seriously tasty drinks, gourmet food pairings and an unplanned mocktail…
It was hard to choose who was worthy of a place in the world final with such impressive performances but someone had to win, and Dee was the ultimate British champion. Her food pairings and beautiful looking cocktails won us over... and her Spanish gags (even if we didn't understand them... you gotta give her props for trying!).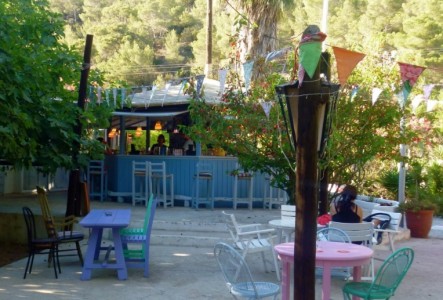 Things to do, and not to do on a Gin Mare trip…

Do have fruit fights in the pool (but not grapes).
Do have plankton in your G&T.
Do check out the Pervert Party at Café Olé at Space - there's a time and a place for leather thongs, nipple tapes and grinding on fake horses and La Pervert is it.
Don't go to Space with an 8am flight the next day. If you do, bring your suitcase or you will NOT make it.
Don't pack/move hotels with no sleep.
Don't forget to put gin in your cocktail… Becky.
Do hit the F**k Me I'm Famous bar/club at the airport … just don't miss your final boarding call.
Do cure your hangover at Hidden bar and get involved with their adopted stray pets, giant chess and cottage pie.
Don't pig out on the aioli… you will still taste it in the morning.
World Finalists:

Jorge Camilo - Portugal
Perry Collier - Australia
Andrew Nicholls - Holland
Dee – London (69 Colebrooke Row & Drake Morgan Group)
Adriana  Soley – Spain (Le Cabrera)
Torsten Spuhn - Germany (Modern Masters Bar and Lounge)
Alexandre Peyraud - Switzerland
Who won?
We had a flight to catch before the main results but we want to give A HUGE congrats to Andriana Soley Fuster from Le Cabrera Gastrobar in Madrid for winning, Perryn Collier (or Pez as we like to call him…) from The Laneway in Brisbane coming in second and of course, to our home girl Dee who claimed third place… nice one!
Lastly…. BarChick wants to give a big up to Gin Mare, Jorge, Joe, Alex, JC and Gemma for their unbelievable hospitality and the hilarious people who joined me on this boozy journey. Same time next year?