WHY ARE THEY SO COOL?
BarChick loves gin… who doesn't? But move over cucumber hints and strawberry twists because Gin Mare's broken all the rules. This Spanish, herb-heavy gin is all about the Mediterranean flavours; botanicals such as basil, rosemary, Arbequina olives and thyme, giving it a seriously unique taste. It's the only one of its kind and BarChick freakin' loves it. Food lover? Good, cos it's perfect for food pairing and it goes down way too easy in a G&T. Plus the lid doubles up as the perfect 50ml measure so you can play bartender and smash out the perfect G&Ts at home.
MEDITERRANEAN INSPIRATIONS COMPETITION
Once again we have been travelling around the UK searching for some top talent in the British bar scene. Those that entered had to prepare the following: their own version of the iconic Gin & Tonic with a Mediterranean twist, a Red Snapper (aka a Bloody Mary with gin, the PERFECT hangover cure) and a Mare Nostrum cocktail, a drink inspired by Gin Mare's brand values and Mediterranean background. While we were drinking our way around the UK the same thing was going on around the world; with everyone trying to find the one person who could reflect what Gin Mare is all about.
UK FINAL
With the backdrop of Villa Mare's breath-taking view overlooking the sea – we were back, same place, but with new judges and new drinks. Kind of like The X Factor but the judge's house was far more rock and roll. When you're in a setting like this you really understand the values of this awesome gin (no pressure to the bartenders or anything!).
The Bartenders:
Ollie Hampton – Roka, London
Damiano Madeddu – Rivoli Bar, The Ritz, London
Stuart Binks – Hawksmoor, Spitafields Bar, London
Dan Bovey – B@1, Bristol
Russell Downy – Tonic, Edinburgh
Kyle Basnett – The Violet Hour, Manchester – (The flight dodger of 2014)
The Judges:
Jorge – Gin Mare Brand Ambassador
Stuart Ekins – CASK Liquid Marketing
Andy Ives – BarLife UK
Chris Edwardes - Bar owner, Hidden, Cala St Vicente, Ibiza
Jennie Rae – BarChick
The standard was high and they all brought their A game (impromptu ice bucket challenges included) but the victorious gin king was Russell Downie from Edinburgh with his cheeky charm and awesome drinks.

UK Winning Cocktails:
'Gim 'n' Sling'
50ml Gin Mare,
25ml homemade 1724 tonic cordial,
2 dashes grapefruit bitters,
topped with sparkling water
'Red Rose For Mare'
60ml Gin Mare,
12.5ml spiced tomato and red pepper homemade shrub,
3ml citric acid,
stirred and strained into a Martini glass with a Lagavulin rinse
'Pink Basil'
60ml Gin Mare,
25ml grilled lemon juice,
12.5ml Mediterranean spiced grenadine,
4 lemon basil leaves and egg white,
shaken and double strained into coupette with a lemon basil garnish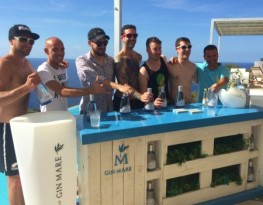 Unfortunately he was up against some stiff competition in the world final and wasn't crowned the champion, Thanasis Kouziokas from Greece was. BUT that being said, Russell did get a whole week of Ibiza loving which we think is a damn good prize in itself, jammy git.
We had mosquitos the size of bats, Idris Elba dancing to Groove Armada, Tinder banter, missed flights, BBQs, slushies, pools, views, hangovers, beaches, ants and a HECK of a lot of awesome gin.
A mega thank you once again to CASK and of course the Gin Mare crew, their hospitality is always insane, you're never without a drink in your hand, their spreads of food are fit for a king, and they make it so damn amazing that you never want to leave!