It's not every day you get to check out the home of one of the world's most recognised Tequilas. But BarChick doesn't do 'every day' - so we headed over to Guadalajara to discover what's behind the scenes of one of the world's most iconic ultra-premium tequilas.
HOW PATRON STARTED
You've gotta give a big shout out to John Paul DeJoria, he started the business from scratch in '89 and built it up to be what it is today. He's also the owner of Paul Mitchel haircare! Making him the perfect guy to know if you're planning a night out right?
WHAT IS THE HACIENDA PATRON?
Aka Patron HQ! It's the hub of all things Patron; you could call it the Patron house / office / playhouse. The Hacienda Patron on the West coast of Mexico in Jalisco and was built only 25 years ago. The idea was to create the kind of place that employees would be excited to go to work in and be proud of. With views of agave fields, a tropical walled garden and an interior that's more chateaux than distillery house; beats our Shoreditch concrete view any day.
WHO MAKES IT?
There's a whole gang behind this stuff but it all comes down to the Master Distiller. Despite growing into an internationally successful brand, Patron has maintained the same recipe and same production process since the start. Francisco Alcaraz, the Master Distiller, has been with Patron from day one and he created the original recipe. Hero.
HOW DO YOU MAKE PATRON TEQUILA?
Ready to get your geek on? Here goes:
AGAVE SELECTION
Ever seen an agave plant? It's looks a bit like a cactus and that thing is damn prickly - but it's more like an aloe. These plants are epic and are the key to all tequila (and mezcal), so we love it. Patron make sure that they pick the best and only the best Agave Tequilana Weber Blue variety from Los Altos which are then cut down by a Jimador with a big-ass knife so that only the heart remains.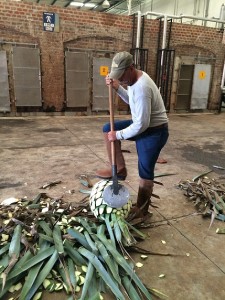 COOKIN'
Patron uses small brick ovens to cook the agave in to bring out the sweet goodness; once the agave hearts have been cut up (to maximise surface area) they are ready for a slow steam bake at a cool 200 degrees Fahrenheit. We're talking 79 hours kinda slow. A bit like your slow roast, the flavours that come outta this bad boy are unreal! Unlike other distilleries who use massive steel drums called autoclaves or diffusors, Patron puts serious time and love into this process to get the best tasting product. It sure pays off.
CRUSHIN'
Once cooked it's all about the juice baby! This is where two different processes come in: Patron uses two processes which is unique in the industry; Roller Mill and Tahona Mill crushing. Roller Mill is more industrial and super fast whereas the Tahona keeps things old school and traditional.
The Tahona Process - this uses the old technique of a Tahona wheel to crush the agave, which then gets fermented with the agave fiber in Pine wood fermenters (for 72 hours yo!).
The Roller Mill process - a smaller and faster process which unlike the Tahona process separates the agave juice from the fiber. The juice is then fermented in pine wood fermenters and boom, you're done.
DISTILLIN'
At this stage both processes are still kept separate; the product of the Roller Mill is distilled twice in two different sized custom made copper stills. On the Tahona side the product is distilled in smaller copper stills and get all reactive with the sulphur so you get more flavour in the eventual tequila.
BOTTLIN'
Patron bottles are made from 100% recycled glass from a factory called Fusion y Formas. At the Hacienda each bottle is checked, rinsed with tequila, hand corked, hand labelled and inspected by the workers. The whole process passes through a total of 60 hands!
WHAT MAKES PATRON DIFFERENT?
Didn't think you could save the planet by drinking tequila? Well these guys have their eco freak on; they reduce waste and the environmental impact of the production, recycle the water they use and ensure the bottles are made from recycled glass. They also have a whole compost system going on which they donate to local farmers.
WHICH PATRON?
There's a whole fam out there but here are our favourites and how we think you should be drinking them:
PATRON REPOSADO
Sure you might know your Patron Silver but why not take things to the next level? Aged in Oak barrels for over two months this ones just got that slight edge and oaky flavour. Try it on the rocks or slip it into your Tommy's Margarita!
GRAN PATRON PIEDRA
You've gotta love this guy, it's also made from the Tahona process and aged for more than three years to give it a rich and smokier flavour. We fell in love with the streamlined bottle even before we tasted it's flavour. Drink it on the rocks and don't look back.
PATRON XO CAFE 
You either love it your hate it. We loved sipping on this chocolate coffee liqueur for its cute coffee kick with a hint of vanilla. Pow. It goes down nice and smooth as a shot or sex it up a la BarChick and pour it over ice cream, cos ice cream is obviously better with tequila. Oh and keep an eye out for the XO Cafe Incendio that's not available in the UK... it's potentially even better.