Just when you thought 2020 couldn't get any scarier...
It might feel like the Halloween horror fest started back in March, but the real deal is now on our doorstep. We're not gonna let a little thing like a Pandemic plucked straight out of an apocalypse movie stop us from celebrating.
Going Out
Raising London's Spirits at The Double Standard
Ever wished you could enjoy a cocktail created by one of the late, great bartenders of the biz? Drag your bones over to the Double Standard bar at The Standard Hotel in Kings Cross where the skills of the deceased have been summoned to create an otherworldly menu of cocktails. Legendary bartenders Jerry Thomas, Ada Coleman and Ernest Gantt, AKA Don the Beachcomber AKA the guy who created the infamous Zombie cocktail have all been dead for well over 100 years. As if that's gonna stop us discovering their secrets, right? They've been contacted by a Medium to get the deets on the unwritten concoctions they took to their grave. Spooky. These have all been brought to life by Eder Neto, The Standard's Head of Bars exclusively for your All Hallows celebrations... 
10 Argyle Street The Standard, London WC1H 8EG
The Prince of Darkness - Bone Daddies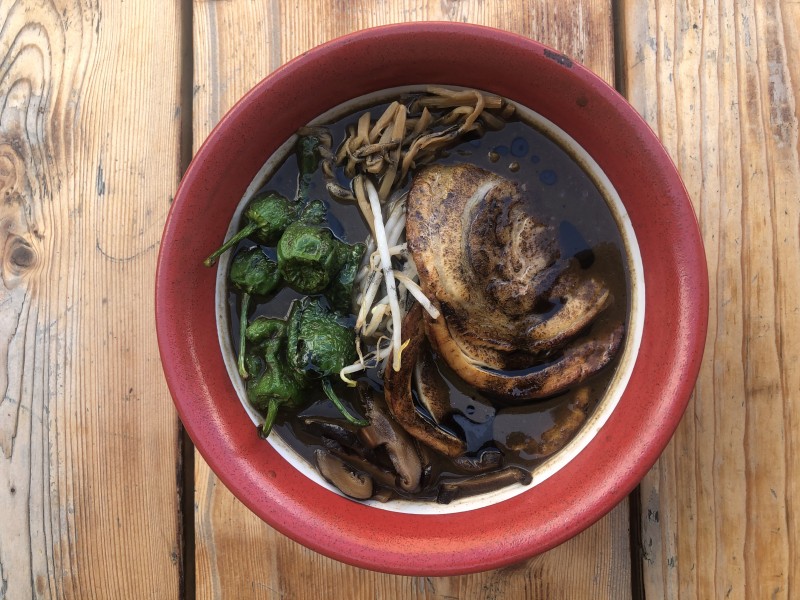 Feel like engaging in a little masochism this Halloween? Bone Daddies have joined forces with The Rib Man to create the scarily spicy 'Prince of Darkness' ramen. If you can't handle the heat, this is a kitchen to avoid as the limited-edition Halloween special combines Bone Daddies' homemade pork broth, chilli garlic tare, soy shiitake, padron peppers, charred cha shu pork, bamboo and beansprouts with The Rib Man's 'Judas is Scary Hot' sauce made using the three fiercest chillies in the world. This is the fiery flames of Hell in a bowl, baby, and it's sh*t hot.
The Prince of Darkness is priced at £13.50 and will be on the menu at all Bone Daddies restaurants until 30th November.
Discount Suit Company x Jack The Ripper tour
If you binged through the entire back catalogue of true crime docs on Netflix over lockdown, nows the time to immerse yourself in some true-crime reality. Take a tour around the historically gruesome alleyways of East London with a Halloween Ripper walk, beginning from the doors of the epic basement bar, Discount Suit Company. Stop your blood from running cold too early with a complimentary hot punch on arrival, and bring some life back to your body at the end with a few of DSC's classic cocktails. 
The spine-tingling tour and Halloween cocktail special will take place on Saturday 31st October from 7pm.
Brunch at Sumosan Twiga
Halloween celebrations aren't just for the night, ya know. With Halloween landing on a Saturday this year, the party can start early, and this Knightsbridge haunt is putting on a three-day spectacle of All Hallows celebrations including their legendary Allegria Brunch complete with Latin dancers and an authentic musical band to transport you and your bubble away for an electrifyingly haunting experience. Don't forget to dress up; The best-dressed table is in for a treat, and we're not just talking about their toffee apple smokey Mezcal Negroni...
Book yourself in here
Halloween Party Brunch at COYA Mayfair
COYA's brunch parties are as legendary as Sleepy Hollow, and on Halloween, the extreme cranks up a notch, baby! We're talking four hours of hauntingly spectacular themed performers, tricks & treats from a unique illusionist and spine-chilling tunes from COYA's resident DJ. Those brave enough to attend can expect platters of COYA's signature ceviche to include Lubinay Calabaza made with pumpkin, sea bass, aji amarillo and sweet potatoes, plus an exclusive picture-perfect Halloween dessert of La Manzana del Pecado (the Apple of Sin), which can all be washed down with a Cardinal Sins cocktail comprising black pepper & turmeric tequila, citrus, agave, ginger ale, herbs, clarified coconut milk, and topped with blood-red yukary juice.
COYA Mayfair Halloween Saturday 31st October and Sunday 1st November, 12pm - 4 pm £190 per person including free-flowing cocktails, Veuve Clicquot Champagne with the Halloween ceviche platter, a dessert platter with spooky treats and surprise shots and entertainment.
Gaucho Film Club: Hocus Pocus
Image: Walt Disney Pictures, 1993
It's not Halloween without a spooky 90's movie sesh. The Gaucho Film Club is gonna be screaming screening the cult classic Hocus Pocus at their Charlotte Street joint for Halloween, and you'll be getting more than just popcorn to see ya through it. As the witchy trio wreak their havoc across Salem, the kitchen will be brewing up a Hocus Pocus themed menu for you to feast on throughout. Is there a more perfect afternoon out for you and your hubble bubble? Witch, please!
Arrival time 11.30am ahead of the film start time of 12pm. Tickets priced at £65pp and include screening, popcorn and a themed meal. 
Staying In
Bloody Mary Doughnut by Longboys x Bloody Drinks
For those staying in this Halloween to watch scary movies and avoid the horror of the 10:02pm curfew commute home, crank the gore levels UP and get involved with this limited edition Bloody Mary doughnut. Yeah, you heard that right. Created and developed by former Hakkasan Pastry Chef & Longboys Co-Founder, Graham Hornigold, this extraordinarily elongated confection has been spiked with the unmistakable flavours found in the Bloody Classic from RTD Bloody Drinks. Filled with Bloody Mary créme, confit tomato, lemon celery confiture & Bloody Mary gel, garnished with tomato and celery crisps and dusted with tomato sugar, this definitely isn't something to share with Trick or Treaters.
On sale from 23rd October until 1st November from Longboys in Coal Drops Yard & Wembley BOXPARK as well as on Deliveroo and Longboy's website (£3.90)
The Duppy Defender
A horror movie marathon deserves some epic drinks to match. Grab a bottle of The Duppy Share Aged and make some mischief with this epic cocktail that'll channel the roguish spirit of the Duppies
50ml Duppy Share Aged
Fever Tree Smoky Ginger Ale
Candied ginger
Pour the rum over an ice cube, then top with the ginger ale and garnish with candied ginger to finish. 
The Transfusion by The Cocktail Delivery Company
If you're feeling bloodthirsty this spooky season, The Cocktail Delivery Company have the goods. The Transfusion is a gruesomely epic cocktail created using pomegranate, elderflower, lemon, mint and cranberry. Pick your poison (vodka, gin, tequila or Seedlip Garden) at check-out and your pre-batched cocktails will be delivered to your mansion (haunted or otherwise) the next day, freshly prepared by world-class mixologists, chilled and ready to serve straight from their killer custom packaging. 
The Transfusion will be available to purchase 23rd October – 6th November for nationwide delivery, priced at £22.49 for four serves. 
Day of the Dead
Santo Remedio's 3-day Day of The Dead celebration
Day of the Dead might sound bleak, but this is a celebration of life, baby, and nothing makes us feel more alive than plenty of tequila, mezcal and plates piled high with the best Mexican food from the crew at Santo Remedio. They're bringing a colourful three-day celebration throughout the day and evening from Friday-Sunday which'll kick off with the launch of their brand new Autumn cocktail menu featuring a bad-ass Pumpkin Spice Espresso Martini and a smokey Mezcal Negroni. Enjoy them alongside a few special celebratory dishes plus Santo Remedio's epic bottomless brunch. 
Santo Remedio Day Of The Dead celebrations 30th October - 1st November
Vinegar Yard
If you wanna celebrate Dia de los Muertos with your crew of 6, hit up London Bridge's largest food and drink hub, Vinegar Yard for some Tier 2 friendly alfresco celebrations. They've had a Day of the Dead facelift, complete with plenty of decorations and a weatherproof covering that'll stay for the chilling months. If you're dying to get dressed up (and who isn't after 6 months in sweatpants?), get a snap of yourself with one of the Yard's limited edition scary season cocktails and you could with a £150 bar tab and for your and your +5.
Competition running 26th October - 1st November.
Dia de los Muertos Feast at Temper London
Our favourite fire-pit meat-fest restaurant in Soho is known for having a pretty kick-ass mezcal collection, so when it comes to celebrating Dia de los Muertos with the smokey stuff, this is where to hit up. They're serving up two days of Mexican-themed food and festivities in their Soho and Covent Garden restaurants with a special three-course dinner menu + with optional mezcal flight on both nights, and a bad-ass Mexican brunch menu will be served on Saturday including unlimited wine, beer and cocktails. If you wanna celebrate with your non-household crew, their Covent Garden site has a killer heated terrace. Hot.
The Mexican-themed festivities will run at both Temper Soho & Covent Garden on Friday 30th and Saturday 31st October. 
Raising Spirits at Madera
This year, Madera is gonna be 'Raising Spirits' while raising the roof at their signature Party Brunch taking place on October 31st. No-one could have predicted what 2020 would bring us, but take a seat with the tarot card reader and see what your future holds - though you don't need a tarot reader to tell you there will be plenty of premium tequila in your future with the epic Los Muertos cocktail; a mix of Don Julio Anego, blood orange, lime, activated charcoal agave, hibiscus - I mean, that's what we're here for.
Brunch with cocktails and churros is available from £40 per person. Book here.