Picture it: you, sipping a Martini and eating mince pies by a roaring fire, content in the knowledge that your holiday shopping is complete. BarChick's here to help make that dream a reality. It's that time of year again, sugarplum, and we've got an epic present for every booze lover on your list. 
For the agave obsessed
Pensador Ensamble & Copitas Gift Set
Whether you're buying for a seasoned mezcal pro or an enthusiastic newcomer, this set is a stunner, complete with a bottle of Pensador's Ensamble expression and two ceramic mezcal cups hand-made in Oaxaca. London-based Pensador works with Oaxacan mezcaleros Atenógenes and Jose García to craft its spirits, and they're all about highlighting the terroir - the sense of place - that comes through in the liquid. We fangirl hard over this brand 'cos they like to def get nerdy with their bottles (in the name of transparency, they've got loads of production details on their website) - and 'cos the juice is bangin', naturally.
£59.95, pensadormezcal.com
Ocho Reposado
Everyone's riding the tequila train now, and with one taste of Ocho it's easy to see why. The brand has already earned itself a spot on our list of all-time fave tequilas, and our love for it continues to grow with each passing year. It's also a bartender go-to, so you know it's good. A wicked all-rounder, the Reposado is killer in a Marg and we also happily sip it straight - we're all about its soft, smooth palate, with lush flavours of vanilla, warming spices and a fresh green note. Yum.
£24.95, whiskyexchange.com
For the whisky geek
OurWhisky Subscription
Send delicious drams straight to the door of your fave whisky lover with OurWhisky's subscription club. Each month, subscribers get two 50ml drams curated by whisky experts and can join in on a live-streamed interactive tasting with the whiskymakers themselves. It's a fab way to try new spirits and get to know your faves in a whole new light. 
Starting from £14.95, ourwhisky.com
Compass Box Malt Whisky Collection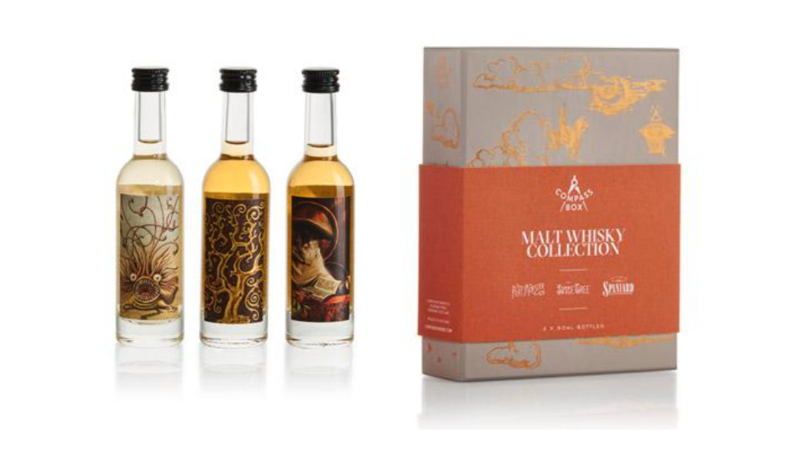 When it comes to whiskymaking, producer Compass Box ain't afraid to break the rules - but for this collection of minis, they're keeping things classic and highlighting some of the key flavour profiles you can expect from Scotch. This pack features a trio of mini bottles: The Peat Monster, a smoky and complex beast of a dram; The Spice Tree, a rich, warming and sweet sip aged in unique hybrid oak barrels; and The Story of the Spaniard, a fruity spiced blend aged in sherry casks. 
£20, compassboxwhisky.com
Aberfeldy 12 Year Old Gold Bar Gift Tin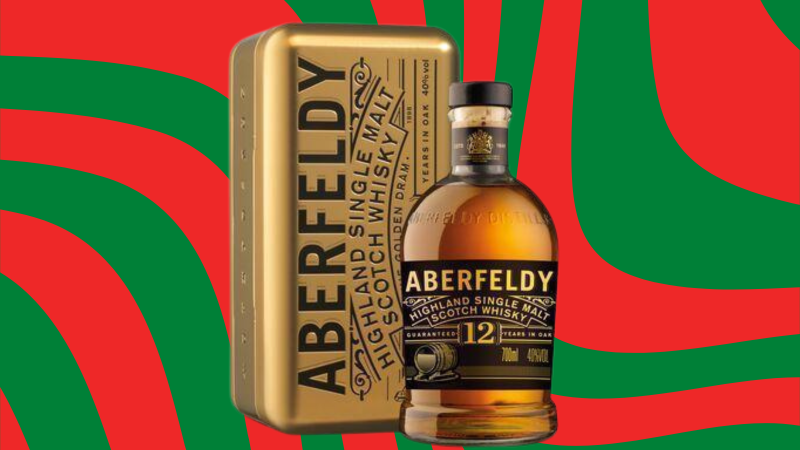 For the boujee babe on your list, we present this extra AF gift set from Scotch maker Aberfeldy, featuring its 12 Year Old Single Malt cosied up inside a gift tin shaped like a gold bar. Because who doesn't want their daily dram packaged in precious metals... 
£37.90, masterofmalt.com
For the ginthusiast
Procera Gin
Think the gin lover on your list has tried everything? We know a couple of bad-ass bottles they still need to add to their collection: the 2022 vintage releases from Kenyan distiller Procera Gin. For the one who loves a spicy gin, we present Procera Red Dot, made with five African pepper botanicals and a supporting cast of oyster shell, locust bean, seaweed, tea, mace, myrrh, honey, orange, lemon and coriander. And if they're a true juniper purist, we suggest Procera Green Dot, which uses botanicals exclusively from the juniperus procera tree: juniper berries, foliage and toasted wood. Yup, they've never tasted a gin like this before.
Procera Red Dot Gin, £94.95, Procera Green Dot Gin, £114.95; masterofmalt.com
No.3 Gin x Nude Martini Glasses
Why drink your Martini out of any old vessel when you can have one that's backed by science? That's right - these glasses designed by No.3 Gin and Nude were developed by scientists and designers to keep liquid cooler for nearly twice as long as a standard Martini glass. Doesn't hurt that they're sexy AF, too...
Set of two Martini glasses, £83, nude.com
For the aperitivo drinker
Cocchi Miniature Set
Cocchi Storico Vermouth di Torino is a go-to sweet vermouth for loads of bartenders, which means the Negroni-obsessed pal in your life has probs tried it in their fave bar. But they may not have sampled the rest of Cocchi's epic Italian aperitivo range - so here's your chance to do 'em a favour and introduce them to a whole new world of flavour. This set features delightfully diminutive versions of Cocchi Americano, Rosa, Dopo Teatro, Barolo Chinato and Storico, which all go down a treat in cocktails and when sipped solo. Pro tip: pair these bad boys with dark chocolate. You're welcome.
£23.25 for five 5cl minis, whiskyexchange.com
For the one who's off the sauce
Real Sparkling Tea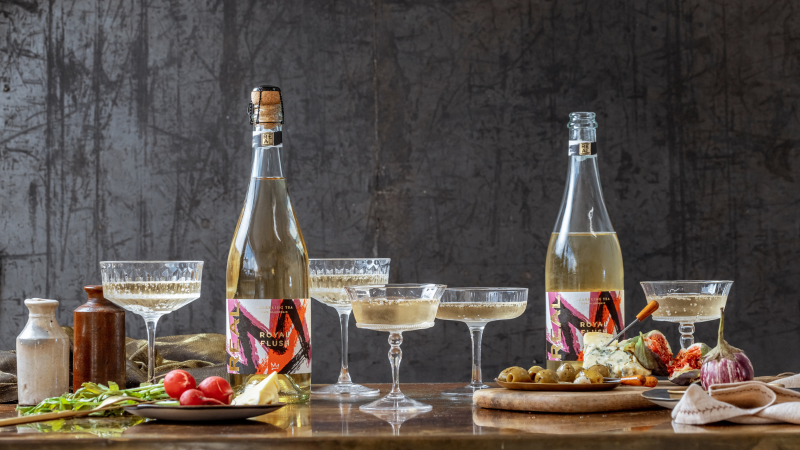 Celebrating sans booze is a cinch with these non-alcoholic sparkling teas from Real Drinks. They come in two bangin' flavours: Royal Flush is made with first flush Darjeeling tea, while Dry Dragon uses pan-fired Dragonwell green tea. Both are naturally fermented, which gives 'em loads of complexity and delicious bubbles that bring big holiday party energy. We'll raise a glass to that!
Royal Flush bottle stopper and gift box, £22, realdrinks.co
For the natty wine lover
Shop Cuvée Natural Wine Subcription
Shop Cuvée is the natural wine shop from the folks behind London wine bar and restaurant Top Cuvée, and the team know a thing or two about choosing a bangin' bottle - so why not let 'em choose for you? Gift their subscription, picking from one, three or six bottles, and the natty wine lover in your life will be in good hands, sipping the best biodynamic and organic wines around. 
From £30 per month, shopcuvee.com
Pot Luck Pet Nat
Wanna gift a natural wine that feels celebratory, but aren't sure where to start? Enter Nouveau's Pot Luck Pinotage, a pet nat with juicy layers of red fruit and frothy bubbles. Low-intervention, vegan and damn delicious, it ticks all the boxes necessary for kicking off a Shoreditch holiday soiree in style. 
£18.45, nouveauwine.co
For the one with the 'fit checks
Campari x Percival Sweater Vest 
Aperitivo hour, but make it fashion! This collab between red bitter brand Campari and menswear designer Percival literally lets you wear your love of booze on your sleeve(less vest) - the perfect gift for that mate who's always banging on about how they liked the Negroni Sbagliato before it was cool. 
Gaspari knitted vest, £95, percivalco.com
NICE Wine x MC Overalls Track Suit
There's no doubt about which side of the naughty or nice list you're on when you're sporting these threads. Canned wine company Nice has teamed up with designer MC Overalls to create a super-comfy sweat set in a sweet light pink colour that channels some serious "rosé all day" vibes. 
£120, nice-drinks.co.uk
For the constantly caffeinated
Chimney Christmas Discovery Coffee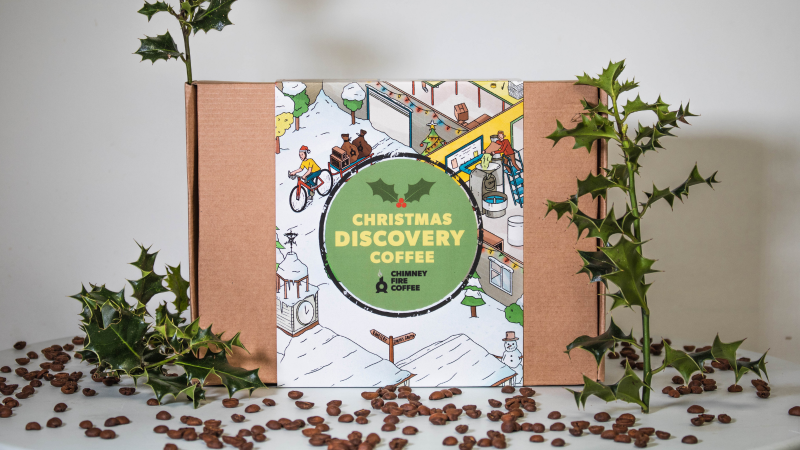 Give your caffeine-loving mate the gift of liquid life in the form of this lush roast from Surrey-based Chimney Fire Coffee. They purposely hide the origin of their Christmas Discovery Coffee to keep ya guessing, but just scan the QR code on the front for all the juicy deets on where the beans were born. What we can tell you about this epic roast is that it's got a sweet profile of fudge and milk chocolate - just as good for your morning cuppa as it is in an Irish Coffee. 
£12 for 250g, chimneyfirecoffee.com
Personalised Mr Black Coffee Liqueur
Have a pal who's always on the Espresso Martinis? This bottle has their name all over it (no, really). Gift them a bottle of Mr Black Cold Brew Coffee Liqueur with a personalised label and help them take their favourite drink to the next level in style.  
£35, mrblack.co
For the one who's always on the go
MOTH Drinks Toasting Pack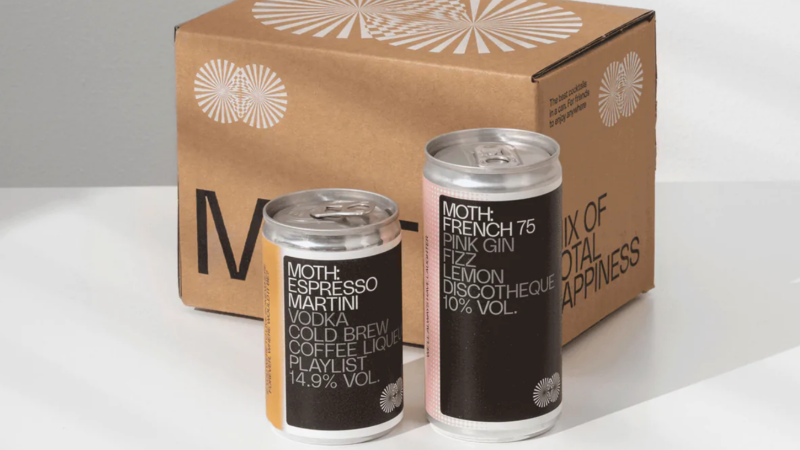 For the mate who always brings the party, this killer celebration-focused box is just the thing. It's got three cans each of two epic cocktails so you can choose your drink based on your mood. Feelin' classy? MOTH's new French 75 is the vibe. Tryna dance on the tables? Crack open an Espresso Martini and take the night to a new level. 
£20 for six cans, mothdrinks.com
Chilly's House of Sunny Coffee Cup
When it comes to versatility, Chilly's understands the assignment. This stylin' go-cup is a day-to-night accessory, perfect for a morning flat white on the commute to work and for a cosy Hot Toddy on a nippy evening stroll. It keeps drinks hot for up to four hours, and it looks damn good while doin' it - this is a collab with fashion brand House of Sunny, after all. 
340ml Series 2 Coffee Cup, £36, chillys.com
Whitebox Cocktails Christmas Selection
The cutest canned cocktails in the game just got festive. The RTD legends at Whitebox have put together a holiday-ready selection of their biggest sellers, so even your busiest mate can always have a cocktail to hand. This adorable collection features a Pocket Negroni, Freezer Martini, Chipper's Cherrywood Old Fashioned, Squeezy's Margarita, Classic Cosmo and Pret à Boire Boulevardier - all dreamed up by pro bartenders. 
Available from 1 December; £34 for six cans, whiteboxcocktails.com