Summer in London: it'll be p*ssing with rain in the morning, seriously scorching in the late afternoon and gale-ridden by night. But we love it. From rooftops and al fresco frolicking to hiding away in dive bars here's a v. versatile, sun and storm appropriate hitlist of sick bars to go booze at this month. Barchick'll see you there.
When have you ever heard the words 'all-American' and not been pleased? This U.S. transplant underneath The Lockhart (banging food from America's Deep South) is a residency brought to you by none other than 'The Talented Mr. Fox' and he's got it all figured out. You keen on drinking copious amounts of rye and bourbon like they do in the South? Excellent. The cocktail list is comprised of categories like 'Sour', 'Long, 'Strong', 'Tap and Bottle', 'Weird' and 'Shooters' so there's basically zero chance of you not being sated in some hazardously American way. This is the kind of place that's got iced tea cocktails on tap...Oh, and bar snacks include Devilled Eggs and Catfish Goujons. YES.
24 Seymour Place, London W1H 7NL
East comes West, people. Ever thought about what debaucherous activities you could do on top of the former BBC Car Park at Television Centre? Probably not... but here's your opportunity to hit up another glorious car park before our 60 second summer is kaput. Equipped with epic panoramic views of London, a rotating line-up of dynamic street food traders (we're talking everything from crab burgers to buffalo wings) and killer cocktails, Storeys in White City is where it's happening.
Television Centre, Wood Lane, London W12 7RJ
Find out what 'Peckham and proud' really means at this Copeland Yard warehouse-cum-bar. If your Cuban uncle moved to Miami and transformed his garage into a booze shanty, this is what it would look like. Perch outside on one of the picnic tables with a fag and a Tommy's Margarita, perv out on the CrossFit participants and challenge your mates to a boozy ping pong duel. And if you happen to be there for happy hour (6-7pm), you'll get 3 pints of Meantime for 9 quid. Absolute bargain & everyone walks away winning.
133 Copeland Road, London SE15 3SN
What in the world could possibly trump alcohol? Coffee, almost... Coffee is your best mate and if you marry it with alcohol, one could only hope that the fusion will solve all of our problems. The cocktail maestros from White Lyan and coffee guru Alex Macintyre know what's up and their latest venture at Old Street Roundabout is testament to that. People who are coffee-deprived have, like, no chill, so thanks guys for making the world a better place. Now we can get buzzed at work. No one'll suspect a damn thing.
Middle of Old Street Roundabout, London EC1Y 1BE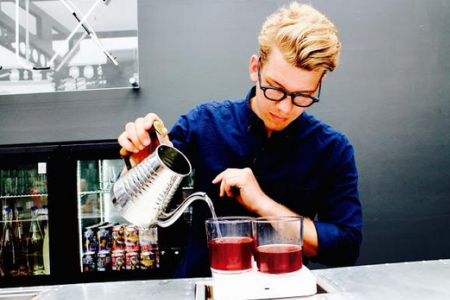 It's a gastropub with a greenhouse bar on a rooftop that houses a custom built woodfired grill and offers lodging for the night on Commercial Street. Told you this would be good. All hail the multi-functional space of the 21st century. This one's crafted with a green thumb so we're talking picking those herbs that are in your cocktail for some countryside sipping. Cocktail names run the puntastic gamut from 'Dill With It' to 'Garden Julep' and it doesn't get fresher than the ingredients grown up on this rooftop. This is an eco affair and we're all over it. Wanna get your hands dirty? Throw some overalls in your rucksack and sign up for one of their roof garden workshops whilst semi-inebriated, of course.
40 Commercial Street, London E1 6LP
In a walk-up bar/restaurant hovering above Orchard Street is a hotel that doesn't come stocked with beds or haute Parisian prostitutes, but it's tarted up with everything else you need for a wicked night out: Edison bulbs, plush red velvet, vistas of teeming central London and bloody brilliant cocktails. The guys in bow ties behind the bar aren't keen on lovingly shaving nutmeg over one of those 10 minute cocktails, but who the hell cares? They're swift and they know their spirits, so overtime really isn't required. We opt for Wanderlusts and Cloud Riders 'cos we like to keep things dreamy in this part of town.
23 Orchard Street, London W1H 6HL
For the hedonist who likes the finer things in life, even when cash-strapped and living in a garret. It's a posh Art Deco-inspired steakhouse in a grade 2 listed historic building, so maybe try dressing to the nines. The Porterhouse Steak'll set you back £110, but never mind that for now; there are bar nibbles and liquid assets to sort you out just fine. With Ernest Reid behind the bar, nothing could possibly go wrong on either front. Curl up on a green leather bar stool, order a Kirsch Cosmo or Barrel Aged Negroni and don't you dare leave without having dived into the jumbo lump crab cake and yellowfin tuna tartare.
The Adelphi, 1-11 John Adam Street, London WC2N 6HT
Obviously, you have to hit up Frank's before he f*cks off again. This is just a friendly, yet slightly aggressive, nudge to remind you that Frank's is a seasonal affair. And whilst we're not sure where he goes when he's not on top of Peckham Rye's premium car park, we know that he leaves for a long winter-blanketed time and you will miss him.. So get your fix of smoked aubergine, Negronis and interactive art before he packs his giant red tarpaulin rucksack and doesn't open it again 'til next year.
10th Floor, Peckham Multi Storey Car Park, 95A Rye Lane, London SE15 4ST
For those lethargic 16th century evenings and hardcore pub enthusiasts, this nautical gem is pretty much a national treasure. Historical tidbit: this was the original mooring point of The Pilgrim Fathers' Mayflower Ship. How brilliant is that? If a late summer storm is brewing, go to Rotherhithe Village and watch the crashing 'waves' of The Thames through the latticework windows with a Guinness in hand. It's epic. But it's also ideal on a sun-soaked day for sitting on the jetty, sipping on shandies and watching the cargo ships . Perfect for mum, mates or mistresses - just go.
117 Rotherhithe Street, Rotherhithe, London SE16 4NF