Baby it's cold outside, so we've gone and picked some killer hot boozy and bad ass winter drinks for you to make at home. Light the fire, dress sexy and let's get this hot cocktail party started.
Fond Memories
We picked up this recipe from Kate Jackson at Call Me Mr Lucky.
Ingredients:
60ml St Germain Elderflower Liquor
45 barrel aged Pineau de Charentes
25ml pear juice
30 lemon juice
4 bar spoons of stewed damsons
15 redcurrants
2 dashes of black walnut bitters
First up stew your damsons then stick them in the oven to soften the fruit, this will also amplify their natural sweetness. Then pour the damsons into a shaker, add the rest of the ingredients and give it a quick muddle to break up the damsons and fresh redcurrants. Pour everything into a pan and gently simmer before straining it into a heatproof glass or mug.
Smoking Bishop
This recipe makes enough for one but it can be doubled, tripled, quadrupled, etc, depending on how many mates you're making it for. It's also the perfect excuse to use cognac, something that's always in the cupboard but you might not know what to do with it. Here you have it:
Ingredients:
25ml Courvoisier VSOP
50ml light red wine
25ml ruby port
10ml gomme syrup
40ml blood orange juice
25ml pink grapefruit juice
2 cloves
½ cinnamon stick
1/3 Seville oranges (sliced)
1/3 pink grapefruits (sliced)
Sprinkle of ground nutmeg
Take the cloves, sliced Seville oranges and pink grapefruit slices and pop them a small pan. Then add the rest of the ingredients apart from the cognac and nutmeg. Bring everything to a low simmer and slowly stir in the Courvoisier VSOP.
Hot Buttered Rum
Sounds like some sort of donut, it's actually a delicious cocktail. Make it because winter ain't fun without one!
Ingredients:
1 lb. light brown sugar
1/2 lb. unsalted butter (softened)
2 tsp. ground cinnamon
1 1/2 oz. rum
2 tsp. ground nutmeg
1/2 tsp. ground allspice
2 tsp. vanilla extract
Just like you're making a cake, take a mixing bowl and beat together softened butter, brown sugar, vanilla extract and spices until well combined. Stick it in the fridge until you're ready to use, then in a preheated coffee mug combine 2 heaped tbsp. butter with 1 1/2 oz. rum. Top with boiling water and stir well to mix. Serve with a spoon.
Irish Coffee
For all you freelancers out there! If it hits four o'clock and you're flagging this will be the ideal pick me up…. it's a bit of coffee complete with a caffeine kick, whisky and extra cream on top.
Ingredients:
170ml of fresh coffee
1 tsp. of sugar
45ml of Jameson Irish Whisky
Whipped cream
Combine the coffee, sugar and Jameson together in a mug/heat proof glass and load the cream on top of it. Short, sweet and it will get you going in no time.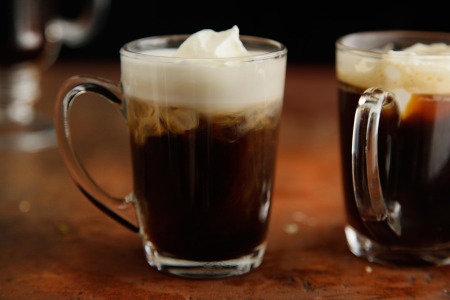 Mulled Sloe Vodka
We've been obsessed with damson vodka for a while now. It's a cherry, marzipan, almond and plum cake in liquid form and exactly what you should be sipping when it gets cold.
Ingredients:
6 litres of cloudy apple juice
1/2 litre of water
3 large cinnamon sticks
5 star anise
5 cardamom pods
12 cloves
4 tsps of vanilla extract or a vanilla pod (scored down the centre)
Combine all the ingredients together in a pan on a low heat, make sure that it's not boiling and allow it to simmer for a few hours. When you come back to it, divide into glasses and add some SipSmith Damson Vodka according to how much booze you want. Garnish it with half an orange slice or stick of cinnamon... .voila!
Fever-Tree Hot Ginger Punch
A delicious rum punch with a Fever Tree ginger kick to it!
150ml Havana 7 Year Old

600 ml Fever-Tree Ginger Beer
200 ml Fever-Tree Ginger Ale
15-20 cloves
6-10 Star Anise
1 vanilla pod
Pour the rum, ginger beer and ginger ale into a saucepan and gently heat making sure it doesn't come to the boil! Then take the vanilla pod and slice it from top to bottom and add to the pot with the rest of the spices. Now add a few twists of orange peel and gently stir to taste, heating for another 5 minutes and keeping it from boiling. To serve ladle the punch into a small glass tankard with the spices and peel!