Festive pop-ups all over town, cosy cinemas, hot booze, fireside sessions and hidden wonderlands... now all ya need is a date as hot as you are to accompany you.
WRAP UP WARM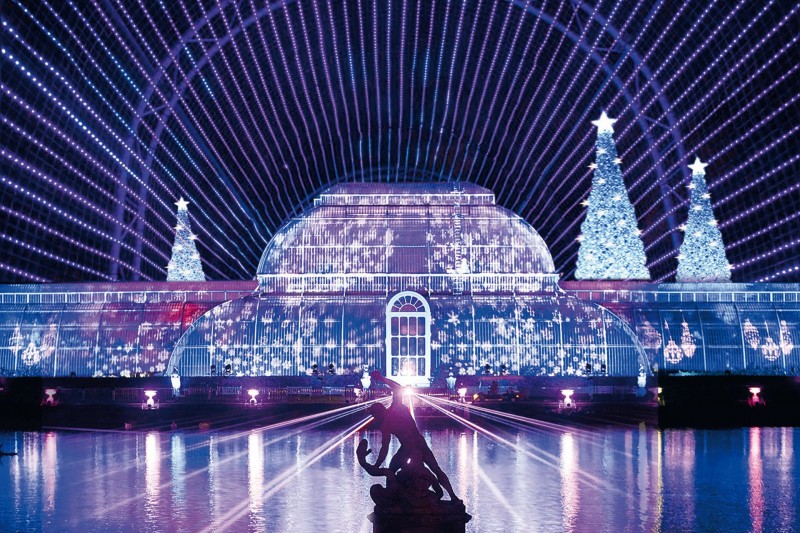 If you've snagged yourself a date with a thing for botany, head southwest and go for a stroll around London's beautiful botanical gardens at Kew. From November to January, you can surround yourself with sparkle as the after-dark trail lights up for Christmas. Snuggle up close to your beau as you wander beneath unique tree canopies drenched in Christmas colour, then retreat to The Good Wine Shop in Kew village to pick up a bottle to take back to yours. 
Book an afternoon at Kew here. Kew, Richmond, London, TW9 3AE
Cinema dates are usually a pretty dull idea. Sitting in a dark room not talking for hours hours? Nah, not for us. Unless it's a trip to the Backyard Cinema - now that's a whole different kinda cinema date. Let the constellations of sparkling stars guide you to your seat in a snow-covered forest of a cinema in Wandsworth and rediscover your favourite movies. From musicals to cult classics and Christmas faves, you and your date can snuggle down in the bean bags and bond over that weird love you both have for The Polar Express (uncanny valley who?). Hey, no judgement here.
Book your seats here. Capital Studios, Ram Quarter, 13 Wandsworth Plain, SW18 1ET 
BOOZE & VIEWS
Jimmy's Winter Lodge has a prime Southbank location so you can gaze right across the river without getting vertigo ('cos ya don't need to be several storeys up to get a wicked view of the skyline, you know!) Get cosy in this rustic (and heated) chalet alpine bar, where a sick menu of winter warmers including hot apple Mojitos and Hot Toddys are ready to bring the heat, and a downstairs takeaway lodge grill is serving up indulgent dishes like raclette burgers and wild boar hot dogs to take with you as to take a romantic stroll along the river. 
Planning that long-awaited triple/quadruple date with your loved-up crew? Jimmy's waterside snow globes have returned to take over your Instagram once again this winter, and they're ready to cater your reunion. These transparent globes are the perfect spot for groups of 6-10. Order the star of the menu (the theatrical sharer steak served on a hot stone) or keep it classic with their traditional fondue with plenty of charcuterie and sourdough baguettes for dunking... 
Jimmy's Winter Lodge is open until 8 January 2023 and can be booked here. The Queen's Walk, Lambeth, London SE1 8XX  

We may not know how to ski, but we certainly know how to après ski! This ultra-cool East London rooftop is getting in on the alpine chalet action with its Queen of the Slopes makeover - think ski lodge chic vibes, a killer line-up of warming cocktails and firepits so you can make your own s'mores while cosying up to your honey. 
Open from Friday 5th November. 1 Curtain Road, London, EC2A 3JX 
DINNER DATE
You can only go wrong taking a date to this place if they're vegan. This is hands down the best joint in London for awesome quality beef, but it's their cocktail bar that really raises the steaks stakes. They've recently given their cocktail menu a killer refresh, unashamedly ignoring that wise old adage - 'Don't f**k with a classic!'. The Hawksmoor mad scientist twist has been given to steakhouse stalwarts like the Martini, the Gibson and the classic Texan drink Ranch Water. Slide into one of the sexy booths, get some epic bar snacks in you (bone marrow oysters? F*ck yes!) and embrace the experimental. Woof! 
157A Commercial St, Spitalfields, London E1 6BJ
No swiping required to find your next love affair. It literally comes to you on a conveyor belt. Seven Dials Market brings you the world's first cheese conveyor belt restaurant and its AWESOME. Grab a stool and watch as 25 different kinds of cheese, all sourced from around the UK slowly parade in front of you. It's like a dairy-based generation game, where everybody wins. Hell yeah! Each is paired with individual condiments (think Stilton with a chocolate and oat cookie, or Burwash Rose paired with a pistachio &andorange flapjack) and there's a menu of small producer wines to go with them. You'll feel hella sophisticated sampling them all... take a date and see how many you can try. 
Seven Dials Market, Short's Gardens, London, WC2H 9AT
Even if you haven't been to this place yet, you've definitely already seen it on the gram. It's all twinkly fairy lights and ceiling foliage, like a sexy grotto. The food is banging - we're talking carbona dished up from a giant cheese wheel and cocktails served in a pair of t*ts. Even though reservations are offered, getting one is rarer than snagging a Taylor Swift concert ticket, and the queue is often round the block. But we reckon if you hit this place up on a frosty night, you won't be out there for long. And you can always get close for warmth while you wait.  
40-41 Rathbone Pl, Fitzrovia, London W1T 1HX
BASEMENT HIDEAWAYS 
Show us a date that isn't impressed by a secret bar hidden under a staircase and we will show you a liar (and recommend you keep swiping to find someone better). This jewel of a basement bar in Fitzrovia is a stylish homage to risqué, retro India, so if you and your date are feeling a little naughty, you'll feel right at home down here as you get to know each other better over a few rounds of their Rajdoot Martinis.
79-81 Mortimer St Fitzrovia London W1W 7SJ
This wicked wine bar in a disused bar in Clapham is an oldy but a goody, and still up there with the best date hangouts. After a chilly walk around Clapham Common head down here, grab a booth, pull the curtains and drink wine by candlelight.
Clapham Common South Side, London SW4 7AJ 
Gets us every time. Slap bang in Soho this is the kind of secret bar you'll want to keep to yourself. Head into London's oldest whisky shop, Milroy's and let them know you're heading to The Vault. You'll be pointed in the direction of a bookcase, push it open, head down a dark and narrow neon-lit stairway into a little whisky-laced speakeasy.
3 Greek St, Soho, London W1D 4NX
PINTS & PULLING
This pub in Bethnal Green is owned by the Discount Suit Company boys and it's simple but effective. They rotate eight banging local beers so whenever you go you're sure to get something new but if you wanna move on to cocktails, it's what these guys do best. Plus you can trade some rock 'n' roll vinyls for a freebie. Cheap date.
444 Bethnal Green Road, London E2 0AN
This pub is awesome: they brew their own beer, get up a huge fire pit to keep you warm outdoors and their food is spot on too. Throw in the DJs that rock their decks each weekend and this is the place that'll keep your date going from afternoon to an all-night session.
360 Victoria Park Road, London E9 7BT
Looking for more date ideas? You should check out these: