Whisky, haggis & overly complex poetry. Auch aye!
Don your tartan, address your haggis like the star that it is, and get ready to ceilidh like never before: Burns Night is BACK, ya wee bairns. This annual celebration of Scottish poet Rabbie Burns' birthday is all the reason we need to sink a dram or two and get our feast on, and we've got the low-down on how to nail your Gaelic celebrations at home and where to raise a glass in London. 
What To Eat
Easy to think that we've just made these words up, but actually, these are the dishes that any legit Burns Night celebration will feature. 
To start your meal, kick things off with soup. Thick and fishy is how the Scots like to do it best, so cullen skink is the one. It's made with smoked haddock, potatoes and onions, and originates from the town of Cullen in Moray, on the northeast coast of Scotland. Not into your fish soups? Try a bowl of cock-a-leekie. As you might have guessed, it is made with leeks and chicken stock (yeah, we know where your mind went first, ya filthbag) and it's bad-ass, as far as soups go.
Haggis, neeps & tatties, AKA the main event, is one of those divisive dishes. What can we say, some people just can't get their heads around a savoury pudding containing sheep's pluck, minced with onion, oatmeal, suet, spices, and salt, mixed with stock, all encased in the animal's stomach. OK, it sounds a bit weird, but take it from us - it tastes banging. Serve it up with a mash of neeps (turnips) and tatties (potatoes) and some whisky-spiked gravy and you're golden.
If you've still got room for pudding (you do) then it's gotta be cranachan, a traditional Scottish dessert of cream and fresh seasonal raspberries given a boost by Scottish oats and whisky. It's been called "the uncontested king of Scottish dessert", so you'd be a fool to skip this one. Want something a bit more unusual? The Scots have got you. Get yourself a clootie dumpling, a pud traditionally made of dried fruit, spices, oatmeal or breadcrumbs, flour and beef suet. Yes. Beef suet. It's all boiled in a cloth called a "cloot", and it looks like a dumpling. Yeah, we said it was unusual, but have the Scots steered you wrong yet?
What To Drink
Scotch. There really is nothing better for a proper Scottish celebration. Single malt, blended, on the rocks or in a cocktail. The barley-based water of life is one of the biggest global exports from Scotland, and a dram of the gold stuff is the perfect accompaniment to any Burns Night celebration.
There are over 130 whisky distilleries in Scotland, and the choice is practically endless, but if you're looking for something that will pair well with your haggis, you need to look for something that can harmonise with the pepperiness of the meat but won't overpower the sweetness of those neeps and tatties. Our pick? A delicious dram of Glenmorangie Lasanta, matured in bourbon and sherry casks for 12 years which gives it a mouth-watering blend of rich spiciness and sun-drenched sweetness.
Prefer your spirits to be a little more botanical? Most British gins actually come from north of the border, so if you wanna keep your celebrations Gaelic, a Scottish gin is also a wicked option. The Botanist Gin is made by the guys at the Bruichladdich distillery on Islay, while the team behind Porter's Gin, a cold-distilled gin made with 100% British wheat spirit, are based in Aberdeen. Then there's Caorunn (pronounced "ka-roon", the Gaelic word for rowan berry, a Celtic botanical found at the heart of this gin), which can be used to make a Burns Night Martini using 20ml Caorunn Gin, 5ml Old Pulteney 12y, 25ml Italicus, 30ml dry vermouth and a slice of Cox apple to garnish. 
Swerving the booze? A can of Irn Bru is the next best thing.
Address To A Haggis
Have a Scottish accent, or know how to put one on? This is your time to shine, wee bairn.
The Address To A Haggis is the pivotal part of any Burns Night celebration. The poem, written by Robert Burns himself, is to be read out as your haggis is presented to the table, ideally on a silver platter and while someone plays the bagpipes. But hey, if you're only rocking some Ikea basics crockery and a Scottish Spotify playlist, that's OK, too.
Where To Celebrate Burns Night 2023
Heading oot for Burns Night on 25 January? These epic bars and restaurants are hosting some glorious whisky-soaked festivities.
Break in the cosy new Time:Capsule terrace at Holborn hotel Rosewood London with a Burns Night feast for the ages, featuring classic dishes with a fine-dining riff - cullen skink, Glenfiddich-cured smoked salmon and haggis are all on the menu, as are a selection of beaut Glenfiddich whisky cocktails. Entertainment for the evening will come courtesy of poetry collective I Am Loud, with a traditional Address to the Haggis and some original spoken word performances, too. Dreamy. 
£135 per ticket | Book here
We've got your Burns Night debauchery right here, baby. Common Decency, the NoMad's moody underground drinking den, is joining forces with Laphroaig whisky to shake up some limited-edition cocktails starring three ingredients that are as Scottish as good old Bobby himself: honey, shortbread and oyster. We've got our eye on the Scotch Dumpling, a mix of Laphroaig 10 Year Old, Amaro Montenegro, Laird's Apple Brandy, shortbread whey, black pepper and lemon. Sip in style while drag diva Maxi More presents a dramatic poetry reading that's bound to get the party started. 
Book here
Our mates at The Sun Tavern in Bethnal Green know how to throw a party, so you can bet their Burns Night bash is gonna be bangin'. This year, they're slinging Aberfeldy whisky cocktails and serving up free haggis bites from Scottish street food legends Deeney's. Naturally, there will be plenty of poetry and an Address to the Haggis, with a Scottish DJ on deck so you can shake what yer mammie gave ya 'til the wee hours.
Book here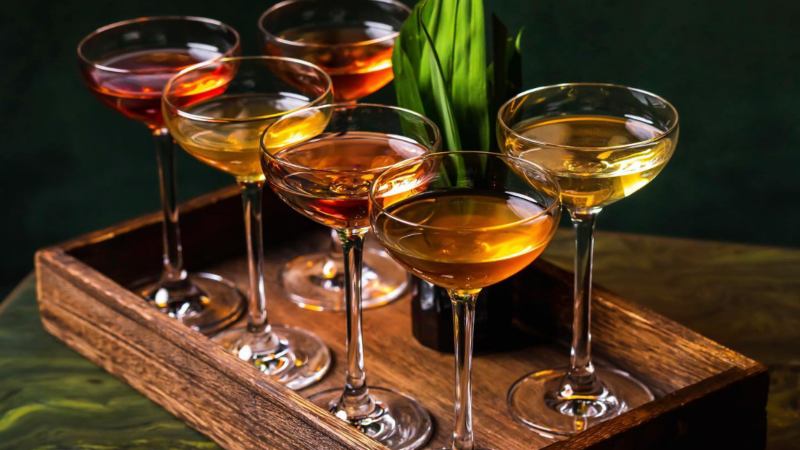 Haggis not your thing? Head to The Aubrey for a luxurious tasting of Japanese and Scotch whiskies instead. The Mandarin Oriental hotel's swanky Japanese restaurant has created a special drinks menu for the occasion, so you can compare Scottish drams like Highland Park and Bowmore with their Japanese cousins - think Toki, Hibiki and Yamazaki. 
£135 per person | Book here