Birthday? New Years Eve? House Warming? As if you need an excuse to throw a party
The space is free, the drinks are cheap and the company is handpicked so it's a whole lot hotter, plus there's no one to throw you out for wearing trainers...
INVITE
People gotta know about your party if you want them to come! Whether you text, email, tweet, facebook (retro!) or send pigeons, just send out the details, and make it short and snappy. No need for a burly bouncer on the night, just make sure you keep an eye on the front door once the party gets going. Gatecrashers can be the makers or breakers of the night; BarChick says the more the merrier, but if you spot Bob from the Block making a scene get some big boys to handle him.
IT'S YOUR ROUND
Even if the rule is BYO booze, a good ol' punch is what everyone likes to see when they come through the door. Try this wicked warming recipe that BarChick recently whipped up:
3 liters Dry Cider
1 bottle 10yr old Somerset cider brandy
500ml Cloudy apple juice
Large handful of stem ginger plus the following spices: 2 cinnamon sticks, 2 spoons of ground nutmeg, small handful cloves, a few black peppercorns and one vanilla pod… (although can be adapted to party thrower's taste)
Simmer on the hob for 6 hours and serve in teacups (fancy!) with a dried apple slice floating on the top.
Your mates may come laden with spirits, bubbles and wines, the best bits are always forgotten - stock up on lemons, limes, and buy extra mixers as they tend to run out.
ICE ICE BABY
If you reckon your ice cube trays won't be able to keep up with the demand, Eskimo Ice has got your back. From crushed ice to ice luges they deliver super-fast anywhere in London. Make sure the fridge is as empty as it can be (that chutney hanging tight at the back won't be missed) as no one likes a warm beer. Leave the alphabet magnets, "Lily likes ass play" it will make you laugh if the cleaning's a little tough the morning after. If the freezer is tiny, then hit the bath, make it disco-esq and line it with tin foil, chuck a load of cans in and load it with ice, you'll have cold drinks all night….
GLASSES
Make sure that no one starts using the bowls/vases/milk cartons to drink from, or at least hold off the inevitable by supplying a lot of glasses. Have enough for your whole street and unbreakable ones, although ugly, they do the job (and lessen the clearing up). Delicate glasses won't last the night, a lot of really hardy glassware is BarChick's advice. Single use plastic is wack, but if you can find some sustainable red cups, we say go for it.
ENCOURAGE THE MINGLING
Being a good host means more than keeping the peanuts topped up. You are the owner, the entertainer, the waiter and the music maker for the night! Parties are usually filled with a whole load of non-friends that need a good prompt to mingle. Everyone loves being introduced to a hot stranger- open with an interesting fact to get the conversation rolling like "BarChick, this is George, he's into darts, and collects thimbles…" It will work a treat, if you don't know them, make it up.
TUNES
Sorting out the music for the night should be high up on the priority list. There will always be a friend of a friend with some decks and speakers and the ego rub from being asked to "DJ at my party?" it's enough to make them do it. Failing this, have some playlists at the ready, the only downside is that these are inevitable prey for the party-killer-track-changers! The sound and speakers are pretty key to a good night, spend time on the music and party peeps will be dancing all night long.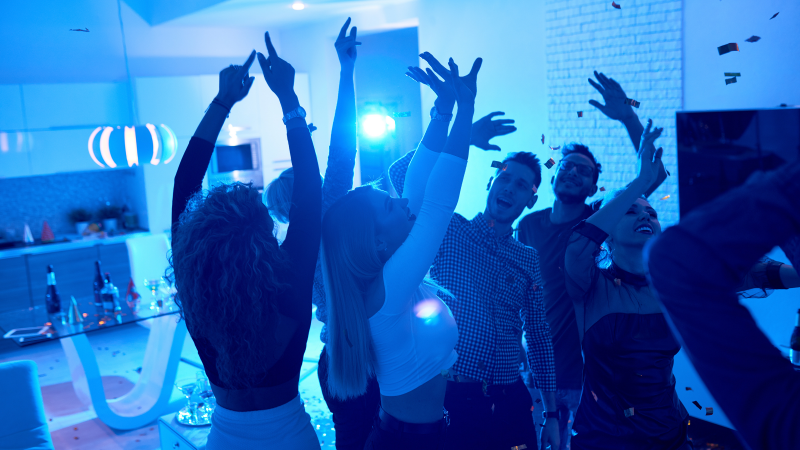 PARTY THEME
Everyone loves/hates a theme so BarChick says go for it, added bonus are the entertaining pictures the following day, almost a hangover cure in themselves. Suggested themes from BarChick are "Come as a Cocktail", (Pornstar Martini, Hairy Virgin etc) as the list is endless. "What did you want to be as a kid" will always bring out some interesting outfits or "The world is about to end! Pick your last outfit ever…" As the host, you must embrace this theme and have extra supplies, so those who don't feel boring and adapt.
THE BEDROOM PARTIES
If at any point of the night you think everyone has moved on to another party, they haven't. Take time out from dancing around the sitting room lamp and have a wander upstairs- here you will discover the bedroom parties, a favourite of BarChicks. The best ones will be in the rooms you double-locked and your parent's ensuite. Don't freak out, this is the best of the night. Each room will have it's own convo/secret drink supply/orgy going on. Eventually, everyone should come down so make sure you make it up in time, partying in the bedroom/cupboard/bathroom is a must.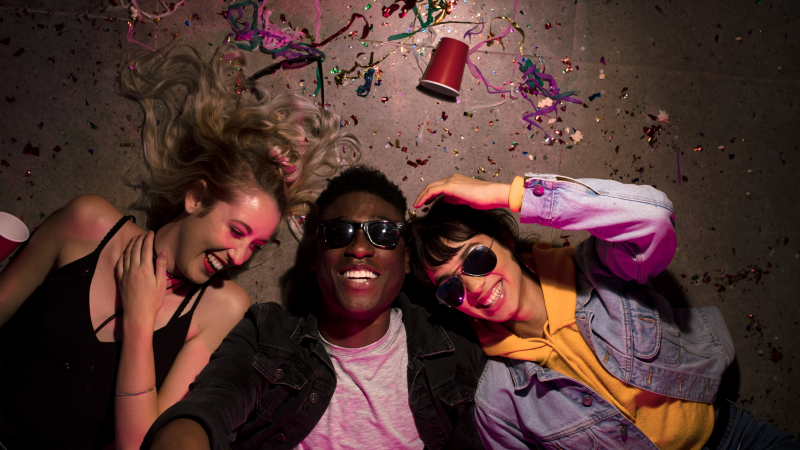 GAMES
In BarChick's experience you have to wait a little for the games to get going. Sardines has gone down a storm in the past, this obviously depends on the size of the place but getting all snug with your fellow party-goers is a classic! Although you last played Musical Chairs when you were about 5 yrs old, it's the bomb: get a DJ on the music, get everyone dancing around and sort the chairs out. Pass the Parcel for grown-ups, no need to get everyone sat down, just make sure the parcel is passed! 
THE STRAGGLERS
You can either chuck 'em out or if they're that far gone give them the number of Dial-a-drink or Knighthawk (depending on your area of town) to keep everyone fed and watered till dawn. Remember to stick a taxi number on the door, or get every guest to download Uber and use your code (as if they haven't had Uber installed for 5 years) when they book. Last but not least enjoy your own house party! The mess can be dealt with in the morning, so can your head, have a dance on BarChick and party like it's ya birthday.
Don't have the space to throw a party at your own crib? Check out these awesome party bars for the ultimate night out