We love an Italian. Sweet, bitter, and full of spirit; passionate and not over complicated. Of course we're talking about the Negroni.
While you've probably swilled back plenty, we bet you've never delved into making your own. It's so simple - 3 ingredients, perfectly balanced, perfectly in proportion, perfectly stirred. You got this.
THE HISTORY
The exact origin is an age old debate but the general story goes way back to 1919 in Florence, when Count Camillo Negroni wanted to beef up his Americano cocktail so replaced the usual soda with gin. While the Italians have been drinking it as a pre-dinner aperitif pretty much ever since, it was only in the last 5 years the rest of the world saw the light and the rest is history.
MAKE IT
There's a saying: If you make it through your first Negroni, you never go back.
That being said, it's a out and out boozy number that really doesn't take any prisoners, especially on the first sip.
With only 3 ingredients you'd think they all pretty much taste the same, right? Wrong. The Negroni is totally changeable depending on mood and taste; using different gins and vermouths can completely mix up the taste as some are savoury led, others give it some sweetness, the good news is that all are f*cking delicious.
INGREDIENTS
Campari - The classic. Intensely bitter and very sweet like a slightly overripe grapefruit.
Rosehip Cup - feeling patriotic? You can make a British Negroni swapping out Campari for a botanical led British alternative, Rosehip Cup.
Vermouths
These come in many types and variations. You want a sweet red vermouth, with flavours of dark dried fruit and cacao
Antica Formula - This bottle is a beaut, adding a medium bodied flavour to add length and help soften the intense blow from our Campari friend. On the sweeter side.
Martini Rosso - This is a classic. Easy to find, easy to use. With a recipe developed in the 1860's it's less intense then some, but its a decent starting point.
Cocchi di Torino - Rich, intense super versatile. A bit edgier then Antica.
Gin
Herbaceous and floral, fresh and intense. You'll want something that can hold it's own while still playing well with others.
Beefeater - This is the London Dry classic that you'll find most bars using. Bold, straight forward with a crispness that works great with Campari.
Sipsmith - Clean, zesty, all local craft-cool and a bit softer then Beefeater.
Martin Millers - Fruity, bright and bouncy like a cheerleader, who maybe studied boxing in her spare time.
MIX IT UP
1 shot Campari
1 shot sweet vermouth
1 shot gin
You can either build in the glass (that means pour in one ingredients at a time), and give it a quick stir, or you can stir it down over ice before pouring in into a rocks glass. Traditionally it's garnished with an orange twist so get a knife, peel a slice of the skin and twist it to get all the sexy aromas from the oils.
That first sip is going to be intense, but as it dilutes over drinking the last one is perfect and you'll find yourself making another.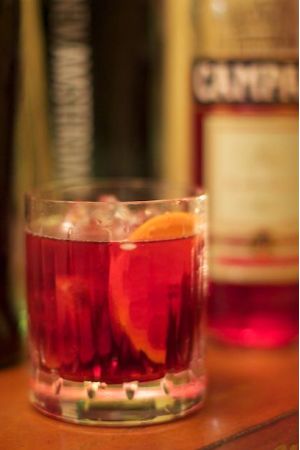 ALTERNATIVES
Not in a gin mood? No worries. Make a Boulevardier instead by swapping out the gin for a bourbon. Fancy a smokey Latin twist? Use mescal. And if you're fancy it long swap out the gin for prosecco (or keep it in, whatever) and you'll have a Negroni Sbagliato.