What do you do in Ibiza when winter wants to join the party? BarChick says do it, wrap something woollen around that onesie; sequins look sick with big knits anyway. Booze for longer without the worry of sunstroke or worse, the twat-tan... the perks really are there if you look hard enough.
Somewhere with wow factor, La Paloma goes from being a fairytale garden to being a luxxe log-fire lair. Food is hearty and homely as ever and BarChick can't help but overdo it on the wine front during those long, lazy lunches.
Can Pou, 4, San Juan.
Urban Spaces is the sick little boutique hotel in the center of Ibiza Town currently giving graffiti a good name. Not only will these dudes be open throughout the winter, they'll also be offering monthly rates to winter residents. You'll only ever be a few steps away from the bar and they'll clean your room twice a week, we know a good deal when we see one.
Urban Space, Via Punica 32, Ibiza Town.
Clandestino is destined to become a favourite amongst the all-year-round crew. Owner PierPaulo is known for rocking the bar at London's Lab whilst his wife Sabrina has the hottest service skills BarChick's ever seen. Tables are carefully handcrafted as are the cocktails and white-washed walls are the kind of chic you don't usually see this side of town. Drink the Bloody Mary, complimented with some fish oil and garnished with a king prawn it's so good that we sometimes we wake up thinking about it.
Calle Pablo Picasso, Playa d'en Bossa.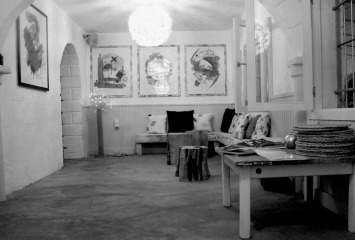 When you're looking for somewhere to warm your wintered soul why not head to Thai'd up? These guys have been doing it right for nearly 14 years and their new waterfront location means they'll now be lighting pant-fires through the colder months too. Hit the cocktail bar upstairs for Espresso Martinis and copious amounts of Hierbas.
Plaça de sa Riba, 11, Ibiza Town. 
Fast becoming one of Ibiza's treasures Hidden bar is a tricksters paradise in the north. Giant chess, crazy golf and cocktails by the celebrated Chris Edwardes, these guys have got it right. They'll be throwing a party on the first Saturday of every month and will open the doors on demand for groups of 10 or more. Once monthly supper clubs in the honey suckle room will make sure residents are well fed and cult cinema nights will be a welcome change from Spanish TV.
Cala Sant Vicent.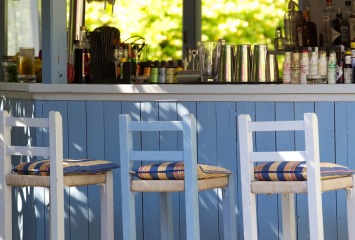 Comida San Juan
The oldest restaurant in Ibiza Town attracts queues of eager diners, even during the winter. The lentil soup here is legendary and available to take away (you'll need to bring your own Tupperware, but whatevs). Cheap as chips BarChick has been known to eat here for entire weeks at a time. Order wine by the bottle to avoid thimble sized glasses.
Carrer Montgri 8, Ibiza Town. 
Live music and chesterfield sofas are the things that keep BarChick coming back for more. This place had a right old rep in the 70s and Playboy even named it one of the top ten bars in the world. Drink Bloody Mary's and mingle with ex-pats here, soon homesickness will be a thing of the past.
Carrer de San Vicente, 25, Santa Eulalia. 
Ever wander where the hell-raisers head to when the super clubs close their doors for the last time? Bubbles. This small bar transforms into a chipper club where the islands party people meet to cause mischief.
Marina Botofoch, Ibiza Town. 
If you want to get pissed like you're in Paris then Pastis is your friend. It's all chalkboards and savoire fair, food is cooked before your eyes and mains are served with serious portion of romance. Schmooze it up over a bottle of vin rouge and some fois gras, nothing says romance like ducks liver, darling.
Carrer Avicenna, 2, Ibiza Town. 
Open 365 days a year, there really is no rest for the wicked. Get your flamboyant pastry fix come rain or shine, minus the wonderful La Troya trannys, sad face. Drink your morning coffee like a local and go for a café cortardo with a shot of whiskey on the side, for the extra warmth, of course.
Plaça de la Constitució, 2, Ibiza. 
If you think this place is sick during the summer then you should check it in winter. Sunday vibes are all about chilling under patio heaters as the sun hits the sea before your eyes, BarChick saw dolphins in March here. Get crunk on their famous sangria and don't ask what's in it, it's top secret and if they tell you they'll have to kill you.
Playa Es Jondal, San Jose.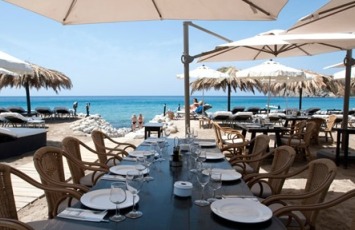 Huge open furnace? Check. Cheese? Check. Cured meet? Check. Red wine? Definitely check. Bar Costa has everything one needs to complete the winter merriment checklist. All of the islands hottys huddle in here as the days become shorter.
Plaça de l'Esglèsia, Santa Gertrudis.