The winter pop up scene is looking pretty banging. There's an Alpine style chalet throwing nightly apres-ski parties, then there's the cocktail lagoon ride to a hidden cocktail tavern and not forgetting the party in a glass igloo overlooking The Thames, you can't make this sh*t up!
Need more ideas or help booking in? Message BarChick Concierge, we can sort it.
The sexy Shoredtich basement bar, Joyeux Bordel, has been given an Alpine makeover and transformed into an apres-ski residence. Decked out to look like a cosy chalet bar, complete with skis, sledges and snow, they're serving up classic apres-ski drinks, think Hot Gin Punch & Vin Chaud, alongside raclette and crepes suzette. Whether you ski or not this is the perfect place to grab a slice of the apres-ski mayhem!
Chalet Bordel is open Tuesday-Saturday until 4th March // 147 Curtain Road London EC2A 31E // Ask BarChick to book you a table
Sipsmith's Hot Gin Roof at the Ham Yard Hotel
Back by popular demand, the purveyors of London's gin renaissance, Sipsmith, are once again taking over the terrace at the super stylish Ham Yard Hotel. As if any Londoner needed another excuse to drink gin, from Friday 20th Jan until Feb 14th you can get your hygge on at the Hot Gin Roof.
This year they're focusing on The Classics - the menu is a warming list of reimagined classic gin cocktails, from the roaring 1920's. Better still the Hot Negronis and signature Hot G&Ts are all served whilst your wrapped up in woollen blankets – the dream.
20th January – 14th February// 1 Ham Yard, Soho, London W1D 7DT// Buy tickets here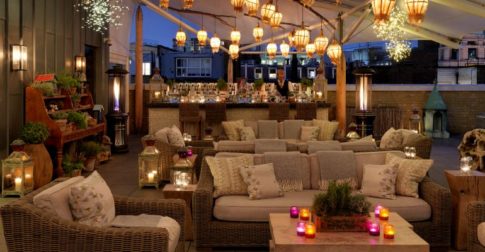 Seedlip Terrace, Harvey Nichols, Knightsbridge
Seedlip – the world's first distilled non-alcoholic spirits brand – are taking over the fifth-floor terrace at Harvey Nicks this Jan and are proving that there is more to booze-free than soda + lime. They've transformed the terrace into a cosy retreat, full of greenery and copper – it's pretty slick. You don't need to worry about it feeling overly virtuous though, there isn't any wheatgrass in sight. The list of Seedlip signature drinks on offer have been as lovingly blended, mixed and presented as some of their alcholic cousins. No matter whether you're determined to keep it dry this Jan or are simply in need of a retox – at this popup not drinking doesn't need to be dull.
Seedlip Terrace, Harvey Nichols, 109-125 Knightsbridge, Belgravia, London SW1X 7RJ // 9th Jan - 6th Feb
Mac & Wild's winter pop up & whisky bar in the city
City types can now get in on the delicious Mac & Wild action for a limited time in this huge heated pop up winter terrace and restaurant with a late night whisky bar to boot (open 'til 2am, which is rare for this part of town). Here you can warm up on Scottish small batch cocktails, with spirits and vermouths infused with locally sourced Scottish herbs and botanicals.
 9A Devonshire Square, EC2M 4YN // Closes mid-late January.

Mr Fogg's Residence Presents The Hendrick's Winter Botanical Garden
Winter Wonderland not your bag? Thought not. How about slipping down a secluded Mayfair side instead, into this Victorian-style Winter Botanical Gin Garden, with pine cones, cosy blankets, fir trees and a while load of boozy Christmas cocktails - just the kind of peaceful sanctuary you're after right.
15 Bruton Lane, London, W1J 6JD
Camino Bankside's Winter Lodge
A wonderland of fairy lights, lanterns, tree garlands and Christmas trees. Best off - an outside bar serving classic festive drinks like mulled wine and Spiced Sangria. Let the good times roll!
Opens: Wednesday 9th November // 5 Canvey Street, SE1 9AN 
Dine in a glass Igloo at Coppa Club
The view from Coppa Club Tower Bridge is insane, but it's sadly a bit cold for sun terrace drinking now, good thing these guys have planned ahead and ordered in a whole load of glass igloos for us to wine and dine inside. Take BarChick for a date here, and she's yours.
3 Three Quays Walk, Lower Thames St, London EC3R 6AH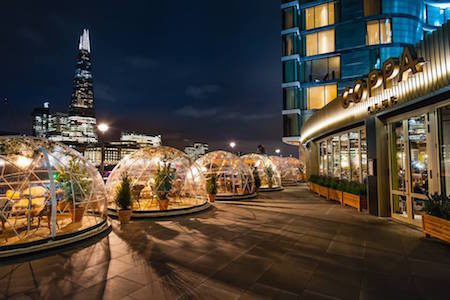 Winter Ski Terrace at The Courthouse Hotel
The rooftop of the hotel is being turned into a cosy lil' ski terrace, with fleece chairs, comfy cushions and boozy Grey Goose tipples to warm you up on a cold winter's eve. The food menu has caught our eye too, especially the Piping Hot Sticky Toffee Pudding. Yes please.
15th November - February 2017 // The Courthouse Hotel, 19 – 21 Great Marlborough Street, W1F 7LH
The rooftop winter lodge is here again, this time inspired by Little Red Riding Hood with rustic wooden walls and those obligatory winter-pop up fur blankets and cushions. All with those epic Coq D'Argent dishes and cocktails - awesome for a City-based date.
23rd November - end of February // No. 1 Poultry, London, EC2R 8EJ
Bump Roller Disco at Southbank Centre
Get creative on date night and head to this pop up rollerdisco, with special themed nights and DJs on weekends.
Belvedere Rd, Lambeth, London SE1 8XX, UK
If you've been to Jimmy Garcia's pop ups before, you'll know you're in for a good night. A feast of warming winter tipplers, fondue and wild game - all set in a cosy lodge. Don't just rock up, this'll be hot stuff - get BarChick Concierge to book you in.
409 Clapham Road, London, SW9 9BT
Winter market terrace at German Gymnasium
Up in Kings Cross, German Gymnasium is turning its terrace into a German winter market. Lined with traditional pine chalets and those classic fern wreaths and twinkling fairy lights. As predicted there's roasted fresh chestnuts and a sausage fest, with Currywurst and Bratwurst hot dogs - or if you're more swish than that, there's oyster and caviar dishes there too. Then there's the boozy winter warmers, like the Mulled Convair 340 cocktail with hot red wine, dark rum, grenadine, oranges, lemons and spices (a twist on the traditional Glühwein served at German markets).
29th November -February 2017
Winter season at Dalloway Terrace
You know you can bank on Dalloway Terrace for a winter pop up to remember. The heated hideaway with be adorned with snow-covered Narnia-like foliage, where you can snug up with a hot chocolate cocktail under sheep skin rugs. If you're still not warmed up, there'll be hot water bottles and complimentary Génépi liqueur shots on hand too (a digestif a bit like Absinthe - pow!).  BarChick's there for the savoury (cheese) and sweet (white chocolate) Fondue - yum. Don't disappoint your date, get BarChick Concierge to book you a table.
Tuesday 8th November 2016 // 16-22 Great Russell St, London WC1B 3NN
 Queen of Hoxton's Winter Rooftop Presents 'SKYE HALLA'
This rooftop WigWam has been transformed into a Viking stronghold - it's a Nordic hideaway with a longboat and feasting hall along with fire pits, driftwood sculptures and a sh*tloads of drinking horns.. Designed by the production people at Fables (Secret Garden Party, Shambala etc) so you know it's gonna be pretty epic. Get up there. If you need after party ideas, message BarChick and we'll sort it.
Opens:  Thursday 22nd October (until end of March 2017)
Get stuck into small batch, rare and aged whiskies, teamed with a badass rare Cuban cigar in this epic Scottish pine forest - a themed pop up bar, set in The Rib Room's heated terrace. It's a collaboration with Glenfiddich and The Balvenie whiskies, and the place has been done up with barrel furniture, fairylights galore and, those classic tartan cushions and blankets. There's a festive cocktail list and the food is a twist on classic Scottish dishes, like Haggis and lamb neck fritters with winter spiced bramble jam and and "Cock-a-leekie" pasties served with sweet cured bacon and Scotch whiskey jam. Then there's the tasting dinners and pairing masterclasses, find out more here - it's all going on!
20 November 2016-25 January 2017 // Open daily // Fridays and Saturdays 7pm to 10pm for live music // Jumeirah Carlton Tower, 1 Cadogan Place London, SW1X 9PY
You should also check out:
Where to book your Christmas party