Grab your gals, this is where you need to be this weekend.
Of course, every day should celebrate women - but on Sunday 8th March the world recognises how important badass babes and fearsome females are in every aspect of life. Unsurprisingly, BarChick's on board - we'll see ya at these awesome events. 
Soul sisters, assemble. This weekend our fave subterranean bar of art-deco decadence is bringing live music, DJs, feasting and partying to the mix. On Saturday rock up for brunch (bottomless bubbles - hello) and see DJ Soraya on the decks. Don't want the fun to end? More epic female DJs are playing right through til 3am. On Sunday shake off any cobwebs over a soulful live performance from London favourite, Natalie Williams. Hey Sister, go Sister...
What better way to celebrate International Women's Day than by making sure you're clued up on things down there. The event is hosted by a bunch of badass babes - including Mika Simmons (award-winning British filmmaker, actress & founder of the Lady Garden Foundation),  tv & broadcaster Zoe Hardman, and chef Melissa Hemsley. Join them for a live recording of The Happy Vagina podcast, where they'll be talking about everything from lack of education around women's experience to making sure gynaecological health is a priority. Don't worry - it won't be like an awks Sex Ed class - these gals are here to enlighten and entertain. Plus with 10% of each ticket going to The Lady Garden Foundation you can feel good while you're doing it. 
Martin Miller might be a guy's name, but we won't hold that against him. On Saturday 7th grab your gang of gin-loving gals and take them all to the top floor of Michelin-starred Angler to hit up the flower-filled terrace in collaboration with Martin Miller Gin.  You and your crew will have one of the brand ambassadors on hand to drop some knowledge about their gin, how it's made and – most importantly – how to fix up an epic cocktail at home sweet home.  
Tickets are £20 and also include a cocktail of your choice from the exclusive Martin Miller's gin menu.
1 day, 4 rooms, and the WXMB 2 crew = an all day festival to remember at Colours Hoxton. Music lovers and creative gals, you're gonna love this. Get down to epic DJs and fresh live music performances from the likes of Rory Sky, Rue and Evie Balfe. Then join one of the awesome workshops and learn a new skill - from sound engineering and light design to  DJ workshops and a music production masterclasses. The Pink Room is where you go if you wanna hear incredible things that womxn are doing across the industry, or stop into The Green Room for a break and deeper connection with your essence through yoga and a cacao ceremony. We challenge you not to find something to shake your tailfeather to. 
Tickets are only £15 for the whole day.   
We love FAM anyway - especially since it has one of our favourite chicas Megs Miller at the helm. Join the team on Sunday from 12pm - 8pm for a dreamy day of new cocktails, food and celebration. We'll be sipping on the False Eyelashes, a twist on the classic vodka cranberry topped with sparkling wine for a sophisticated touch. There'll be delicious sandwiches to soak up the booze, and what's more all profits from the day will go to Solace Women's Aid, an organisation supporting women and children in London to build safe and strong lives free from male abuse and violence.
This is a dreamy duo we can't wait to get involved with. Luscious riverside bar Lyaness is continuing its Sunday Lyan series with a special evening in honour of International Women's Day. They'll be hosting a kick-ass team of seven female brand ambassadors who have each created their bespoke cocktails to be served throughout the evening from 5pm. After celebrating at Lyaness, you'll be invited to take the complimentary transfer to the Langham's Artesian Bar at 8:30pm for their own all-female takeover with a stellar line up with drinks from the duo behind Bar Average, Cami Vidal from La Maison Wellness, Nicole Sykes, and more. Oh yeah, and there'll be DJs and dancing til midnight.  Girl power, baby.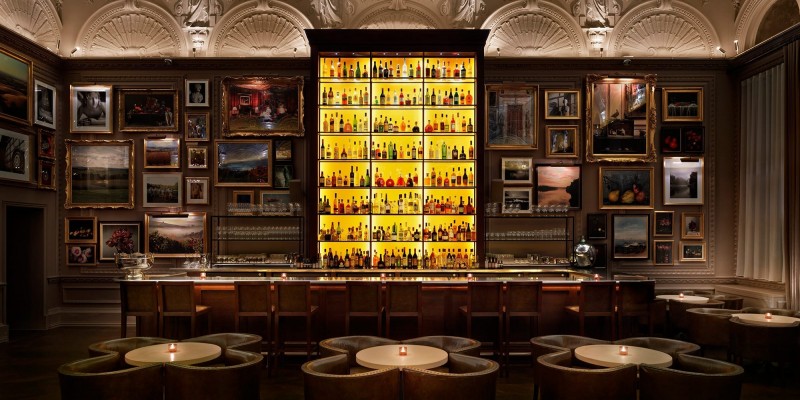 The fact that, on average, women still get paid less than men is mind-blowing. While we like to think the hospitality industry is doing it's best to make things fairer, there's still a long way to go to lessen that 17.3% gap. However this IWD Berners Tavern is showing solidarity by giving all women diners this same 17.3% off their bill. We'll have the lemon sole with a side of equality, thanks.