It's not all shaken vodka Martinis, ya know...
With an average alcohol consumption of 92 units a week according to the books, and a drink every ten minutes and 53 seconds on average in the films, it's probably not wise to think of Bond as a role model when it comes to drinking. But if you are going to responsibly follow in the secret agent's drinking footsteps, these are the cocktails to do it with.
Americano
Casino Royale, From Russia With Love & A View To A Kill
Here's a fact you'll be grateful for knowing at a pub quiz one day: The Americano is the very first drink James Bond ever orders. He's a fan of Perrier when it comes to the fizz in this long serve, and enjoying a bit of alfresco cafe drinking, he's adamant that this cocktail is The One.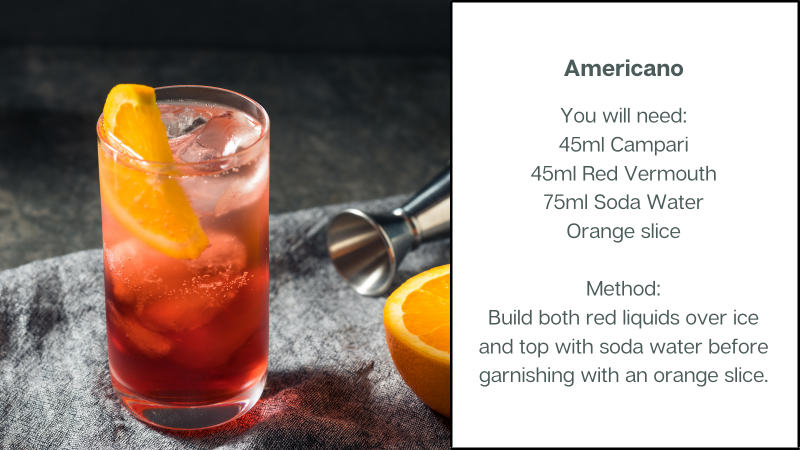 Vesper Martini
Casino Royale
Named after this double-agent love interest Vesper Lynd and invented on the spot around a Poker table, as iconic Bond cocktails go, this is probably right at the top of the list. When "Three measures of Gordon's, one of vodka, half a measure of Kina Lillet. Shake it very well until it's ice-cold, then add a large thin slice of lemon peel. Got it?" 
Rum Collins
Thunderball
This Caribbean variation of the Tom Collins is served to Bond by his host, Emilio Largo, in the first Bond film to grace the Silver Screen. Tall, refreshing and a more tropical version of the original - this is how to drink when spying in the Bahamas. 
Sazerac
Live And Let Die
When it comes to drinking locally, Felix Leiter knows what's what. As the CIA agent chills with 007 in the Big Easy, there's only one drink they should be drinking, and Felix knows it. We like to make this New Orleans classic with Catoctin Creek Roundstone Rye and we're always careful to not be too heavy-handed with the absinthe. 
Stinger
Diamonds Are Forever
Out in NYC? The classic stinger was once considered the ultimate nightcap for ending an evening in the city that never sleeps, and Bond knows it, ending his dinner at the 21 Club with this popular Prohibition cocktail. Just make sure you use white creme de menthe and not the green stuff... this is a classy cocktail.
BLACK VELVET
Diamonds Are Forever
Another Diamonds Are Forever feature, this one comes when Bond stops by Scott's for 'dressed crab and a pint of black velvet' following a meeting with M. A pint seems pretty hard going if you ask us (classic Bond) so we serve ours a slightly more elegant way.
Mojito
Die Another Day
You won't find this cocktail mentioned in the book of this Bond story - this is a movie original, enjoyed by Brosnan while chilling on the beaches of Cuba the Bond Girl we all wish we were: Halle Berry. Any white rum works, but if you wanna make it properly Cuban, it's Havana all the way for us.
Want a bit more Bond in your home bar? You'll want our ULTIMATE guide to the Martini, including whether or not Bond was right to have his Martini shaken and not stirred.