In case you hadn't heard, this weekend is the grand (re)opening, people! Don your sexiest mask and get ready for some one-meter apart fun, cos the hospitality industry is back open, back to business, and back to doing what they do best - giving us the time of our social lives. 
South-facing terrace and a booze list to make wine-lovers weep with delight? You have our attention. The Laundry only opened last year but already has tons of foodie fans thanks to its sensational seasonal menu with an Antipodean twist and the amazing selection of vino. Crack on with Caravan coffees with pastries in the morning, then get involved with the brunches served until 3pm every day - we'll be having the Croque Madame and Bloody Mary, thanks. 
374 Coldharbour Lane, Brixton, SW9 8P
If there's one place we'd happily while away the afternoon then it's The Berkeley Hotel, and now it's got even sexier. Welcome to The Garden at The Berkeley - a new secret hideaway for those in the know. You might not be able to go on a European escape this summer, but heading here and tucking into charred octopus with lemon & garlic saffron aioli accompanied by a glass of fizz is deffo the next best thing. Especially with the lanterns, festoon lights and candles twinkling between olive trees and lavender. Sounds bloody magical. 
Wilton Pl, Knightsbridge, London SW1X 7RL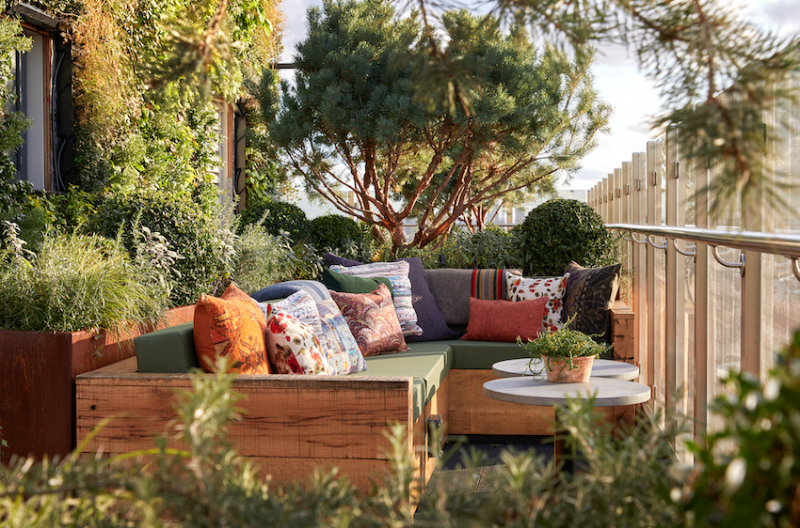 It doesn't get much more scenic than 360-degree views on London, fact. A little birdy tells us that The Nest at Treehouse Hotel London is the terrace to take flight to when you want some al fresco chill time. With cocktails that include a Barrel-Aged Coconut Manhattan and an Avocado Bellini, plus a menu of light bites like stone-baked flatbreads and mezze platters, The Nest is where you'll find us this weekend.
14-15 Langham Pl, Marylebone, London W1B 2QS, UK
If you've not been blessed with a garden during lockdown, now's the time to make up for it - stat. Sitting and enjoying a leisurely meal surrounded by the dreamy foliage of Dalloway Terrace is just what you need to soothe your post-quarantine soul. Cocktails include the Bloomsbury Blush, they boss a killer selection of sparkling wines, and also offer an unmissable Afternoon Tea for anyone who's desperate to get back on the scones and tiny sandwiches. Warning = you may not wanna go home after a few hours spent amongst these beautiful blooms. 
16-22 Great Russell St, Fitzrovia, London WC1B 3NN, UK Bloomsbury
Missed tapas times with your gang? Had to cancel that girly weekend to Madrid or the lad's stag to do Barcelona? Time to hit up Camino King's Cross or Bankside and forget your troubles over some croquettes and a pitcher or three of Sangria. Both venues have outdoor courtyard/terrace seating so when the sun's out you won't even know you're not chilling in a Spanish square somewhere, especially when you're a few Rioja's deep. Your passport might not be getting much use, doesn't mean your tastebuds can't. 
 Camino Kings Cross, 3 Varnishers Yard, Regent Quarter N1 9FD | Camino Bankside, 5 Canvey Street, SE1 9AN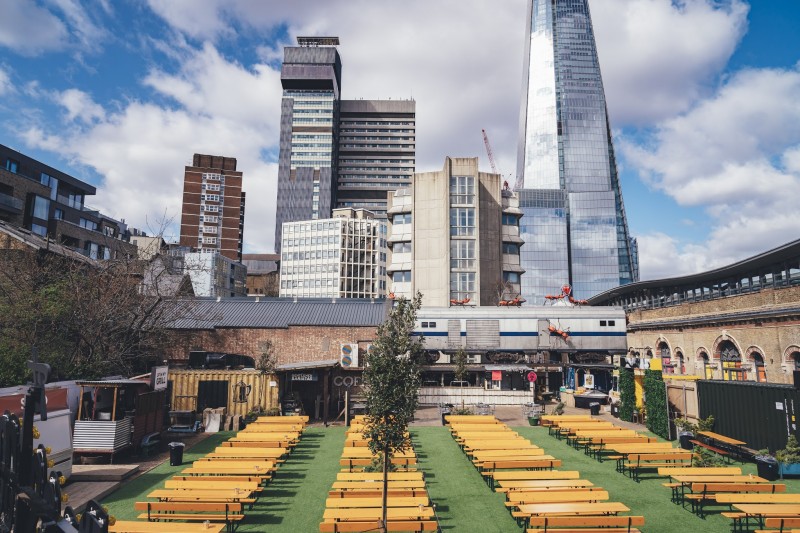 You've not seen the crew properly for a quarter of a year - this is gonna be big. Best place to head? One of London's most epic beer gardens. Vinegar Yard is the al fresco multi-fun hotspot that's bang in the middle of London Bridge - it's even got a view of the Shard. With two new mezzanine cocktail bars, some of the city's best street food vendors, a vintage flea market, and now loads of socially distanced picnic tables, this is the one for an all-day sesh.   
72-82 St Thomas St, Bermondsey, London SE1 3QX
A chilled pint from a keg that's been pulled from an actual beer tap... be still our beating hearts. We can only imagine what that first sip is gonna taste like. Well soon we won't need to, cos we'll be four deep in the beer garden of The Duke of Hamilton, having the socially-distanced time of our lives. What could be nicer than taking a stroll round Hamstead Heath then swinging by a pub garden for a lazy afternoon. Who knew we'd get so excited by a pint and a packet of peanuts. 
23-25 New End, Hampstead, London NW3 1JD  
Sure, it's been fun ordering killer pre-batched cocktails to your casa, or simply mixing the leftover booze from last Christmas into a sherry & Martini 'punch' when you cba to go to the shops. But thank the lord and angels that we can now actually get a wicked cocktail made specifically for us, in a bar, served in fancy glassware we don't have to wash up. We love Coupette anyway for their quality & simplicity, and we'll be hot-footing it to Bethnal Green for their drinks now lockdown is lifted. 
423 Bethnal Green Rd, London E2 0AN, UK
You've been stuck in your pokey basement flat for over three months... time to get sky-high baby! Skylight is back for summer and this time they're totally tropical, yo. Think lush green foliage, cushioned garden booths, and a pop-up bar serving pints of ice cold lager. You might not be able to play their famous lawn games, but hey it means there's more room for all that seating which means you can soak up the rays and enjoy panoramic and uninterrupted views across London's skyline. All with a cocktail at your side, obvs. 
Pennington St. Car Park Entrance Wapping, London
E1W 2SF
Folie is the opulent restaurant on Golden Square, right where the sass of Soho meets the swankiness of Mayfair. Not only have they got some seriously stylish interiors (the vibe is 60s & 70s sensuality and glamour, love it), but they've also got an awesome new terrace for al fresco dining if the mood takes you. The menu is channeling Mediterranean dishes inspired by the Italian and French Riviera, and as well as some epic cocktails they also have a bunch of rare and unusual pastis and vermouths. Now let's make up for lost time...
37 Golden Square, London, W1F 9LB