BarChick got a taste of what it's like to be the industry's first female master blender, and it tastes gooooood.
There are some epic women making some serious waves in the drink industry these days. Find them behind the bar, repping the biggest spirit brands or creating your next favourite tipple. They're all killing it. We hung out with one of these bad-ass babes when the Campari Masters came to town to join forces for a morning of epic tastings and industry chat; It's none other than Appleton Estate's Master Blender, Joy Spence.
Joy has been blending up some of the best rums on the market for over 20 years. Wanna know how to get that gig? Well her background in chemistry is a big help. She was teaching it before she rocked over to the UK to get her Master of Science degree in Analytical Chemistry.  Yeh, this woman has got mega brains, and a sense of smell to match. With her nose like a bloodhound, she knows how to pick up flavours and mix 'em together to create some truly amazing serves. Turns out it's all about science. Bet you wished you paid attention in your school chemistry lessons now, huh?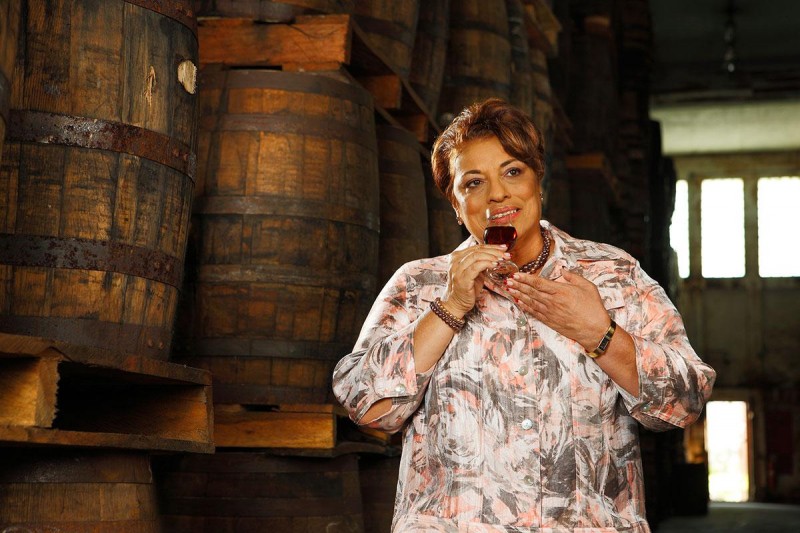 When Joy sat on the panel with her fellow Masters (between them they have 140 years of knowledge and experience in the industry which is mega), she stressed how, when looking to the future of rum, she'd like to see a bit more structure brought to her beloved spirit in terms of restrictions and rules. We don't usually like sticking to rules but we get where she's coming from.
Unlike Whisky, Bourbon and Cognac, Rum doesn't have its own set of regs. There's no set of specifications for ageing and production so it's harder to keep it all in check and know the credibility of what you're drinking. What we're saying is it's looser than the elastic on those cosy briefs you save for nights in alone. Don't lie, you know the ones.
So that's what spurred her on to successfully help Jamaica fight for geographical indication (GI) approval for its rum. This is pretty major. It means any rum that claims to be Jamaican now must adhere to strict production and quality standards, including a ban on any additives. What a legend. No shockers here that the Government of Jamaica awarded her the Order of Distinction in the Rank of Officer (OD) for her service to industry.  She's basically rum royalty. 
It might be because of this that Rum sales are on the up.  Last year, it reached the £1bn mark in the UK for the first time (that's a sh*t loada dosh). It's escaped that time warp where Rum was just thought of as the spirit to pair with heavily sweet fruit juice to create party punch or brightly coloured tiki drinks. It's not just pirate bumbo anymore.  Joy walked us through a tasting sesh of a few of her Appleton masterpieces. The basis of most of Joy's creations is a mix of chocolate, coffee, vanilla, cinnamon and orange. Proper tropical vibes with a lot of class.
And you don't get to spend over 20 years as a Master Blender without having a rum named after you. To celebrate two decades at the helm, the Appleton Estate Joy 25yo was released. Probably one of Joy's proudest career moments. It's got heaps of vanilla flavour to it, with coffee and ginger notes, with a hint of bitter marmalade and an explosion of raisin. A killer product to put your name to. We are jealous. It's all a combo of column and pot-still distillation which lends these notes to the Appleton spirits. In the tropical climate of Jamaica, rums age three times as fast as, say, a barrel of scotch in Scotland so you don't have to wait as long for the good stuff.
Wanna do your own tasting? As if you needed an excuse to book a hoiday to the Caribbean, but the Joy Spence Appleton Estate Rum Experience guides visitors around the oldest sugar estate in Jamaica, and it's killer. It takes you from cane to cocktail, and you'll get to see what goes into making their killer rums.