Looking for things to do in London this month? You're in the right place. Temperatures are hotter, skirts are shorter and nights are longer - so there's never been a better time to rave with magicians, drink cider slushies and learn how to cocktail up your craft beer.
See you at hip hop karaoke.
All the best booze and food in one place 
Taste of London - Wednesday 17th - Sunday 21st June
This yearly event brings together some of London's big time restaurants and booze brands for five days of bar hopping, dish tastings and general good times.  Swap cash for some crowns (1 crown = 1 pound) that you can pick up around the festival and work your way around... there are some amazing restaurants offering up their best dishes up for a lower price than in the actual restaurant.  Michelin starred grub, festival prices.
You're also there for the booze, these are the best around: The Ketel One Vodka kitchen where you can make you're own Bloody Mary, The Sipsmith bar where you can kick back with one of their insanly refreshing G&T's, Fever Tree for all things Tonic, Laurent Perrier to get your champagne fix, Coco Face to re-hydrate with one of their fresh nuts, Mortimers Orchard for silent disco and cider (win, win!) and the Craft Beer Tent for some Meantime. Finish off at Baranis for cocktails and Petanque!
Boozy slushies and hip hop karaoke in a forest
Kopparberg Urban Forest - Wednesday 10th June - Sunday 12th July
Hackney Wick is turning Scandi at Kopparberg's pop up forest festival! You can expect DJs, live music, hip hop karaoke, street food and great summer booze from the woodland bar (it's a bar actually carved into tree). Better yet, get your slushy on at their Frozen Fruit Cider Bar. Hip hop karaoke in a pop up forest is where it's at.
37 - 41 Whitepost Lane, Hackney Wick, London E9 5EN // Weds - Fri: 4pm - 11pm, Sat & Sun: 12pm - 11pm // Free entry
Caribbean rum meets 1920s glam
The Spirit Social - Thursday 11th June
Bored of all that Gatsby sh*t? This old school-themed night of rum mischief is oozing some serious 1920s cocktail glam and making it cool again, for one night. Mixed with street food, live music and great Duppy Share cocktails for just £5, crafted spirits from East London Liquor Company, vermouth cocktails from Belsazar and the Pickle House will be providing the perfect chaser for your whisky shots. They drank Picklebacks in the 20s, right?
Maxilla Hall Social Club, 2A Maxilla Walk, London W10 6SW // 6pm - 11pm // Tickets £5
Five courses of British goodness in Brixton
Dinner - Several dates throughout June
Beehive Place have been drawing in all kinda big crowds with their tasty supperclubs and this time they're rocking five courses of British-sourced goodness that will keep you feeling perfectly fed and oh-so satisfied. With a fully stocked bar of wines, craft beers, ales and cocktails - also all sourced from around Britain - once you've filled your face it's time to hit the bar for music and dancing. Dinner's ready!
Beehive Place Kitchen and Bar, 11 Beehive Place, London SW9 7QR // 4th, 5th, 6th, 11th, 13th, 18th, 19th, 20th, 25th, 26th & 27th June // Tickets £36 + booking fee
Preaching about pints
B&H Handbook, Summer Series: Ales & Ciders - Tuesday 23rd June
Don't know much about your pint? This B&H teaching sesh is all about Ales and Ciders and will show you how to mix them into cocktails, show off this year's hottest new English goods as well as give you some tasters. Lessons never sounded so good.
B&H Buildings, 42 Northampton Road, London EC1R 0HU // 7pm - 9pm // Tickets £10 + booking fee
Eat and drink your way through this Soho safari
Hype Experience: Soho Tour - Tuesday 30th June
Explore Soho and make friends along the way as you make you way through town eating and drinking at the very best spots. Kick off with some Greek grub at The Life Goddess, then get your gelato on at La Gelatiera and finish off at a secret hot new location promising amazing cocktails and just damn good fun!
Meet at Kingly Court, Carnaby Street, London W1b 5PJ // 6:30pm - 9:30pm // Tickets £10 + booking fee
Soho's finest booze and food all in one place
Soho Food Feast - Saturday 13th & Sunday 14th June
Love Soho? Who doesn't. Hit all of Soho's hottest spots all in one day with MEATliquor sliders, Gelupo's gelato, Ceviche Pisco Sours and a f*ck load more with Blacklock, Foxlow, Heddon Street Kitchen. Fundraising for the Soho Parish Primary School, this means you can do good as you sip on a cocktail and tuck into some grub. Now that's our kinda charity.
St Anne's Churchyard Gardens, Wardour Street, London W1D 6LB // 12pm - 6pm // Tickets from £15
A Pimpin' street party
Craft Cocktail Co with Route 1 Audio Party
How do you party on a Sunday when you've got work the next day? Kick everything off at midday, obvs! Go watch sexy street painters get creative on the walls down Paradise Row at this cool urban street party. There's gonna be live music, a pop up barber shop (where you can get your hair cut for £20 while drinking a Negroni in the sun) plus all the awesome booze offerings from the hosts over at Craft. No one's getting Sunday night doom here.
Arch 253, Paradise Row, Bethnal Green, E2 9LE // 7th June // Midday-11pm
The UK's biggest gin festival - in Soho!
Junipalooza - Saturday 13th June
Gin lovers, it's World Gin Day and this festival bigging up the juniper stuff is rocking out in Soho for a weekend of masterclasses, cocktails, international brands like Germany's Elephant Gin and Spain's Santamania and Brits like Sipsmith and Hayman's so get tasting your way through the offerings. If you love all things gin then this will be like your very own boozy fairground.
The Vinyl Factory, 51 Poland Street, London W1F 7LZ // 12pm - 6pm // Tickets £12.50 + booking fee
A science and magic-themed rave
Rumpus Vol 26: Science V Magic - Friday 5th June
After five years of partying Rumpus is throwing themselves a birthday bash all about science and magic. They're getting on it across seven rooms of DJs, musical comedy, cineraves, wonderland cafes and a rock'n'roll band called the Sexy Weirdos. Whether you're team science or totally into magic, get involved.
Islington Metal Works, 7 Torrens Street, London EC1V 1NQ // 10pm - 6am // Tickets £25 + booking fee
Ration-inspired grub in an old tube carriage
The Underground Supper Club at Cahoots - Sunday 7th June
Always wondered what Londoners ate circa 1946( f*ck all)? Wonder no more because this is making rationing sexy, all set in a tube-themed swinging world of scoundrels, cocktails and jazz. Tuck into Spicy Spam Ceviche, booze served from Vera Lynn's head and the occasional dusting of milk powder. Go retro.
Cahoots, 13 Kingly Court, London W1B 5PW // 3pm - 6pm // Tickets £38 + booking fee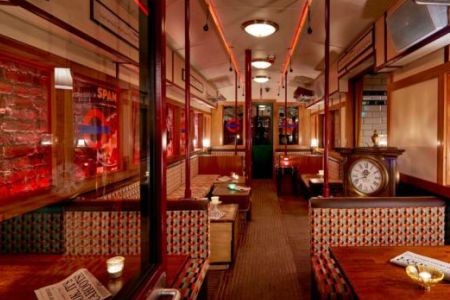 Learn how to booze, better
B&H Handbook, Summer Series: Cognac - Tuesday 9th June
Celebrate National Cognac Day (it's a thing) by learning all about the good stuff at this evening of booze exploration! You'll get to try cocktails throughout the evening and leave feeling clever and probably quite p*ssed, but on Cognac which just makes you badass. Get in and bone up!
B&H Buildings, 42 Northampton Road, London EC1R 0HU // Cognac, Tuesday 9th June, Ales & Ciders, Tuesday 23rd June, 7pm - 9pm // Tickets £10 + booking fee