We love Michelin starred, swanky sh*t now and again but sometimes you just wanna carb load, enjoy melted cheese sessions and eat a whole lot of meat, man! Supersize us right up, screw the bikini diet, eating ain't cheating… get stuck in. There are loads of burger joints and hot dog hang outs etc… but we want to know where has the junkiest food on offer, good junk though, no horsemeat for us please.
If you're gonna do something wrong then do it right, right?
The burger thang may have got a little out of control but if you want some seriously decedent junk food done RIGHT, then Lucky Chip are the guys to head to. The menu constantly changes but just to give you an idea there have been and will be burgers such as The Heisenburger: beef patty, blue cheese, smoked bacon, onion rings, hot sauce and aioli, The Christopher Walken: two beef patties, jalapenos, grilled onions, American cheese, ketchup and bacon, and The Billy Murray: aged beef patty, sesame bun, a fried soft-shell crab, guacamole, spring onion, spicy mayo, sweet chilli ginger sauce and processed cheese… PHWOAR. Each burger is named and based on a celebrity or character and they are all so f*cking good… go get!
31-35 Coate Street, London, E2 9AG
If you don't feel stuffed after a trip to this place you ain't ordering right. These guys are known for their burgers but they take posh junk to another level with their garbage plates and roast beef sundaes. Yes, you heard us, sundaes. Served in a glass with garlic mash, roast beef, gravy, horseradish cream and a cherry tomato on top… this is hangover food heaven. Their other joints like MEATliquor and MEATmarket may not have the sundae on the menu, but we all know their dead hippy burgers teamed up with their outrageous chilli cheese fries are some kinda junk food smack.
14-15 Hoxton Market, London, N1 6HG
These guys have taken over the food at The Player in Soho. Sure, the individual tacos and sliders my look small by themselves but what if you supersize things and order the tray, filled with 5 different variations of taco (two of each... naturally). Wash these bad boys down with a few chilli backs... a shot of tequila with pickled habanero juice… YEH!
8 Broadwick Street, London, W1F 8HN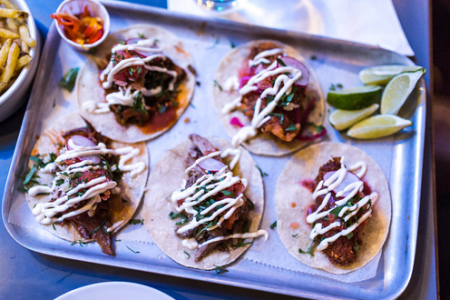 This place always has some sort of food special on, usually in the "all you can eat" category, so needless to say you will get a damn good feeding. The question is, what beastly feast are you gonna go for? If there are a couple of you then we say order the Grand Appetizer Platter with wings, jalapeno peppers, calamari, tenders, skins, corn chops, prawn crackers and ALL the dipping sauces (and that's just to start). THEN tuck into whatever deal is on: shrimp, fajitas, lobster, ribs… whatever, it's all epic.
332-334 Kings Road, London, SW3 5UR / 12 Maiden Lane, London, SW3 5UR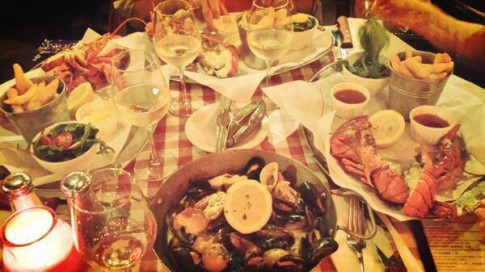 This retro 70s bachelor pad serves disco drinks teamed up with the snack of all snacks… cheese toasties. But these aren't any old cheese toasties, they've bulked them up with fancy ingredients like kimchi, pulled pork and chorizo, with various cheeses such as Brie, Gruyere and Montgomery Jack… we say get the platter of three! Get ready for those freaky cheese nightmares. Definitely worth it.
5-9 Battersea Rise, London, SW11 1HG
The colonel better watch his back cos the boys at Wishbone have taken fried chicken to another level. Not only is there the choice of wings or thighs (each with different flavourings), but there are some banging sours to wash them all down with. We say order the Tower Block: fried chicken, hash brown, American cheese, mayo and jalapenos all in a bun… and of course team it up with some deep fried mac and cheese on the side… f*ck yeh; go big or go home.
Unit 12, Coldharbour Lane, London, SW9 8JX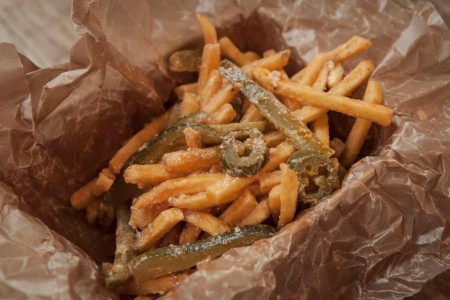 Tapas may be seen as a small dish kinda cuisine but some of the things on offer can be seriously rich and filling. Fino have made the sandwich of all sandwiches and aptly named it Fino. This is wind dried beef, Swiss chard and Galician cheese… deep fried! Yes, imagine that oozing cheese. EAT ME.
33 Charlotte Street, London, W1T 1RR
Not ones to shy away from supersizing, these guys will test your stamina with their Devastator burger; if that name doesn't scare you we don't know what will. This burger consists of 3 x 6oz patties, 200g pulled pork, 6 rashers of applewood smoked bacon and 6 slices of American cheese. Seriously that's what is happening. Plus it's only £22.75… that's like a week's worth of food for less than 30 quid! DEAL!
37 Hoxton Square, London, N1 6NN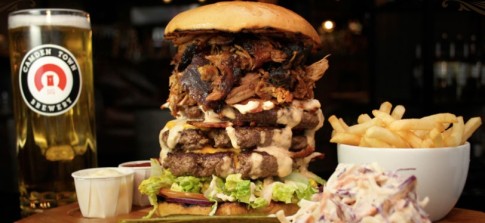 BBQ just screams big portions of junk food, you pretty much eat about ten courses: burgers, hot dogs and chicken wings are all gonna be enjoyed at some point. Texas Joe's knows that people mean business when participating in a BBQ, therefore not only do they have the usual human sized portions, they also have The Sampler which is oak smoked brisket, pork ribs, beef ribs, pulled pork and Texas hot links with beans and slaw. Meat sweats are inevitable.
BrewDog, 51 Bethnal Green Road, London, E1 6LA
Hidden in Mahiki, the clue is kinda in the title. This hangout does damn good lobster rolls but if you're going with someone (how often do you really eat out on your own?!) we say pig out on the large (come on, small is for p*ssies) Klack Klack Platter. This bad boy arrives with crackled jumbo shrimp, spicy crab and buttermilk dip, fried beer cheese, truffle and gooseberry ketchup, hot and sour buttermilk fried chicken wings, tempura keveral farm veg, miso mayo and smacked cucumber salad. We feel pigged out after typing that!
Mahiki, 1 Dover Street, London, W1S 4LD
 Main image photo credit: Thomas Bowles