BarChick loves Halloween. LOVES. London might not be New York City, but either get on a plane or get over it; dress up, look scary, look slutty, look funny - just get involved. London's got some epic parties to help you hit it hard; host a ghoulish orgy, go to a Halloween rave, dance away the fear at an apocalyptic disco. Just don't stay in.
THURSDAY 29TH OCTOBER: BURLESQUE IN UNDERLAND AT THE LOOKING GLASS
For those who want to go so deep down the rabbit hole that their favourite fairytale characters look like out of their tree lunatics. Smear some blood on your lips, anticipate epic cocktails and prepare to get batshit. Gore and glitter await you...
49 Hackney Road, London E2 7NX// Get tickets here
FRIDAY 30TH - SATURDAY 31ST OCTOBER: CHILLS IN THE CHAPEL AT UNION CHAPEL
It's a Gothic-revival chapel screening classic slasher horrors (Escape from New York will help make the evening properly dystopic) with live accompaniment from Alan Haworth (the composer behind many of these iconic slashers) and after show balls for those who aren't ready to call it a night. Fancy dress is totally appropriate and so is alcohol; done deal.
Compton Terrace, London N1 2UN// Get tickets here
FRIDAY 30TH - SATURDAY 31ST OCTOBER: THE HALLOWEEN RAVEYARD AT THE VAULTS
A Halloween-themed rave in the subterranean Vaults near Waterloo, this party aims to recreate the venue's grizzly history as a makeshift morgue for London's corpses before they were transported to Brookwood Cemetery in Surrey on the London Necropolis Railway. Grimmer than grim.
The Vaults Leake Street, SE1 7NN// Get tickets here
FRIDAY 30TH OCTOBER: GUS FRING'S FUNERAL AT THE LAB UNDER THE LAUNDRY
Breaking Bad acolytes rejoice...Gus Fring's body is hidden somewhere in the East near the ABQ RV and it needs a proper debaucherous send off, so get your chemical suit on and get cooking like Heisenberg 'cos it's about that time of the year to blow sh*t up. Bodies, minds, morals...the whole nine yards. There'll even be a mad guest preaching sermons to keep the devils at bay and cleanse you before you get absolutely munted.
2-18 Warburton Road, London E8 3FN// Get tickets here
FRIDAY 30TH OCTOBER: HOLLYWOOD FOREVER HALLOWEEN SPECIAL AT THE EGG LONDON
Dress up as your favourite dead movie star and groove postmortem to house, techno, disco and anything else of that ilk. As it's Egg London, expect internationally renowned DJs who will most definitely leave you feeling buzzing and deadly.
200 York Way, London N7 9AX// Get tickets here
FRIDAY 30TH OCTOBER: THE SINISTER CIRCUS AT SHAPES
Chicago-bred techno-spinning heavyweight Derrick Carter (with support from Max Graef) is the ringleader of this Halloween function in Hackney Wick. Expect a breeding and stomping ground of gory gymnasts, acrobats and clowns, so dress the ghoulish part. Also on the bill is a haunted big top and Harry Houdini's horror show. See you on the other side.
117 Wallis Road, London E9 5LN// Get tickets here
Friday 30th & Saturday 31st October: Dead Ringer Singer
Pick your favourite dead musician and get dressing up for this dead ringer party at the Piano Works. Whether you stick on a zombie quiff and shake your skeleton hips like Elvis or resurrect Amy Winehouse for the night, we say go all out as your favourite dead crooner.
The Piano Works, 113-117 Farringdon Road, London EC1R 3BX // Free entry before 9pm but you gotta pre-book here
FRIDAY 30th & SATURDAY 31ST OCTOBER: HALLOWEEN AT LONDON COCKTAIL CLUB
They don't need an excuse to party, but they're gonna give you one anyway cos they wanna get weird and freaky and Halloween's a damn fine excuse. They've teamed up with Southern Comfort and they're going to be throwing a properly petrifying party. If your outfit is on point, on fleek, whatever, and you show it to em on social media you'll get a £50 bar tab. If your chosen outfit doesn't leave you looking like a deranged f*ck, the bar tab will, so that's cool. Each venue will boast a different theme (graveyard, naughty hospital, day of the dead), so pick your poison, smear some blood on your face and get to it.
Locations vary, check website
SATURDAY 31ST OCTOBER: WINTERWELL: LOST IN SPACE
The boys from Winterwell sure know how to throw a rocking party, they've been doing this sh*t for years. In summer they do their festival thang and in winter its all about Halloween. Located at the Loft Studios, one of West Londons best party pads, its as wild as its ever going to get this side of town and we love it. This year its some kind of futuristic deep space adventure, and we're into it. Why party in a haunted house, when you can rave it up in a space station? Exactly, BarChick will see you there.
Loft Studios
Saturday 31st October - Trader Vic's Werewolves of London Halloween Party
Turning their Polynesian joint into a werewolves playground, Trader Vic's wants to lure out your inner wolf. Sure, you don't *have* to dress up but where's the fun in that? And when there's a prize for the best dressed, we say go full canine. With heaps of fun from a photo booth to banging live music sets and a free cocktail on arrival, get ready to howl into the moonlight. Email Charlotte.Irvine@hilton.com or call 0207 208 4113 ASAP to RSVP!
22 Park Lane, London W1K 1BE
SATURDAY 31ST OCTOBER: DARK CIRCUS PARTY
Bourne and Hollingsworth and Torture Garden will be pulling out all the tricks for an evening of macabre thrills and fiendish frolics. Those who simply cannot wait to slap on the face paint and wear latex, a dark and dreamy circus of cocktails and freaks awaits you. Performances from the notorious Torture Garden promise to keep things kinky. Fancy dress compulsory.
To be announced…// Get tickets here
SATURDAY 31ST OCTOBER: HALLOWEEN ZOMBIE APOCALYPSE AT BOUNCE 
Rumour has it that the Bounce UV bunker in Farringdon will be one of the safest shelters in London for when sh*t hits the fan and zombies infiltrate our city. 350 fortunate people will be able to play ping pong, groove to DJ Christian Laing, cover their faces in unnecessary amounts of UV face paint (we'll all need it) and drink until horizontal. After 2am, you're screwed, but may as well do what you can when you can.
121 Holborn, London EC1N 2TD
SATURDAY 31ST OCTOBER: HALLOWE'EN AT MIDNIGHT APOTHECARY
If you prefer a more chilled out yet equally ghoulish affair, how about pumpkins, ravens and fireside cocktails in The Brunel Museum's roof garden? Then, if brave enough, descend into the subterranean chamber where Brunel nearly met his demise and see what fate has in store for you.
Brunel Museum, Brunel Engine House Railway Avenue, London SE16 4LF// Get tickets here
SATURDAY 31ST OCTOBER: THE DARKNESS WITHIN AT THE RUMPUS ROOM
This one's inspired by Kubrick's 'Eyes Wide Shut' so you know it's gonna be dark and twisted. Don a mask or veil to protect your anonymity and partake in some bizarre workshops whilst looking at the moon's reflection on the Thames. BarChick's got her fingers crossed for one of those harvest moons so she can feel properly macabre when sipping on her bespoke Kiss of Death and Diamond Corpse Reviver cocktails. At some juncture in the evening, you'll even be invited into a few select rooms around the hotel to hear gory bedtime stories.
20 Upper Ground, London SE1 9PD// Get tickets here
SATURDAY 31ST OCTOBER: TERROR ON THE THAMES
One Embankment and Bourne and Hollingsworth will be conjuring up London's darkest moments in Victorian history and literature: from bloodied skirts on Petticoat lane to murderous split personalities in Hyde Park and werewolf sightings on the Isle of Dogs. Your new mates for the night include (but are not limited to) shifty grave robbers, aristocratic sociopaths, razor wielding barbers and ginned-up strumpets. Prepare to dance the death waltz and play a life-size game of Operation; it's gonna be deranged and epic, so get involved.
8 Victoria Embankment, London WC2R 2AB// Get tickets here
SATURDAY 31ST OCTOBER: THE HALLOWEEN BALL
Private underground venue in Holborn which will boast two impressive dance floors plus a few dark corridors in which you could do whatever the hell you want. If 2 drinks for 1 before 10, tarot readings, vintage horror films and dancing devils in a cage sound like your bag, then be sure to dress up and snag tickets because it's going to be one of the most decadent Halloween affairs in town.
To be revelead// Get tickets here
SATURDAY 31ST OCTOBER: WE ARE THE WEIRDOS, MISTER AT THE BOOK CLUB
If you were v. angsty and gothic in your adolescent years, took The Craft and yourself way too seriously and made your parents miserable in the process, you will dig this; let the traumatic times roll. Think goth-rock, occult jewelry making, love potions and unnecessary amounts of eyeliner and that's what your night's gonna be looking like. Post-film screening (in keeping with American teen house parties) wade through obligatory cobwebs, drink sh*t booze from red plastic solo cups and shoegaze or gyrate to a classic cross-genre 90s party playlist.
100-106 Leonard Street, London EC2A 4RH// Get tickets here
SATURDAY 31ST OCTOBER: DAY OF THE DEAD AT PARADISE BY WAY OF KENSAL GREEN
If you fancy a macabre Dia de los Muertos kind of eve, dust off the skeleton onesie or Mesoamerican fancy dress and get round to Paradise. Beckon the spirits of the dead by way of the dance floor, which is where you'll be grooving to hip-hop, funk and soul well past the witching hour.
19 Kilburn Lane Kilburn Lane, London W10 4AE// Get tickets here
SATURDAY 31ST OCTOBER: THE END OF THE WORLD HALLOWEEN PARTY AT THE ELECTRIC BRIXTON
The devil and his troop of demons are ascending to Earth's surface to wreak havoc on us Brits and we have the option of barricading ourselves in at Electric Brixton for an apocalyptic disco. No brainer. Post a desert island banger on their Facebook event page beforehand if you wanna hear it at the venue, confess your sins on a confession wall on the night and watch an interactive live show whilst rolling around in unnecessary amounts of glitter because you're about die. But, like, ecstatically, so you're good.
Town Hall Parade, Brixton Hill, London SW2 1RJ// Get tickets here
SATURDAY 31ST OCTOBER: THE CANDLELIGHT CLUB HALLOWEEN BALL
For those who are still on the Prohibition-themed pop-up wagon because it's a banging and boozy wagon to be on indeed. Join this vintage and grand masquerade ball if you fancy watching creepy burlesque acts, listening to swinging jazz and swilling em like they did post-Volstead Act. Also on the bill are spectral flappers, fortune tellers and deadly DJs. Whether the latter is for alliteration's sake or actually means what it says, we can only speculate. BarChick hopes it means that the DJs are so sick that they literally kill you. DJ Yoda says, 'Candlelight Club--dope,' and DJ Yoda is killer, so get on it.
To be revealed...// Get tickets here
SATURDAY 31ST OCTOBER: CUBANISTO'S HOUSE OF MASK HALLOWEEN PARTY
Back in town for another House of Mask party, Cubanisto is taking over Brooklyn Bowl at the O2 to bring you the ultimate in rum-infused Halloween fun. With epic DJ sets from Sin Crowd and Does It Offend You Yeah? as well as the odd game of bowling chucked in between beers and dancing, the House of Mask is bound to be an unexpected, debaucherous and thrilling night filled with surprises. Want in? We're giving away tickets! Click here to find out how you could be our winner!
Brooklyn Bowl, The o2 Arena // Win tickets here
SATURDAY 31ST OCTOBER: SHOTS IN THE DARK AT LUCKY PIG FITZROVIA
Wear a ghoulish or horrendously slutty costume and get in for free. Then drink pumpkin-spiced shots 'til you're dead inside if you aren't already. Best dressed wins a bottle of Prosecco, so dress up as something ironic or meta. BarChick'll be there as a hashtag cos we're v. hip and innovative and millennial.
5 Clipstone St, London W1W 6BB
SATURDAY 31ST OCTOBER: DAY OF THE DEAD AT EL PATRON
If you can't be arsed to go to a thirsty twenty-something rave in a warehouse, class it up and eat delicacies from dried worms to glazed scorpions served on soft corn tortillas. Don't fret: there'll be loads of toppings and spices included. Wash it all down with cricket-infused cocktails, get your face painted by a makeup artist on site and keep the tequila shots coming.
141 Upper Richmond Rd, London SW15 2TX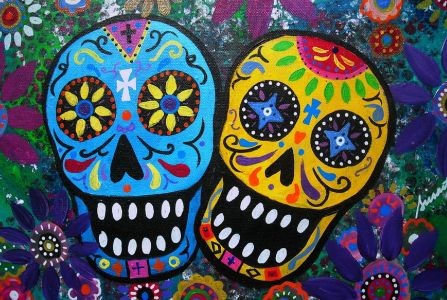 SATURDAY 31ST OCTOBER: HALLOWEEN IN THE LIGHT LOUNGE
The Light Lounge are shedding all the zombies and witches and going all Day of the Dead on us. We're excited. Go all in with your outfit, best dressed wins a round of cocktails!
1 Newport Place, London Wc2H 7JR
SATURDAY 31ST OCTOBER: THE HAUNTING OF SCARFES BAR
If you want to make like deceased lord or mistress and float around what looks like a haunted manor house this Halloween, Scarfes Bar is cooing your name. Lift the veil of the spirit world and let cabaret legend Dusty Limits serenade you. There will also be live jazz, contortion and fire magic for those who need constant stimulation. Ghouls await you and your friends in one of the most beautiful (and probably haunted) bars in London. Tickets are £53.
252 High Holborn, London WC1V 7EN
SATURDAY 31ST OCTOBER: GERTRUDE FOGG'S FUNERAL AT MR.FOGG'S RESIDENCE AND TAVERN
Attention: Gertrude Fogg, whoever the hell that is, has expired. V. sad? No. Funerals are synonymous with alcohol, obviously. Are you morbid? Are eulogies your preferred genre of literature? Do you long to live in Victorian times? Much to your merriment, BarChick has found an event that caters to all of your ghoulish curiosities: an Irish-style wake awaits you. The night begins with Aunt Gertrude's favourite tipples (girl loves gin), peaks with the sharing of anecdotes about her life set to Victorian melodies and ends with her burial in a cellar and soon thereafter, your expiry. Dun dun dun. Wear black; grab a grog; do the death waltz.
15 Bruton Lane, Mayfair, London W1J 6JD