You've been stuck together in the same house for the last 7 weeks. You love 'em, you couldn't have done lockdown without them... but f*cking hell you never realised just how loud they breathe. It's been a long old slog, and maybe you're in need of a night of romance. Here's how to do date night the lockdown way.
Prep 
Image: Pretty Woman, Touchstone Pictures
First, have a bath/shower, wash (and brush!) your hair and put some god damn clothes on. No, not your sweatpants. Something nice and non-elasticated. You're trying to recapture the magic, and 3-day old cereal stains don't say "hot date", they say "hot mess".
Secondly, set the mood and recreate your fave date restaurant or bar in your living room. If you're trying to recapture the magic of your first date, cut all the lights and spark a sh*t loada candles to recreate some Gordon's Wine Bar vibes (we've all had a first date at Gordon's, right?); or if you wanna go mega romantic, dig out the Christmas lights and stick 'em to the ceiling with some flowers from the local shops - you'll think you're chilling on Dalloway Terrace, or beneath the canopy of Clos Maggiore. 
Now put on some Marvin Gaye, dig out your best crockery, and get ready for the best date* of your lives.
*partner depending.
Cocktails
In true date style, start with cocktails. Maybe you've had a stressful day of Zoom calls with your team, or your Sims accidentally died in the pool - either way, you wanna leave the drama of your day behind and kick date night off with a banging tipple or two. 
Aperitivo To Start...
Start your night with Aperitivo Hour and one of Bar Swift's (AKA the CLASS best bar in the UK, y'all) new bottled cocktails. This rainbow collection of serves come from the upstairs menu at this legendary Soho joint. Drink 'em on their own or spritz them up with your fave sparkling wine and soda. We dig the Solstice Spritz which brings all the mid-Summer vibes with a blend of Martini Bitter, blood orange vermouth and passionfruit. Saluti!
Get your Aperitivo Hour on with Bar Swift here. 
Then "go" to a hot new bar...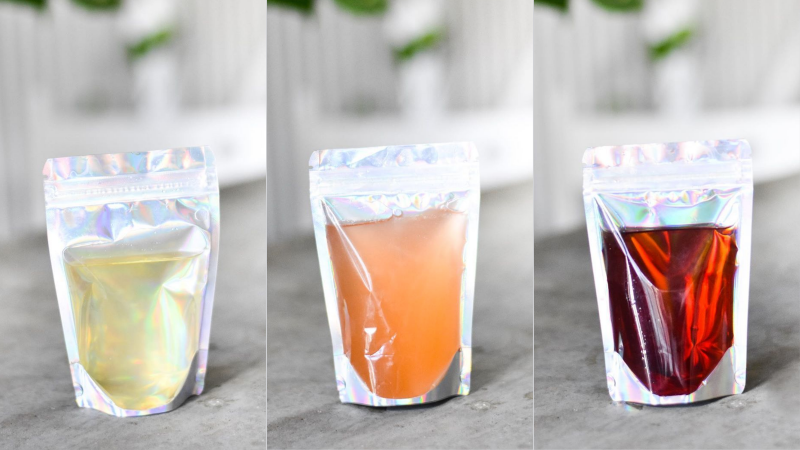 Nothing impresses BarChick more than when a date suggests going to a hot new bar. But spoiler alert, ya can't do that right now. What you can do is get them to deliver their rockstar cocktails to your door to enjoy for date night. You can get the zero-waste menu from the crew at Brick Lane's latest opening, Bar Tincture, delivered in mega cool pouches (which are reusable, obvs) in both boozy and non-alc creations. 
Order your tinctures for nationwide delivery here
Then spice things up...
If you wanna make date night a bit spicy, this delivery will get you hot under the collar. New Covid-19 kids on the block, the Lockdown Liquor Co. launched from within the depths of this pandemic and they've started off STRONG with a choice of two absolute bangers; the gin-laced cucumber, lime and mint based Pepino, and one of our all-time faves: the sweet and fiery Picante. HOT DAMN!
Buy a 4-serve bottle from the Lockdown Liquor Co here. And P.S Proceeds are being donated to NHS Charities Together. Philanthropy is sexy, guys. Your S.O will be impressed.
Dinner Date
Pull out all the stops...
Swanky, chic club The Court is letting you bypass the member's fee to get a taste of the high life with their new dinner recipe kits. For just £45 you can get a main course for two plus 4 of The Court's most popular cocktails, but if you wanna go all 'Hey Big Spender' for date night, flex the plastic and order The Court's Champagne & Caviar package with 30g of Oscietra caviar & a bottle of Ruinart Brut for £110. It'll all arrive on a Friday, just in time for you to tune in to their Insta as the house band takes over to play everything from Britney to The Beatles. Request your beau's fave song & ask 'em to dance. It might lead to the hokey pokey later...
Order your dinner from The Court here, and tune into their live streams on a Friday night from 8pm here.
For starters...
Are oysters on a date a cliche? Maybe. But hey, we've been locked down for almost 8 weeks now so if you wanna get in the mood, chuck a few of the Oystermen's dozen down the hatch and you'll be golden! Their fresh deliveries include an oyster knife so you can get a good shucking in before the main course. Open wide!
To get your night off to a shucking good start, order from The Oystermen here. Not tried oysters before? Check out our guide to these slippery suckers.
The main event...
Nothing says "I love you" like cooking up your bae a meal from scratch, right? Even better when you knock up something with the ingredients you've already got lying around that might have otherwise gone to waste. Double whammy, baby! The "Waste Not Want Not" campaign in association with some of the nation's most kick-ass chefs & the crew at Black Cow Vodka will help you knock up a wicked dish or two. How about trying out this ultra-luxe boozy cheese fondue a la gastro-legend Mark Hix? We all know cheese and vodka is the best way to anyone's heart, yo!
Catch up on the Waste Not Want Not cooking series over here. 
Sweeten the deal...
Noone quite does romance like the French. That saucy lot nail it every damn time. Adopt an accent and serve your lover up one of the sweet tarte tatin or decadent mousse au Chocolat from quaint and hella romantic French bistro La Poule au Pot in the heart of Belgravia. From Wednesday to Saturday you can order their sexy menu for collection to then enjoy at home, from elegant starters to hearty, luxurious mains and of course, banging pastries and puds. Ouais, putain!
Order from the La Poule au Pot restaurant here.
Movie Night
You've done dinner. Now it's time for the movie portion of your date. Good thing is when the cinema is actually your living room, you're always in the back row, so chances of slipping your arm around their shoulder and getting a cheeky snog are high. Just pick the right movie, yeh? These are our suggestions (and we've done the hard work and paired 'em with some epic drinks for you too. Def better than a large syrupy cola and a plastic straw!)
Set the vibe...
If you're looking for an authentic cinema experience, how about lighting up one of these bad boys? These Scents of Normality candles are hand-poured in East London and kick out the smells of your fave familiar places currently out of reach. The Cinema candle is a heady fusion of salt popcorn, foam banana and glistening hot dog, enveloped in a fug of recirculated air. A waft of cloistered contraband chicken meets the allium tang of adolescent boredom, laced with juicy notes of melting slushie syrup. Hmmm-mmm.
Order your Scents of Normality here. If the sound of this one doesn't float your boat, their other scents are epic.
Get the snacks in...
It's not movie date night without popcorn. This is a fact we will not be debating. The only issue is having to choose between sweet or savoury, right? WRONG. This killer "Movie Night In" gift box from the Joe & Seph's crew has all sides of your tongue covered. From Salted Caramel to Toffee Apple & Cinnamon, and Peanut Butter to Mature Irish Cheddar - their gourmet popcorn will def make your movie night POP. 
Order in your Joe & Seph's snacks here. 
Netflix & chill...
If you decide to get hot and heavy in the metaphorical back row before the opening credits even roll, you might wanna cool off with an epic ice-cream delivery. Gelupo offers delivery and collection to all London postcodes, and they're working on getting it further afield. BOOM. Pick from an all-star line up of ice-creams including Fresh Mint Stracciatella, Ricotta Sour Cherry and our personal fave: their creamy, nutty pistachio. No, you can't have a lick.
Get your gelato fix with an order from Gelupo here
The Nightcap
So you've got to the end of your date night. If all this were happening in a non-Covid world you'd probably be trying to work out whether you're gonna seal the deal right about now. No need to pull the "would you like to come in for a coffee" trick cos they're already (always) there... but it'd be a shame to miss out on a killer nightcap to round off the night. And hey, if you pump yourself up with caffeine you might find yourselves with the energy to stay up a few more hours...
Get Irish lucky...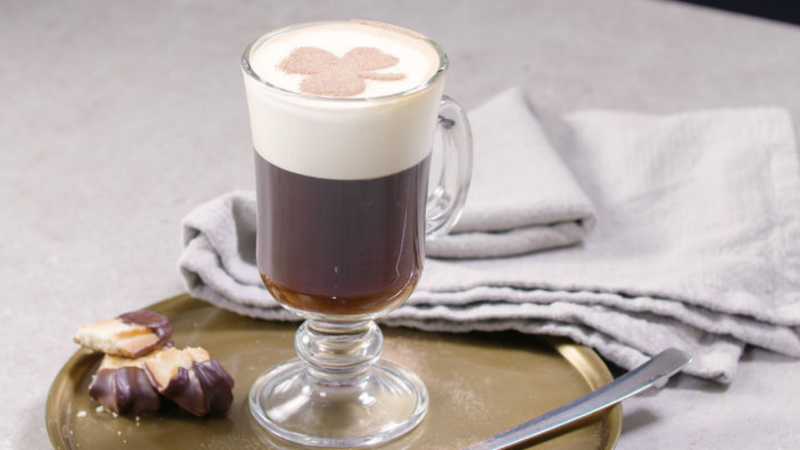 Wanna get lucky? Channel the Irish. Heat things up with this classic after-dinner pick-me-up by heating up a decent cuppa joe, and pimping it with your finest Irish Whiskey, sugar syrup and topping it with a thick, sweet layer of cream. Wanna know how to make them like a pro? We've got you covered with our ULTIMATE guide to the making Irish Whiskey.
Call me Cold Fashioned...
Time to end the night strong. This coffee spiked Old Fashioned will give you the boost you need to stay up a few more hours talking or... not talking. It's made with the new Mr Black Origin series, so if your better half is a coffee snob, they'll f*cking love this.
20ml Sweet Vermouth
15ml Dark Rum
Stir with ice
Serve in rocks glass & garnish with a dried fig