1. Try Italian inspired cocktails from 7 of the best bartenders at Amare L'Italia What happens when 7 of the best bartenders in the world hit the Rialto market in Venice armed with bottles of Peroni? THIS. We went along for the ride, toured distilleries, tasted the best maraschino cherries in the world and filmed these guys doing what they do best - messing about and making awesome cocktails. During London Cocktail Week you can go and see them in action working with Italian heritage spirits brands and Peroni Nastro Azzurro to serve up 7 signature drinks inspired by the Venice and their love of Italy. Simone Caporale, Peroni Nastro Azzurro Master of Mixology & all round ledge Davide Zanardo, Chiltern Firehouse Luca Missaglia, Aqua Shard Gabriele Manfredi, Oriole Maurizio Palermo, 45 Park Lane Simone Spagnoli, Mr Fogg's Residence Go play at the The Cocktail Village in Spitalfields and you can also get a taste of the guy's drinks in their own bars for the week. The Cocktail Village, Old Spitalfields Market, London, E1 6EW
2. The ultimate bourbon bar crawl in Soho BarChick's spiritual home of Soho has some of the most epic bars in town (and in the world) so flash that band and go get some £5 cocktails in what's got to be the best bar crawl ever. Push back the bookcase inside Milroy's whisky shop and you'll find The Vault, and your table waiting for ya as we'll get that booked through our new app. They're making Coconut Butter Old Fashioneds POW. Up there with the best drinks we've ever had. Hit MASH for more bourbon goodness, think Buffalo Trace bourbon, sherry, lemon juice, maple syrup and cardamom bitters. Nice. Then top it all off by drinking and dessert eating at Basement Sate, we'll book you in late so you can stay and dance it all off to. You know what to do. 3. All aboard the gin cocktail train TFL themed Cahoots have teamed up with Bombay Sapphire to get you in vintage cocktail train at the Cocktail Village. You'll take a ride from Cahoots in Soho out to the countryside of Laverstoke, the home of the Bombay Sapphires gin distillery and be living out your childhood dreams by sipping on cocktails inspired by the Famous Five by Enid Blyton. Think 'The Captain heads to the seaside!' with gin, Bombay Bathwater Brew, Blue Curacao, lemon and topped with Fentiman's tonic. You'll also be dabbling with flavours and ingredients from the allotments of London to the green fields of the countryside to get down n dirty with the gin and tonic. The Cocktail Village, Old Spitalfields Market, London, E1 6EW 4. Blend your own whisky at The Blend What could be more awesome than drinking drams of whisky in this badass pop up? Drinking drams of your very own blended whisky there, that's what. Launching during London Cocktail Week Chivas Regal are gonna keep this baby going right through 'til 4th December. Be first in and go get in on the action. There's a whole lotta history to get stuck into but if you're a sensory learner you can get stuck into samples from Speyside, Islay, the Highlands and Lowlands as well as delicate grain Scotch whisky. Then it's time to make your own! One hour 'Art of Blending' experiences start at £22. Get your tickets here!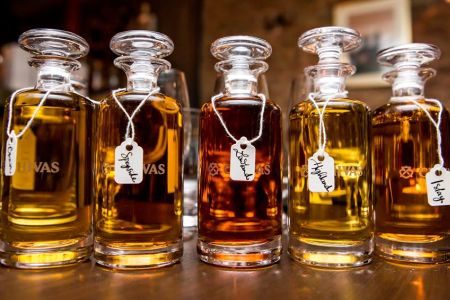 5. Try an insane whiskey cocktail from inside a tree You've probably been meaning to go and check out Black Rock aka. One of the coolest bars in London since it opened. Now's your time people because their epic Cherry River cocktail with bourbon, charred oak and sour cherries is just £5 all week for all of you flashing that wristband. 9 Christopher Street, London EC2A 2BS 6. Get your freak(shake) on with Baileys Your Instagram will thank you, your jeans not so much but who cares when something tastes this good? Baileys have teamed up with freakshake freak Molly Bakes to make some insane concoctions. Plus they've launched a new pumpkin spice edition so you can get all autumnal. The Cocktail Village, Old Spitalfields Market, London, E1 6EW 7. Cocktails paired up with clucking good chicken It's about time you stopped reminiscing about your SoCo and lemonade heydey and started seeing what the stuff can do in cocktails 'cos it's damn good. There's nowhere better to start than at the LCW Cocktail Village where you can pair up Southern Comfort cocktails and southern fried chicken. The New Orleans inspired pop-up is the first stop on the Southern Comfort Chicken Trail that'll have you hitting up some of London's clucking good chicken shops where you can get stuck into their cocktail and chicken pairings. The Cocktail Village, Old Spitalfields Market, London, E1 6EW 8. Learn how to nail an Old Fashioned at the Buffalo Bourbon Empire The Buffalo Bourbon Empire is back for its second year and Hackney House is where you wanna head for some of the the finest damn whiskies in the world. You can do the laid back (lazy) thing and just drink them or you can grab a bar stool and get stuck into a cocktail masterclass. BarChick's more about the 'bartender stools' sessions where you can watch the masters at play and taste your way through some of the best in the Buffalo Trace range. All master classes are £10 and include at least one cocktail. Want in? Yeehah www.buffalotrace.co.uk/bourbonempire
9. Casita's BACK and this time it's canal-side To kick off the new Ladies and Gents in style, Shoreditch fave Casita is popping up for a takeover on 3rd October. Expect wood burning, bunting and if you play nice a ride on the party boat.  It's your chance to get hold of their legendary tequila con verdita (it may be green but trust us it's good) and if you're a tequila geek rock up at 4pm for an exclusive tasting of Maestro Dobel Humito — the world's first smoked silver tequila. Monday never looked so good. Goods Way, South Side Moorings, Kings X, N1C 10. Eat deconstructed Strawberry cheesecake and drink gin Strawberry, Langleys jelly, Chai and herbal foam. Or how about Granny smith apple mousse, Langleys gin, Tarragon cake? Yep we're drooling too. At Fifteen you can get stuck into these awesome pairings with Langleys gin cocktails  for £15 a pop. Who needs dinner?