The hottest accessory this October? It's a London Cocktail Week (LCW) wristband, of course. We're giving you the rundown on everything you need to know about the biggest cocktail festival in the world - including all the drinks, bars and events you won't wanna miss.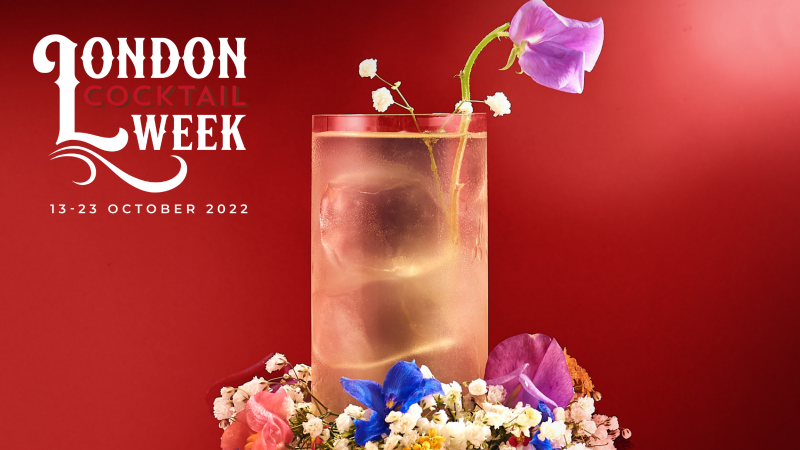 When is it?
LCW runs from 13-23 October 2022. Yep, it's actually longer than a week - more time for ya to hit up all your fave bars and find a few new ones. 
How does it work?
It's simple: get yourself a £15 wristband and you'll be able to order £7 cocktails at loads of London's best bars. These are no ordinary serves: each participating bar has developed signature creations especially for LCW, from super-slick minimalist sips to over-the-top disco drinks. Throughout the week, venues across the capital will also play host to some wicked parties, international takeovers and creative masterclasses. It's gonna be a wild ride.
But that's not all. This year, LCW is hosting Little Cocktail Villages in Belgravia, Borough Yards, Covent Garden and Devonshire Square. They're basically micro-hubs filled with immersive pop-ups from epic spirits brands and bars, and they're gonna be bangin'. Flash that wristband, and all the drinks are £7 here too.
Which events do I need to hit?
We're glad you asked, 'cos we've scouted out the very best...
Hendricks Gin x Silverleaf LCW Opening Party 
When: Thursday 13 October, 6:30-9:30pm
Where: Silverleaf at the Pan Pacific, 3rd Floor, Devonshire House, 3 Bishopsgate, London EC2M 4JX
What: The Hendricks Gin team are renowned for their over-the-top parties (we're talkin' drinking Martinis in bathtubs and petting tiny goats), so this knees up at swish East London bar Silverleaf is gonna be one to remember. The night will have an underwater theme thanks to Hendricks' sea-inspired gin, Neptunia, plus drinks from three next-level bars: Nutmeg & Clove and Mo Bar from Singapore, and Trisoux from Germany. Along with two complimentary cocktails, you can expect plenty of entertainment and theatrics. Time to make a splash!
Get your £15 ticket here 
Knit & Spritz with El Bandarra
When: Thursday 13 October, 6-8pm 
Where: The Little Cocktail Village in Belgravia, Eccleston Yards, London, SW1W 9NF 
What: Get crafty with aperitivo brand El Bandarra at this granny-approved sesh, where you'll learn how to knit your own coaster while you sip. The champs at creative space Make Town in Hackney will be on hand to offer you purls of wisdom on all things yarn-related, and you'll get a knitting kit AND a complimentary Bandarra Spritz for the price of admission. 
Get your £15 ticket here
The World's Most Rubbish Disco at Nine Lives
When: Friday 14 October
Where: Nine Lives, 8 Holyrood Street, London SE1 2EL
What: Love cocktails? Hate waste? Bermondsey basement bar Nine Lives and Discarded Spirits are teaming up to throw the groovy party of your dreams. There's gonna be DJs on deck, a vintage dress-up swap shop, a charity auction in support of hunger-fighting charity The Felix Project and, of course, loads of bangin' zero-waste cocktails. Come do some good and get your boogie on.
Toki Bar at The Den
When: Friday 14 - Sunday 23 October, various time slots
Where: The Den, 100 Wardour Street, London W1F 0TN
What: Head to the newly renovated jazz hideaway The Den for a combo we bet you've never experienced before: whisky and kintsugi (that's the Japanese craft of mending broken pottery with gold, FYI). Japanese whisky brand Toki is bringing the two together in one epic session that includes a whisky Highball, a Toki tasting led by a pro and a lesson in the art of kintsugi. 
Get your £20 ticket here
A Poppers Panel Discussion
When: Sunday 16 October, 5-7pm
Where: The library lounge at The Standard, 10 Argyle St, London WC1H 8EG
What: The drinks mavericks at Bompas & Parr are launching what's said to be the "world's first" super-premium poppers during LCW. Saucy, no? Get the scoop by heading to this free panel discussion, featuring experts chatting all about the history of poppers and its relationship to queer culture and pleasure. After the talk, head up to The Standard's disco drinking den Sweeties to sample the bar's three special LCW serves, each with an optional poppers pairing. We're eyeing up the Fist, Brain F*ck & Bang, with caviar, white chocolate, carraway and sea fennel. Naughty. 
Hapusa Gin at Maison Assouline
When: Tuesday 18 October, 7pm
Where: Maison Assouline, 196A Piccadilly, St. James's, London W1J 9EY
What: Sip Hapusa Gin cocktails in style at Maison Assouline, AKA the concept store where all the cool kids buy their coffee table books. You'll learn all about this Indian gin (one of our faves as of late, thanks to its super-fresh piney juniper profile) from two of the brand's top dogs, Swani Korgaonkar and Priyanka Blah, while sampling a lush serve created by the Maison Assouline team. 
Get your £10 ticket here
Tayēr + Elementary x Eminente Rum Cocktail Tasting
When: Thursday 20 - Saturday 22 October, sessions at 6pm and 9pm
Where: Tayēr + Elementary, 152 Old St, London EC1V 9BW
What: We can't think of a better place to celebrate London Cocktail Week than the legendary cocktail lab that just won the number-two spot on the World's 50 Best Bars list. Casual. The Tayēr + Elementary team have put together a next-level drinks experience featuring five cocktails made with the Cuban rum Eminente, and you're gonna wanna get involved, sugar.
Get your £60 ticket here
New York On The Run at NoMad London
When: Friday 21 and Saturday 22 October, 6pm-12am
Where: Common Decency at NoMad London, 28 Bow St, London WC2E 7AW
What: It may be London Cocktail Week, but the folks at NoMad's romantic new bar Common Decency are transporting us straight to New York City with their wicked line-up of takeovers. The teams from four bangin' NYC bars are stepping behind the stick to show off their signature serves: on Friday, Will Wyatt of Mister Paradise will be shaking up a menu of disco drinks, followed by Haley Traub from renowned speakeasy Attaboy; Saturday will see Joey Smith of Chez Zou taking the reins, before Harrison Ginsberg of new Manhattan rooftop banger Overstory shows off his modern approach to cocktails. God bless 'merica.   
The Umbrella Project Takeovers
When: Throughout LCW
Where: The Umbrella Workshop / Discount Suit Co / The Sun Tavern
What: The Umbrella Project's bad-ass trio of bars are bringing in some of the best in the game for their line-up of takeovers during LCW. For a taste of Paris, head to The Sun Tavern on 19 October, when the team from Lulu White will be behind the bar; to experience cocktails from Manchester's new hotspot, get over to Discount Suit Company on 20 October for serves from Blinker Bar. And you def won't wanna miss takeovers by Peckham pros Funkidory (11-17 October) and minimalist legends Three Sheets (19-23 October) at intimate 12-seater The Umbrella Workshop. 
Bruichladdich x Native Zero-Waste Whisky Cocktails
When: Throughout LCW
Where: Native at Browns, 39 Brook St, London W1K 4JE
What: Sip and snack with sustainability in mind by heading to Native at Browns to sample their collab with whisky maker Bruichladdich. Together, the dynamic duo have created The Islay Highball as their £7 LCW cocktail, inspired by the Scottish island of the same name (natch) and featuring a rad creation called parsley honey. Feelin' peckish? The expert chefs at Native have also dreamed up a selection of zero-waste snacks that are as good to the earth as they are to your tastebuds. 
 Featured image, L-R: Barrio Shoreditch, Gong Bar, Wild Honey, Berners Tavern and The Dandy Bar
Published 11/10/2022