BarChick is optimistic about another heatwave, so we've compiled a list of of awesome London restaurants with outside spaces where you can wile away a frickin' hot day.
Want a table? Recommendations near your hood? Someone to sort it all out for you? Message BarChick Concierge, it's free!
Our favourite wine bar has a new Paradise Row under the arches joint and it's what summer nights were made for. Kick ass wines, seriously these guys are ledges, and you can get stuck into their 4 course set menu that's organic, pretty and will keep your Instagram feed very happy.  They've just opened their terrace out front too. Nice one.
Food: Lots of fish
193 Hackney Road, E2 8JL
2. Tom's Kitchen - HMS Belfast
A bar on a battleship! Hell yeah. Tom Aikens has spread his wings with another new place, right next to HMS Belfast - a.k.a that huge grey warship thing in front of Tower Bridge. You can soak up the epic view on the roof terrace, which is, very wisely, partly covered.
Food: British classics
HMS Belfast, The Queen's Walk, London, SE1 2JH
We'll race ya. The food's insane, the terrace beautiful and there isn't a classic cocktail you could throw at the bar team without it being thrown straight back at you with a cherry on top. Less about living dangerously and more about ending up on The Daily Mail sidebar of shame.
Food: International dishes by legend Nuno Mendes
1 Chiltern Street, London W1U 7PA
Canal-side dining? We're in. Kings Cross newbie is dishing up their British classics alongside summer cocktails, craft beers and cold glasses of rose on their terrace that wraps the whole way around the place. Granary Square people watching on one side, kicking back by the canal on the other. Nice one.
Food: British with a European twist
3 Granary Square, London N1C 4BH
5. Joe Public
This ex public loo has been given an epic revamp and now it's a sexy pizza place with beer and Prosecco on tap. The vibe is super casual and the pizzas are mega, so we're happy. There's loads of seats outside too, if you don't mind being plonked in the middle of hectic Clapham Common, as the address suggests, you are quite literally on the pavement.
Food: Large pizzas with adventurous toppings
4 The Pavement, London SW4 0HY
6. Smokey Tails
Hang out on the terrace at Hoxton Square where the Smokey Tails gang now have a permanent spot. Tuck into exotic salad combos, sexy sides, desserts and cocktails. And if all goes well, there's be a BBQ brunch every Sunday. Check out the Smokey Tails menu and get drooling.
Food: Finger lickin' meaty dishes
2-4 Hoxton Square, London N1 6NU
7. Mussel Men
Dalston way, hit up the Mussel Men garden for a chilled out seafood feast in the sun. We're loving the epic spider crab (warning, this is not date food). And - it's gotta be the mussels right, try with Saffron & Turmeric for something a bit different. They also do some bangin' cocktails that almost taste like you're by the sea. The courtyard is laid back and gets a bit rowdy later on, so a great one for birthdays and other shenanigans. Challenge the chef to an arm wrestle if you're feeling macho.
Food: Seafood all the way
584 Kingsland Road, E8 4AH
8. Quo Vadis
An old faithful with a handful of great tables and bench style seating out front. The Jazzy striped awning offers protection from the sun's rays but not from the beggars, keep change handy or use a firm tone. Eat, drink and be merry here, the Hart brothers deliver nothing but the real deal.
Food: Old school British
26-29 Dean Street, London, W1V 6LL
Chill out here after pounding the city pavements with a relaxing view of the beautiful Serpentine Lake in Hyde Park. Bring the whole family to enjoy their pop-up burger and hot dog BBQ and then send the kids home again before you decide to visit the Gin Bar. The small shop in the entrance also serves all the necessary items to make your own picnic including bread to treat the ducks.
Food: Burgers
Serpentine Café, Serpentine Rd, Hyde Park, London W2 2UH
10. German Gymnasiam
However much you fight it, sometimes Kings Cross is just the most convenient place to meet. Luckily now you're spoilt for choice of places to lounge around in the sun. The beast that is German Gymnasiam has one of the biggest roof terraces in the vicinity, with room for about a hundred peeps to sit.
Food: Mittel-European cuisine (or, grub from central Europe)
King's Blvd, London N1C 4BU
11. Dickie Fitz
If you wanna be seen somewhere swish, then head to Dickie Fitz in Fitzrovia. Whether you're after a casual breakfast meeting, an Australian-inspired brunch, or a night of boozing, they'll sort you out. Booze wise, expect Asian-inspired nightcaps, New World wines and indigenous seasoning. BarChick'll be on the terrace suckling on that pig like a boss and working the cocktail list. See you down under.
Food: Australasian-influenced
48 Newman St, London W1T 1QQ
12. Sushisamba
The aim of being outside is to get as near to the sun as possible (obviously) and Sushisamba is your place to reach that goal, boasting two of the highest outside terraces in Europe. Located on the 38th and 39th floors of the Heron Tower, guests can enjoy a unique blend of Japanese, Brazilian and Peruvian cuisine, culture and music – all whilst soaking up the sun.
Food: Er, sushi!
Sushi Samba, Heron Tower, 110 Bishopsgate, London EC2N 4AY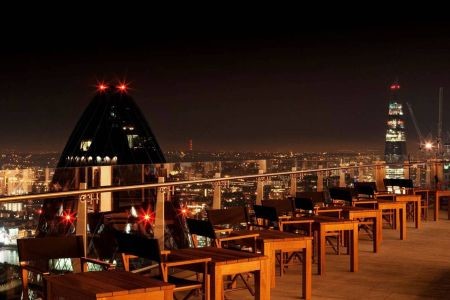 13. Begging Bowl
Here we go, Thai street food served on the street… under an antiquey veranda but that's beside the point. It's like Bangkok but in Peckham, except for the fact that the multiple garden benches mean really comfortable table service.
Food: Bangin' Thai street food
168 Bellenden Road, Peckham SE15 4BW
14. Old Bengal Bar
The outside bit at Old Bengal Bar has been transformed into a tropical jungle (to celebrate the launch of our fave Disney classic - The Jungle Book). Housed in an old spice warehouse, it's no surprise these guys cook up a mean curry. There's also cool floral themed cocktails - and they're only £7 between 5-7pm every weekday (not bad for this part of town)
Food: Awesome curry
Old Bengal Warehouse, New Street, EC2M 4TR
A great one for special occasions. Now in summer-mode, the restaurant's terrace is bursting full of bright blooms, tuck into delish seafood like grilled lobster, dressed crab, and mussels. Sip on Champagne cocktails.
Food: Sexy seafood
30 Almeida St, N1 1AD
Want more? Check out:
Where to live it up during a London heatwave