There are some big hitters opening their doors in London the last few months.  Forget spending your nights on the sofa - these are worth braving the dark for, baby. 
Teatulia
Move over tonic, there's a new T in town, and it's pretty unique. A cocktail bar, literary salon and, yep, tea shop. Trust us, it works. It's the first of its kind in London to have complete ownership of its provenance, serving up six impeccable teas by day, and some truly epic tea-based cocktails by night. With a menu designed by Enrico Gonzato, from the 2018 World's 50 Best Bar, Dandelyan, it was always going to be Tea-riffic. 
Opened 1st October 
36 Neal St, London WC2H 9PS
Mrs Fogg's Maritime Club & Distillery 
Behind every great explorer is a bad-ass woman proving that whatever her husband can do, she can do too... and BIGGER. Mrs Fogg has returned from her maritime adventures and invites you aboard her Rangoon steamer which has now permanently docked in Broadgate Circle. She's brought back exotic flavours, ingredients and relics that have been incorporated into a sick menu of cocktails - BarChick likes this gal's style. 
Rock up to The Maritime Club on the ground floor, where walk-in guests are invited to take a seat in the Club's lifeboat. Or get ship-shape and board the life-size Rangoon Steamer anchored next to the Club. Want to be sure of a spot for your crew? Make a reservation Below Deck to the engine room for evenings of live entertainment, and a fully working gin distillery, modelled on the underground Victorian distilleries of the period. Full steam ahead, we say. 
Opened 29th October
37 Broadgate Cir, London EC2M 2QS
 https://www.mr-foggs.com/mrs-foggs-maritime-club/ 
Cocteleria at Breddos Tacos
We find that exciting things tend to happen when you head into the basements of Soho - and this new subterranean bar is no different. Sneak down the staircase in Breddos Tacos Kingly Street and behold - a secret mezcalaria serving up some damn fine cocktails. Creative margaritas; smoky mezcalitas; fiery Micheladas - all things that set BarChick's world alight. Obviously, you can't hit up Breddos without stuffing at least a few tacos into your face, so make sure to order from their more casual menu. Oh, and don't leave without trying the slushie margs. Yes, you'll get brain-freeze. No, one is never enough.  
Opened 1st November
26 Kingly St, Soho, London W1B 5QD
Heads + Tails 
They say opposites attract - and they certainly have BarChick drawn towards West Hampstead with the opening of Heads + Tails. This chic late-night cocktail bar has the most delicious of split personalities to cater to your light and darker sides. Upstairs, Tails offers a bright and airy bar with high lofty ceilings and floods of natural light. Bask in saintly smugness and enjoy a menu of light serves to match the styling of the bar - think vodka-and-gin-based twists on classics and contemporary cocktails. Feeling racy? Dip down into Tails. This atmospheric low-ceilinged basement bar specialises in short, bold-style drinks based mainly on bourbon, rum and Scotch. Which side will you indulge tonight?
Opened 2nd November
175 West End Lane, London, NW6 2LH
https://www.headsandtails.bar/
Diogenes the Dog
Let's not beat around the bush - at one point Elephant & Castle was pretty sh*t for finding a decent drink. Now it's going through a huge revamp, and is making swift tracks with its bar scene. One awesome transformation comes in the form of Diogenes The Dog, a former boozer which has morphed into a new-wave wine bar and shop. The name is inspired by the Greek philosopher who founded the philosophy of cynicism. Luckily BarChick's philosophy is that if the glass is half empty, it means there's room for more wine. In this bar, it's all about lesser-known alternatives to more popular varieties. Spread across two floors, the 60-cover venue houses a wine shop on the ground floor, with tables you can perch at to get merry. Downstairs, the charming basement is available for private hire and will host regular acoustic nights. Hey, on your next night out, wine-not head to E&C? 
Opened 4th November
96 Rodney Road, Elephant & Castle, SE17 1BG
Bangkok Underground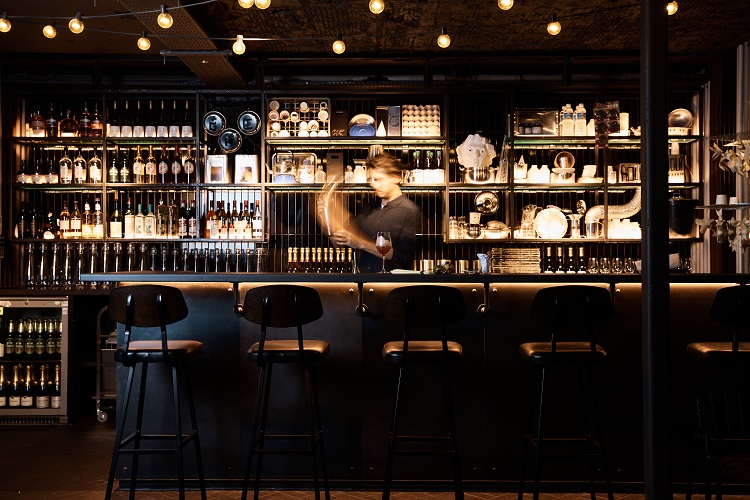 In a subterranean bar and dining space beneath Fitzrovia's Greyhound Café, this buzzing neon-lit drinking spot has drawn some serious inspo from the back streets of Thailand's capital. Leave the shell anklet at home, cos you won't find any bucket-sipping Gap Yah travellers in here, though you can order a two-foot high Chang Beer tower for your table to get the party started. We're all about the exotic cocktails, like the Bang Yee Kun Sour; Mekhong, lime lemongrass, syrup and ginger syrup served in a coupe. Pair this with some spicy fish cake balls from the bar snack menu and you've got yourself a good time. 
Opened 6th November
Greyhound Café, 37 Berners Street, Fitzrovia, W1T 3LZ 
www.GreyhoundCafe.uk
Grays & Feather

BarChick's all about the bubbles - screw special occasions, we say, and have them whenever the fancy takes you. This is totally the vibe that Grays & Feather are channelling. They've just opened a bar in Covent Garden that specialises in sparkling wines from around the globe. But hold up - this place isn't just about Cava, Prosecco & Champagne. The team promises to take you on a journey through fizz; from the rolling hills of England to the southern peaks of Patagonia, all without pulling on the purse strings. They also have a great wine list to complement a tasty little menu, designed for sharing. Grab your crew and prepare for a super social experience of the sparkling kind… just as bubbles should be enjoyed.
Opened 6th November 
26 Wellington St, Covent Garden, WC2E 7DD
https://www.graysandfeather.com/ 
Double Barrel pop-up Saloon Bar 
Got a crush on the amber stuff? Get your game face on and swing over to The Theodore Bullfrog in Charing Cross. Oozing bourbon-scened cool, Double Barrel offers high-end whisk(e)ys alongside sexy seasonal cocktails. Grab a seat at the panelled bar or sneak to a candlelit corner amidst reclaimed barrels and timber cladding - this place has that prohibition era aesthetic nailed. We recommend you try a Barrel Aged BBQ Old Fashioned, infused with smoke, orange and jerky, and the Folsom Prison Blues, with blueberry sherbet, bourbon and whites. Or just work your way through the bar's signature whisky guide alongside some seriously dark-spirited bar bites. This place is only open until Spring so don't leave it too long to make a visit.
Opened 7th November until Spring 2019
26-30 John Adam Street, London, WC2N 6HL
https://theodore-bullfrog.co.uk/double-barrel-london/ 
The Parrot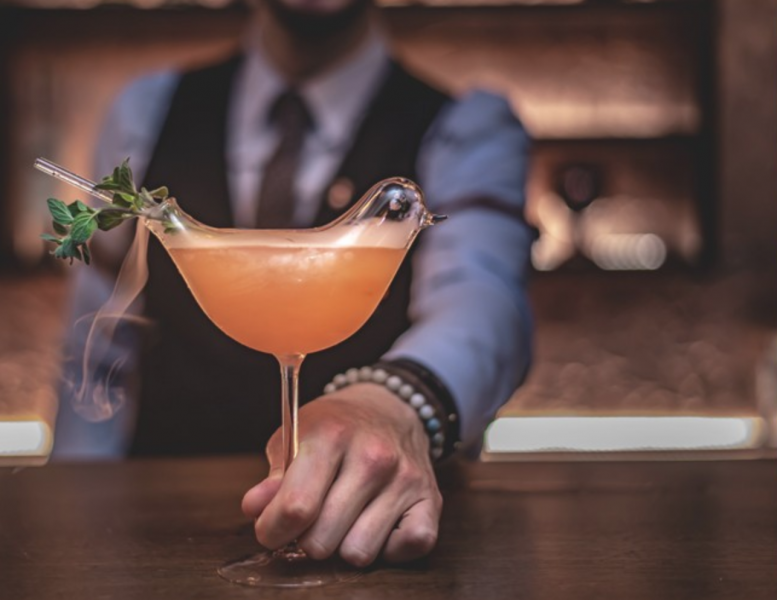 Idris Elba doesn't have time to be the new Bond; he's too busy opening up London's most hotly anticipated A-list bar at the Waldorf Hilton. The Parrot is an intimate cocktail bar and live music venue which he's has opened with Lee and Nicky Caulfield. If you bump into them in this 60-seater venue, don't worry, you're not seeing double - they're identical twins and they've laid on a whole host of A-list surprises. Hidden tropical cocktail menu? Check. Secret shows with a super exclusive guest-list? Hell yeah. If you don't feel like getting an Uber to the venue, no problem. You can catch a ride in the London bar scene's first chauffeur driven, branded car: an Aston Martin, no less. Maybe Idris is practising to be Bond after all. 
Opened 9th November 
Aldwych, Covent Garden, WC2B 4DD
The White Haus
BarChick loves a go on the slopes, but we're really more into the après-ski if truth be told. Join us in checking out White Haus, a cool new three-floor bar in Farringdon with cosy corners, cuckoo clocks and vintage cable cars, all bringing the joie de vivre of ski season to the capital. The pub promises to transport guests to the mountains via timber chalet-style décor and a seriously good drinks list. Signature cocktails including a Salted Caramel Old Fashioned and a Barrel-Aged Bordeaux Negroni. Then obviously it's not proper après-ski if you don't get involved in the hot toddies, vin chaud and 'ski shots'. Anyone else suddenly getting flashbacks to their university ski-sesh days? 
Opened  9th November
17 Farringdon Street, Farringdon, EC4A 4AB
Anthracite
If your standard order is 'make mine a martini', prepare to feel shaken and a little bit stirred, in all the good ways. Go dry, dirty, or with a twist when you rock up to new martini bar Anthracite. This three-room martini lounge in the Great Northern Hotel is all dark tones, metallic details and electric blue trims. Anthracite is the purest form of coal, so that's where the interior inspo has come from, but it just happens to be damn sexy too. When we visited we were all over the Coastal Martini made from samphire-infused gin, cured lemon-infused Mancino extra dry, black pepper tincture, roquito peppers and a garnish of seaweed crisp. That fresh hit of an ocean stroll without having to actually leave London - boom. 
Opened 14th November
1st Floor, Great Northern Hotel, Pancras Road, London 
https://www.anthracitelounge.com/ 
No 17 Dickens Yard
Ealing's bar scene is on the up. You could say Ealing is becoming more... appealing. Ahem. No 17 Dickens Yard has taken inspiration from urban European lofts - a bold, modern space, decked out with huge lamps, soft textiles, generous lounge seating and a dedicated bar on both floors. Cocktails are made with house-made syrups and herbs foraged from the bar's own kitchen garden - there's a real home-from-home vibe going on. Prefer your cocktails al-fresco? Take it outside to the gorgeous courtyard filled with foliage and terracotta, or head to the wrap-around terrace. You'll need a coat, but it will be worth it to feel so cosmopolitan. Just head back inside when your fingers start to go numb.  
Opened 14th November
Dickens Yard, Longfield Avenue, Ealing, W5 2TD
Brasserie of Light @ Selfridges 
Because what's the point in opening a luxe bar if you're not going to include a 24ft crystal-encrusted statue of Pegasus? Surely the mindset of Selfridges when conceiving their epic destination bar & restaurant, Brasserie Of Light. The show-stopping centrepiece is so f*cking extra it can only have been designed by Damien Hirst. With a 30ft wingspan, it gallops mid-air above diners in this uber-chic Art-Deco all-day brasserie. Enjoy elegant dishes and stunning cocktails inspired by the department store's 109 year history - perfect for a break amongst all that Christmas shopping. Plus you don't have to make tracks when the store closes thanks to the separate Duke Street entrance - sweet.  
22nd November
Selfridges, Duke Street Entrance, 400 Oxford St, London W1A 1AB

selfridges.com/brasserieoflight

Bourne & Hollingsworth Garden Room
When Bourne & Hollingsworth put their name to something, you can be assured it's going to look seriously sexy. There's the millennial pink B&H Bar; the stunning tropical oasis hidden inside B&H Buildings... and they're going sky-high with their next project. The Bourne & Hollingsworth Garden Room is as charming as the other outposts in the group, and as equally instagrammable, especially with the added bonus of London's infamous landmarks as the picture-perfect backdrop. Head there for impressive lunch meetings, a lazy supper or for after work drinks to watch the sunset across the rooftops of the West End. Delicious seasonal dishes and epic signature cocktails are all waiting to be enjoyed alongside 180-degree views of the capital. Swoon. 
23rd November
 https://www.bandhgardenroom.com/ 
42 Northampton Rd, Clerkenwell, London EC1R 0HU
Unwined Waterloo 
Step 1: Start life as a successful pop-up with a jazzy name ('A Grape Night In' should do it). Step 2: Get yourself a permanent spot in Tooting Market. Step 3: Reach a whole new audience by opening up on Waterloo's Lower Marsh. Seems like Unwind have been doing things by the book, and now you can enjoy their quirky take on the world of wine in Waterloo. Just like its sister site, the bar, kitchen and shop offers a carefully curated and ever-changing list of themed wines, served up by expert staff who are in the know. Wines are matched to a menu designed by a guest chef, who will be in residency for seven to eight weeks at a time. Wine into Water(loo)? We're there. 
27th November
137 Lower Marsh, Lambeth, London SE1 7AE
https://agrapenightin.co.uk/unwined-bars/ 
Clifford's Bar
It's all very well launching a new restaurant and keeping it quietly on the DL - fair play Gemma Ellis, we'll give you that. But BarChick isn't about to let the opening of an awesome bar go under the radar. The uber-talented chef-owner is expanding Clifford's with this late-night drinking den. Complete with bespoke kitchen-focused cocktails and seasonal bar snacks, this intimate bar has the same philosophy that's found in the kitchen. Showcase the premium ingredients from across the British Isles then use them in the best and most innovative ways possible. So simple, so effective, so up our street. 
Look out for the 'Tomartini' which has been cleverly created using a consommé made from over-ripe tomatoes (not so great on the plate, excellent in your drinks); and the Plumdog Millionaire, which is made with their delicious spiced plum syrup created using fruit from a family friend.  It's all sustainable, and as Ellis is such a banging chef, you can expect the same creativity from the bar menu. 
28th November
140 Fetter Lane, London, EC4A 1BT
http://cliffordsrestaurant.co.uk 
Lead image: Grays & Feather